Rarible NFT and everything you need to know about it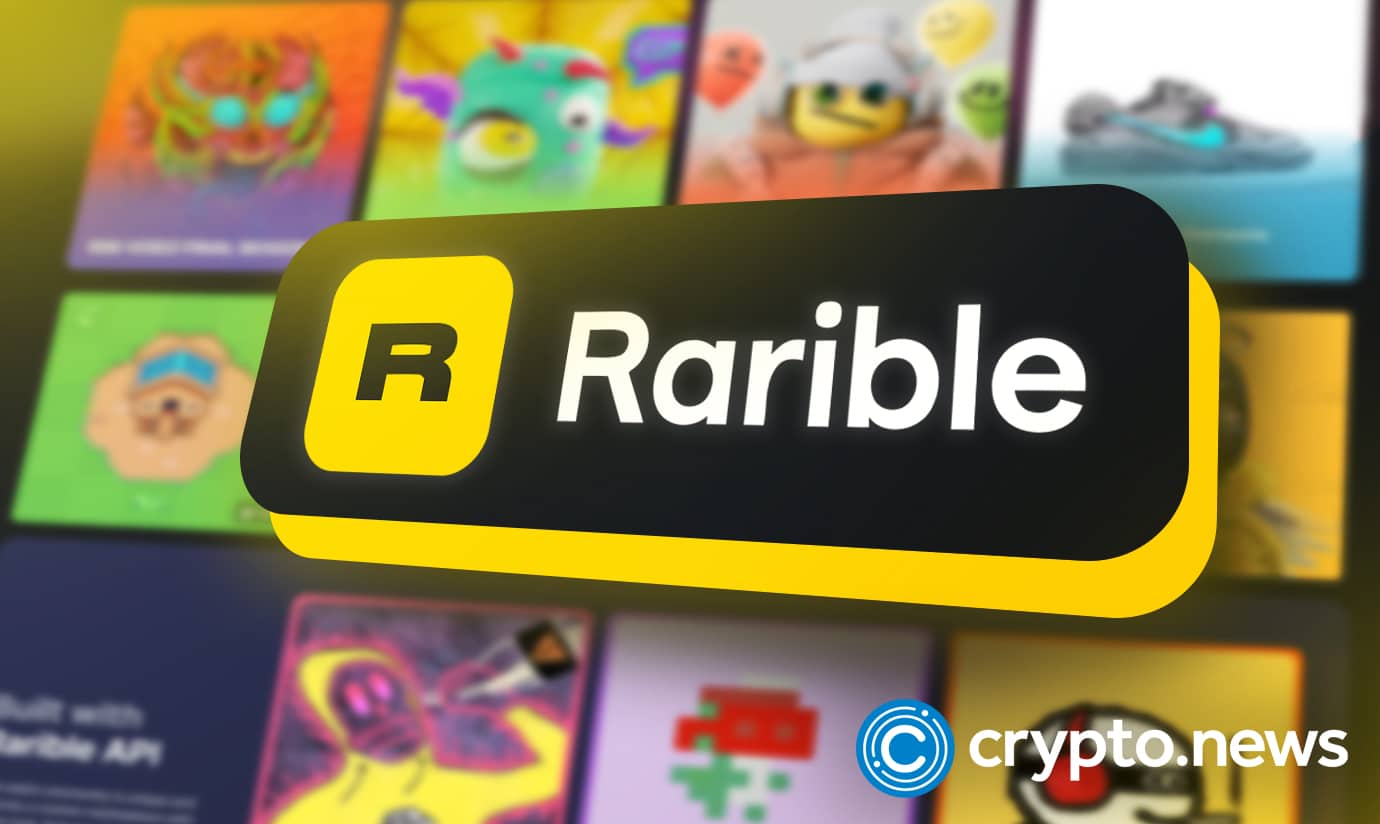 Rarible NFT is a platform for creating and trading a new generation of collectibles known as non-fungible tokens (NFTs).
Rarible overview
Rarible is an aggregated NFT marketplace that allows anyone to buy and trade non-fungible tokens from different marketplaces or create their own collectibles using blockchain technology. What does selling an NFT mean? You make unique items and create a token representing ownership or access to that content, which is stored on the blockchain.
You can sell your NFT directly to other collectors or trade them with other players. You don't need to rely on third parties to manage your inventory. Instead, you can store your items on the blockchain and interact with other players through smart contracts.
The Rarible NFT marketplace: how it works
Rarible is an NFT marketplace that connects buyers and sellers, often content producers like digital artists, model makers, or meme makers. It enables trading NFTs without a middleman and creating your own marketplace.
Rarible utilizes two NFT token standards: ERC-721, which permits the creation of one-of-a-kind goods, and ERC-1155, which necessitates the production of numerous versions of a single item.
Rarible network supports the Ethereum, Polygon, Tezos, and Immutable X blockchains. For creating an NFT, or "minting," you must pay a network fee that doesn't go to Rarible. The cost varies depending on the blockchain you use. Popular ones like Ethereum tend to be pricier, while Tezos is cheaper. Alternatively, there is "free minting" when the buyer covers the fees. However, this places your NFT in Rarible's collection, not your own.
Rarible receives 1% from the buyer and 1% from the seller for every sale.
NFT royalties
Royalty fees are a commission for the NFT creator when their work is sold again by someone else. By setting a royalty rate on an NFT, creators can earn a bit more each time their NFT is resold. So, whenever their NFT gets sold in the future, they get a piece of the sales price.
You can choose the percentage of royalties when you mint your work on the blockchain.
How to join, buy, and trade NFTs in the Rarible marketplace
Joining and trading on Rarible is relatively straightforward. Here are the step-by-step guides from registration to trading on Rarible:
1. Get a supported digital wallet
You will require a wallet that accepts one of the underlying blockchains that support Rarible: Ethereum, Tezos, Immutable X, or Polygon, to open an account to purchase and trade NFTs.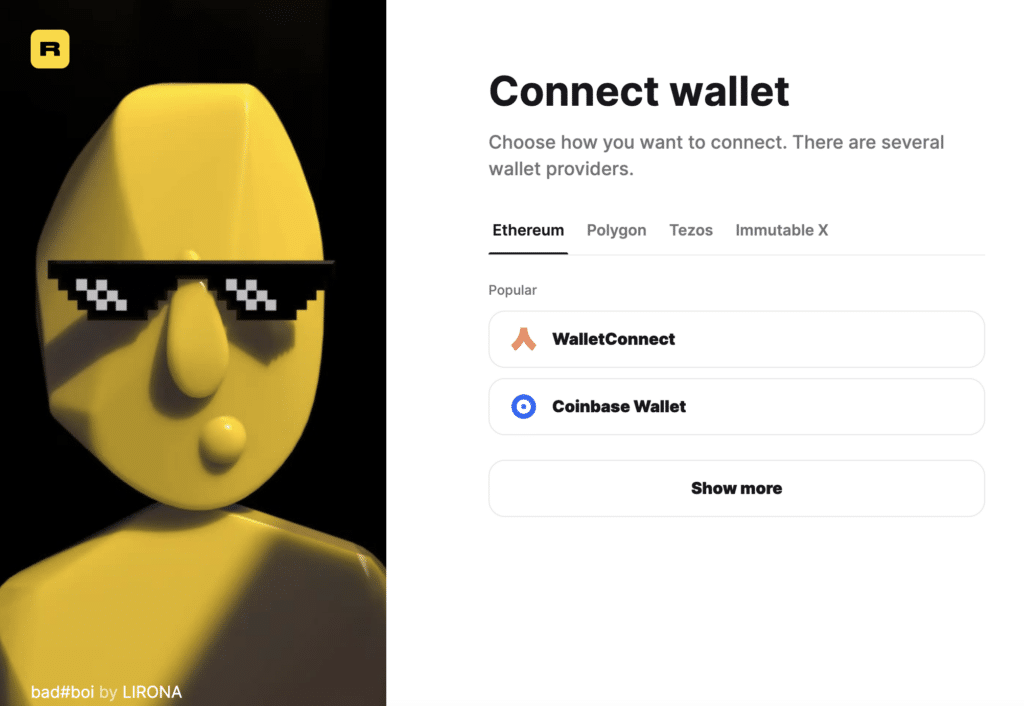 While MetaMask may be the most well-liked wallet among NFT collectors, more Ethereum wallets are compatible with Rarible, such as Portis, Coinbase Wallet, or Torus.
Tezos users can connect Beacon, Temple wallet, ImToken, OwnBit , and Trust Wallet.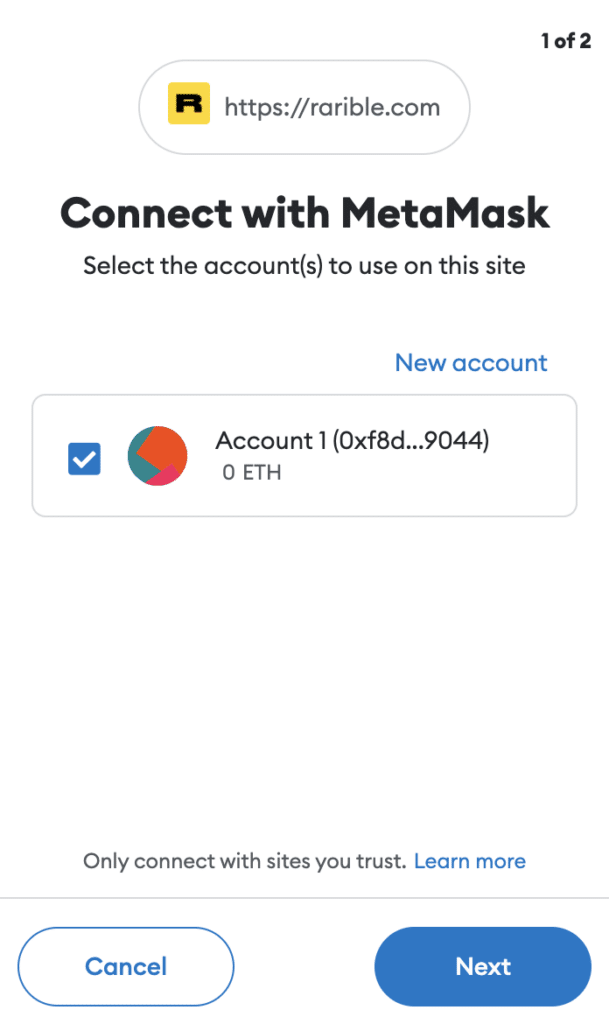 2. Agree to registration Terms and Conditions
New users must confirm they are over 13 years old and accept the terms and conditions. You will be able to manufacture, purchase, and sell NFTs through Rarible after a short while.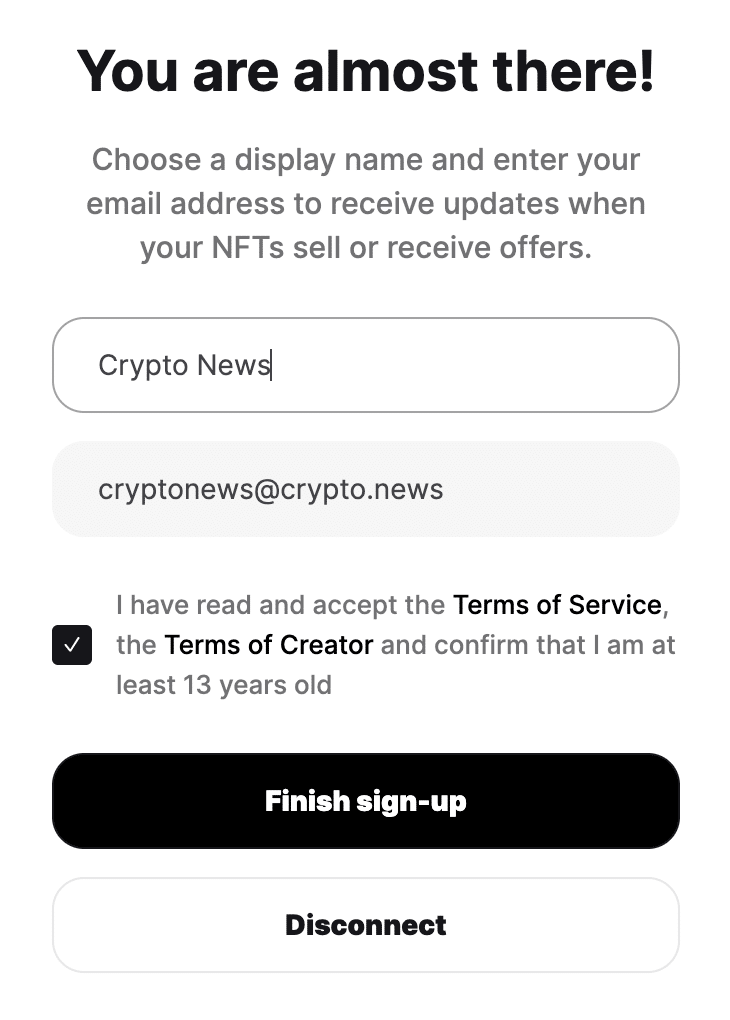 3. Top up your wallet
Before anything else, you'll need to have some coins in your cryptocurrency wallet.
4. Minting/owning NFTs
Signing up may seem strange if this is your first experience with a crypto wallet. You are not required to provide your email address or set a password. To sign in, you only need to have your wallet connected.
After that, click "Create" and select your blockchain network. You then can produce single or multiple artworks. You upload your work, set a price, and select the selling method. Once you've finished configuring everything, click "Create item" and check your wallet.
5. Creating an NFT collection
When you mint on Rarible for free, your NFT will be added to the Rarible collection. It will still list you as the creator, but the Rarible brand will cover it. You can also build your own collection, but this requires gas fees.
6. Buying NFTs
First, sign in to Rarible using your wallet and find the NFT you want to purchase after connecting your wallet. Look for the yellow check mark, indicating the creator is verified.
After confirming the NFT you wish to acquire, Click "Buy now" and proceed to payment authorizing the purchase in your wallet if you have sufficient funds.
7. How to sell NFTs
NFT sellers can choose one of three ways to sell their artwork on the Rarible network. Users choose selling methods depending on personal goals and objectives. These include:
Fixed cost: Set a price for the NFT before listing it for sale to a buyer.
Accepting bids: You can accept offers for your NFT. Accept whatever seems reasonable to you.
Timed auction: Launch the auction and accept bids. The highest bidder receives your NFT in exchange for their winning bid when the timed auction is over.
What makes Rarible unique from other marketplaces
Some popular Rarible competitors include the OpenSea marketplace, SuperRare, Makersplace, Foundation, and Mintable. However, Rarible has unique features that some of the other platforms don't have. These include:
Multi-chain – Many marketplaces utilize one blockchain exclusively. As a result, you lose out on desirable NFTs available on other chains.
Credit card payments – As not everyone is at ease purchasing cryptocurrency. Rarible enables credit card transactions much like any other non-crypto online retailer.
Zero-cost minting – Users can create NFTs on Ethereum using Rarible's "Lazy minting" service without paying any gas costs since it has a lazy minting feature.
Flexible royalties – You can choose up to 50% royalties that you'll receive for the sale of your artwork in the future.
Partnerships – Rarible has formed many partnerships with businesses and well-known personalities such as Twitter and the fast-food chain Yum! Brands, the boxer Floyd Mayweather Jr., and the actress Lindsay Lohan all launched their NFTs.
Is Rarible NFT marketplace safe?
NFTs have become a popular topic in the crypto space, but this sector has its security issues, such as NFT scams, pump-and-dump schemes, or selling fake NFTs.
However, Rarible presents itself as a secure network, and the developers s have stressed safety with a comprehensive privacy policy framework. Always do your own research before choosing a platform.
Takeaways
Rarible is a useful platform for collectors and art creators to make digital artworks. It allows new users to enter the industry without spending much money on cryptocurrencies or moving tokens from one wallet to another because it supports several blockchains.
FAQs
What is Rarible?
Rarible is Web3's aggregated NFT marketplace where anybody can buy, mint, and sell digital goods. These can include domains, movies, music, and more. There is no middleman because ownership of the NFTs is transferred via Ethereum blockchain technology on the company's web marketplace.
Which NFTs can I find on the Rarible marketplace?
Digital art, memes, music, photography, domains, DeFi, gaming, and metaverse NFTs can all be found on Rarible. You can use a filter by blockchain, price, or collection. It lacks some of its rivals' more specialized sections for music, arts, sport, and other collectibles.
How much is an NFT on the Rarible marketplace?
Rarible charges a 1 percent fee on both buyers and sellers. Every buy transaction will cost you 1 percent, and every sell transaction will cost you 1 percent. You may also have to pay a fee to the network when you create (or "mint") your NFT.
On Rarible, there are two ways to make money: by selling NFTs you've made or by reselling collectibles you've bought from the NFTs' original producers. If you use the second approach, the original creators get paid royalties every time the product is sold.
How legit is Rarible?
Rarible is a legitimate platform for buying, selling, and trading non-fungible tokens (NFTs). It is a decentralized marketplace built on the Ethereum blockchain. It offers various digital assets, including art, music, videos, and other unique collectibles. However, there is always a risk of scams and fraudulent activities, as with any other platform. Make sure to verify the NFT's authenticity and the seller's reputation before making any transactions.
What is the disadvantage of Rarible?
One potential disadvantage of Rarible is that, as a decentralized platform, it may be more challenging for users to navigate and understand compared to centralized marketplaces. Users may need technical knowledge of blockchain and cryptocurrency to effectively use Rarible, which could be a barrier for some.
Another disadvantage is that transactions on the Ethereum blockchain, where Rarible is built, are subject to high fees during periods of network congestion. This can result in increased transaction fees for both buyers and sellers. Additionally, there is a lot of competition from other NFT marketplaces, which may make it more challenging for creators and collectors to stand out and make sales.
Is Rarible better than OpenSea?
It depends on your personal preferences and specific needs. Both platforms offer a decentralized marketplace for trading NFTs but differ in features and user experience. Rarible is known for its intuitive user interface and user-friendly experience, which may make it a better option for beginners or users lacking knowledge about blockchain and cryptocurrency. It also has a strong community of creators and collectors, making it a good platform for networking and discovering new artists and works.
On the other hand, OpenSea has a larger user base and more extensive offerings, with a wider range of NFT categories and more established artists and collections. It supports many blockchain networks beyond Ethereum, such as Polygon and Binance Smart Chain. Ultimately, it's a matter of personal preference and the specific features that are important to you. It may be worth trying both platforms and seeing which one suits your needs better.
Is Rarible really free?
While Rarible is free for basic functions like browsing and searching for NFTs, it charges fees for certain actions on the platform. For example, Rarible charges a 1% fee on all NFT sales made on the platform. If you sell an NFT for 1 ETH, Rarible will deduct 0.01 ETH as a fee.
In addition to sales fees, Rarible also charges gas fees, which are the fees required to execute transactions on the Ethereum blockchain. These fees can vary depending on the current network congestion and can be significant during periods of high activity on the blockchain.
However, you can use "free minting", in this case, your NFT buyer covers the fees. Remember that free minting also means your NFT will be added to the Rarible collection, not your own.
While Rarible charges fees for certain actions, it is important to note that these fees are standard for decentralized marketplaces and necessary to support the platform's operation and development. However, it is always important to carefully review and understand the fees associated with any platform before engaging in any transactions.
How to remove NFT from Rarible
To remove an NFT from Rarible, you must initiate a burn transaction. It essentially destroys and removes the NFT token from circulation. Here's how you can do it:
1. Go to the Rarible website and sign in.
2. Click on the "My Items" tab to view a list of the NFTs you own.
3. Locate the NFT you want to remove and click it to access its detail page.
4). On the detail page, look for the "More" button and click it to reveal a dropdown – menu.
5. From the dropdown menu, select the "Burn" option.
6. Confirm the burn transaction by following the prompts.
7. Once the transaction is confirmed, the NFT will be removed from your Rarible inventory.
It's important to note that once an NFT is burned, it cannot be recovered or traded again.
How much does it cost to mint NFT on Rarible
Rarible does not charge a fee to mint NFTs on its platform. You can create and stamp an NFT for free using the Rarible minting interface. However, you must pay a transaction fee, also known as a gas fee, to complete the minting process on the Ethereum blockchain.
The gas fee varies depending on the current network congestion and can be significant during high activity on the blockchain. When minting an NFT on Rarible, you will be prompted to pay the gas fee as part of the transaction process. The gas fee goes to the miners who process and verify the transaction on the blockchain.
How to add NFT to Rarible
You can follow these steps to add an NFT to Rarible:
Create an Ethereum wallet if you don't already have one. You can use a non-custodial wallet such as MetaMask, Trust Wallet, or Coinbase Wallet.
Connect your Ethereum wallet to Rarible by clicking the "Connect Wallet" button on the Rarible homepage, then select your wallet from the list.
Click the "Create" button on the Rarible homepage to begin the NFT minting process.
Follow the prompts to upload your NFT file, provide a name and description for your NFT, and set any additional attributes, such as royalty fees or unlockable content.
Once you've completed the above steps, you must sign and confirm the transaction on your Ethereum wallet to mint the NFT on the blockchain.
After minting the NFT, it will appear in your Rarible inventory, where you can view, edit, or list it for sale.
Note that while Rarible allows you to create and mint NFTs for free, you must pay a transaction fee, or gas fee, to complete the minting process on the Ethereum blockchain. The gas fee varies and depends on the network congestion; it can be high if the network is congested.