What's a Rarible NFT Marketplace?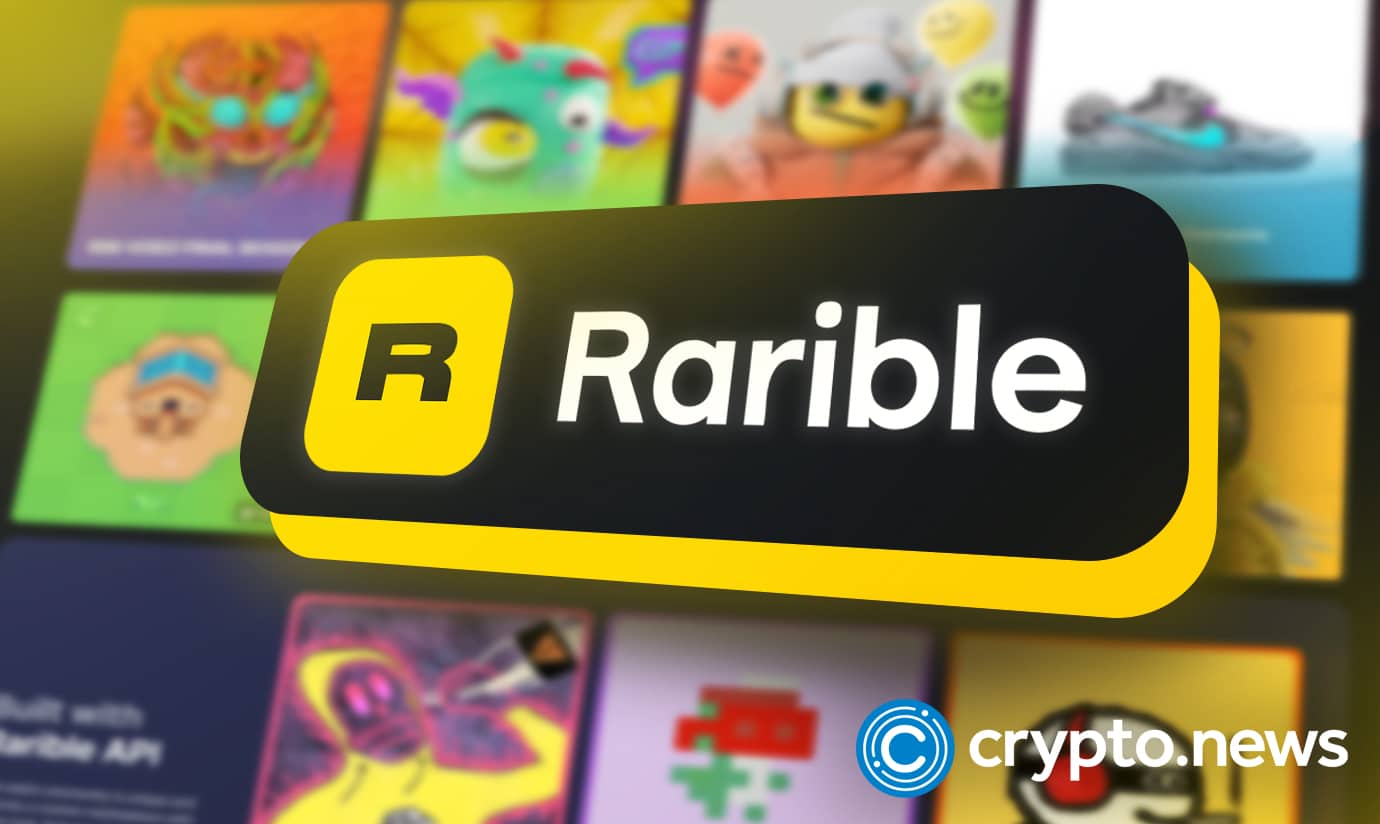 Rarity is at the heart of hard-to-find items such as art, Rolex watches, and rare coins, among other collectibles. The principle of how high unique assets are valued, virtual or physical, has led to the digitization of a new generation of collectibles known as non-fungible tokens (NFTs). The place where these 'NFTs' commercial dealings take place is called the NFT marketplace, where we get to meet Rarible!
Rarible NFT Marketplace Overview
Rarible is a new NFT marketplace that allows anyone to create their own collectibles using blockchain technology. What does this mean? Well, you can now create unique items that are linked to your identity and stored securely on the blockchain.
The concept behind Rarible is simple: you can create your own collectibles and sell them directly to other collectors or even trade them with other players.
This means that you don't need to rely on third parties to manage your inventory. Instead, you can store your items on the blockchain and interact with other players through smart contracts. This way, you'll never have to worry about losing your collection because they'll always be safe and secure.
The Rarible NFT Marketplace: How it Works
Rarible is an ecommerce platform that connects buyers and sellers, often content producers like digital artists, model makers, or meme makers. The idea here is that unique crypto assets, NFTs, represent distinctive goods like collectibles and original works of art.
Rarible utilizes two NFT token standards: ERC-721, which permits the creation of one-of-a-kind goods, and ERC-1155, which necessitates the production of numerous versions of a single item.
Artists first "mint" a token via Rarible's Spider software which then creates an NFT. They can accomplish a successful mint by submitting a form, their photograph, and other information such as their asking/listing price that exemplifies their work online.
Even though Rarible's NFT platform was initially centralized, its developers intend to gradually decentralize it in the future before handing over power to a decentralized autonomous organization (DAO) to enable decentralized governance.
Rarible network utilizes the Ethereum network to integrate the complete ownership and transaction history of an NFT into its programming. It should be noted that when a transaction completes, the Rarible network receives transaction fees from both the buyer and the seller.
Users Get NFT Royalties
The capacity of NFTs to program royalties, or the rights to future cash flows, within these assets is an intriguing aspect. This implies that Rarible developers can predetermine a portion of future sales and automatically stockpile it by allocating a token.
As NFTs can be configured to pay out royalties promptly, unlike traditional content platforms, this is a key advantage in luring producers to this technology. For instance, the NFT owner would receive 10% of any future sales of a piece of digital art that stated a 10% royalty.
How to Join, Buy, and Trade NFTs in the Rarible Marketplace
Joining and trading on Rarible is straightforward; anyone can. Here are the step-by-step guides from registration to trading on Rarible:
1. Get a supported Digital wallet
You will require a wallet that accepts one of the three underlying blockchains that support Rarible: Ethereum, Tezos, or Flow, to open an account to purchase and trade NFTs.
While MetaMask may be the most well-liked wallet among NFT collectors, more Ethereum wallets are compatible with Rarible, such as Portis, Coinbase Wallet, Torus, or Mobile Wallet.
Tezos users must link a wallet supported by Beacon, such as Spire, Umami, or Temple wallet, while those using Flow tokens on Rarible must connect their Blocto wallet.
2. Agree to Registration Terms and Conditions
New users must confirm they are over 13 years old and accept the terms and conditions. You will be able to manufacture, purchase, and sell NFTs through Rarible after a short while.
3. Send some ETH to the Wallet
Ethereum is the currency required for transactions on Rarible; hence before anything else, you'll need to have some ETH in your cryptocurrency wallet of choice.
4. Minting/Owning NFTs
Signing up may seem strange if this is your first experience with a crypto wallet. You are not required to provide your email address or set a password. To sign in, your wallet only needs to be connected.
After that, select your wallet's blockchain network by clicking create. You then can produce a 1/1 artwork or a series of multiples. You'll get the final minting notification once you've made a choice. You upload your work, set a price, and select the selling method. Once you've finished configuring everything, click "create item" and check your wallet.
5. Creating an NFT Collection
For NFTs, NFT collections are similar to folders. By default, when you mint on Rarible, your NFT will be added to the Rarible collection. It will still list you as the creator, but the Rarible brand will cover it.
You can build your own collection as well. However, starting your own collection also incurs one-time additional gas costs.
6. Buying NFTs
There are various ways to trade NFTs on Rarible because various blockchains support it.
First, sign in to Rarible using your wallet and find the NFT you want to purchase after connecting your wallet. Look for the yellow check mark, which confirms users and collections, when purchasing from a larger collection. That indicates that it is authentic.
After confirming the NFT you wish to acquire, Click "buy" at the bottom of the page. Then confirm the purchase by clicking "confirm" to authorize the purchase in your wallet if you have sufficient funds.
7. How to Sell NFTs
NFT sellers can choose one of three ways to sell their artwork on the Rarible network. Users choose selling methods depending on personal goals and objectives. These include:
Fixed cost: Set a price for the NFT before listing it for sale to a buyer.
Accepting bids: You can accept offers for your NFT. Accept whatever seems reasonable to you.
Timed auction: Launch the auction and accept bids. The highest bidder receives your NFT in exchange for their winning bid when the timed auction is over.
What makes Rarible unique from other marketplaces
Some popular Rarible competitors include the OpenSea marketplace, SuperRare, Makersplace, Foundation, and Mintable. However, Rarible has unique features that set it apart from the crowd. These include:
Multi-chain – Many marketplaces utilize one blockchain exclusively. As a result, you lose out on desirable NFTs available on other chains.
Credit card payments – As not everyone is at ease purchasing cryptocurrency. Rarible enables credit card transactions much like any other non-crypto online retailer.
Zero-cost Minting – Users can create NFTs on Ethereum using Rarible's "Lazy minting" service without paying any gas costs since it has a lazy minting feature.
Flexible royalties – You can choose up to 50% royalties that you'll receive for the sale of your artwork in the future.
Partnerships – Rarible has formed many partnerships with businesses and well-known personalities such as Twitter and the fast-food chain Yum! Brands, the boxer Floyd Mayweather Jr., and the actress Lindsay Lohan all launched their NFTs. You don't have to be popular to sell NFTs on the platform
Is Rarible NFT Marketplace Safe?
NFTs may have become the hottest topic in cryptoville (crypto space), but not all talked about them could be said to be music to the ears. The sub-sector of the crypto industry has had its fair share of mishaps.
However, when you take a gander at Rarible's specs of its marketplace, you will notice that the platform presents a secure network, and the devs have stressed safety with a comprehensive privacy policy framework.
First, you got to know that the marketplace is non-custodial. So, until your NFTs are sold, they will never leave your wallet. In response to a sale, the smart contract you agreed to when listing your NFT activates, takes it out of your wallet, and deposits the money you are owed in its place.
(Always conduct DYOR before deciding on what crypto platform to invest on)
Takeaways
Rarible offers a distinctive venue for collectors and makers to create digital artworks, even though you probably won't find any Lady Ape Club or CryptoPunk NFTs here. The multichain mixed marketplace on Rarible might be fantastic for artists and collectors.
Although it may not be as elegant as Foundation or the popular OpenSea, we believe it to be a top platform in the blockchain space. This market allows new users to enter the industry without spending much money on cryptocurrencies or moving tokens from one wallet to another because it supports three blockchains.
Frequently Asked Questions (FAQs)
What is Rarible?
Rarible is an open-source NFT marketplace where anybody may buy, mint, and sell digital goods.
These things can include domains, movies, music, and more. There is no middleman because ownership of these things is transferred via Ethereum blockchain technology on the company's web marketplace.
Which NFTs can I find in the Rarible Marketplace?
Digital art, memes, music, photography, domains, DeFi, gaming, and metaverse NFTs can all be found on Rarible. You can perform a filter by blockchain kind, price, or collection. It lacks some of its rivals' more specialized sections for film, music, sports, and other collectibles.
How much is an NFT in the Rarible Marketplace?
According to Rarible, doing so on the platform usually takes less than five minutes. In terms of costs, it levies a 2.5 percent fee on both buyers and sellers. As a result, every buy transaction will cost you 2.5 percent, and every sell transaction will cost you 2.5 percent.
On Rarible, there are two ways you may make money: by selling NFTs you've made or by reselling collectibles you've bought from the NFTs' original producers (If you use this approach, the original creators get paid royalties for every time the product is sold again).