Marathon's Bitcoin production slips 9% amid 'unprecedented' heatwave
Marathon Digital experienced a 9% dip in Bitcoin production in August 2023, primarily due to increased shutdowns in Texas owing to record-high temperatures.
Despite this setback, the US-based crypto mining firm produced 1,072 Bitcoin (BTC), a figure that quintuples the output from August last year.
According to the company's latest mining operations report, Marathon has been on a steady growth trajectory, enhancing its operational hash rate in the US by 2% to reach 19.1 exahashes and elevating its installed hash rate by 1% to 23.1 exahashes in August. This increment results from upgrading their Bitmain Antminer S19j Pro miners to the more efficient S19 XP models.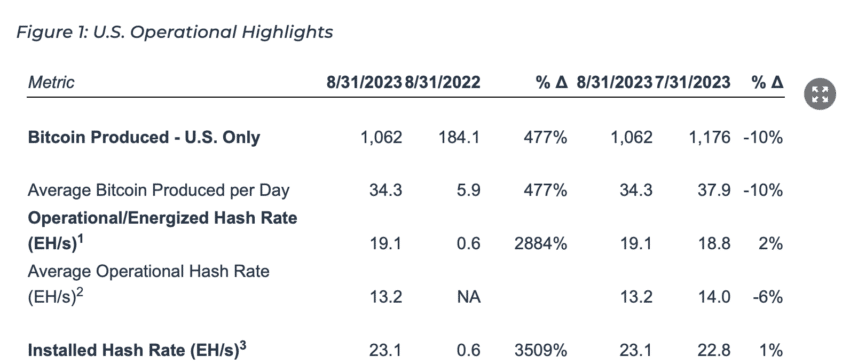 Having achieved its initial domestic growth target of 23 exahashes, Marathon is setting its sights on a new goal of 30 exahashes. The company plans to acquire two through international facilities, while the remaining five will be secured via contracts with other entities.
The company has successfully met its primary domestic growth target of 23 exahashes and is now setting sights on achieving 30 exahashes. The company plans to acquire two of these through international facilities, while the remaining five will be secured via contracts with other entities.
Currently, the firm is completing the necessary paperwork for its upcoming mining facility in Garden City, Texas. Moreover, its collaborative venture in Abu Dhabi successfully mined 50 Bitcoin in August.
Marathon CEO, Fred Thiel, addressed the recent dip in Bitcoin production, attributing it to the adverse climatic conditions experienced in Texas.
"The dip in Bitcoin production from July is primarily a result of the heightened curtailment activities in Texas, triggered by the record-breaking temperatures. These temporary halts have overshadowed the advancements we've achieved in amplifying our operational hash rate and refining our operations."

Fred Thiel, CEO of Marathon
In its Q2 2023 financial report, Marathon disclosed a remarkable 228% surge in revenue compared to Q2 2022.
This spike was fuelled by a $23.4 million profit from the sale of 63% of the Bitcoin mined during the quarter, a strategy employed to cover operating expenses. The firm also noted an impairment charge of $8.4 million on its digital assets' value.
Mining downturn and Marathon Digital's legal challenges
The broader Bitcoin mining community seems to echo a similar trend, with numerous miners opting to sell parts of their holdings, reacting to the volatile Bitcoin prices.
Recent data from Glassnode highlights a significant sell-off initiated by miners from Aug. 26, coinciding with the Bitcoin price dipping below the $26,000 mark. This sell-off saw about 4,000 BTC being liquidated over the past week.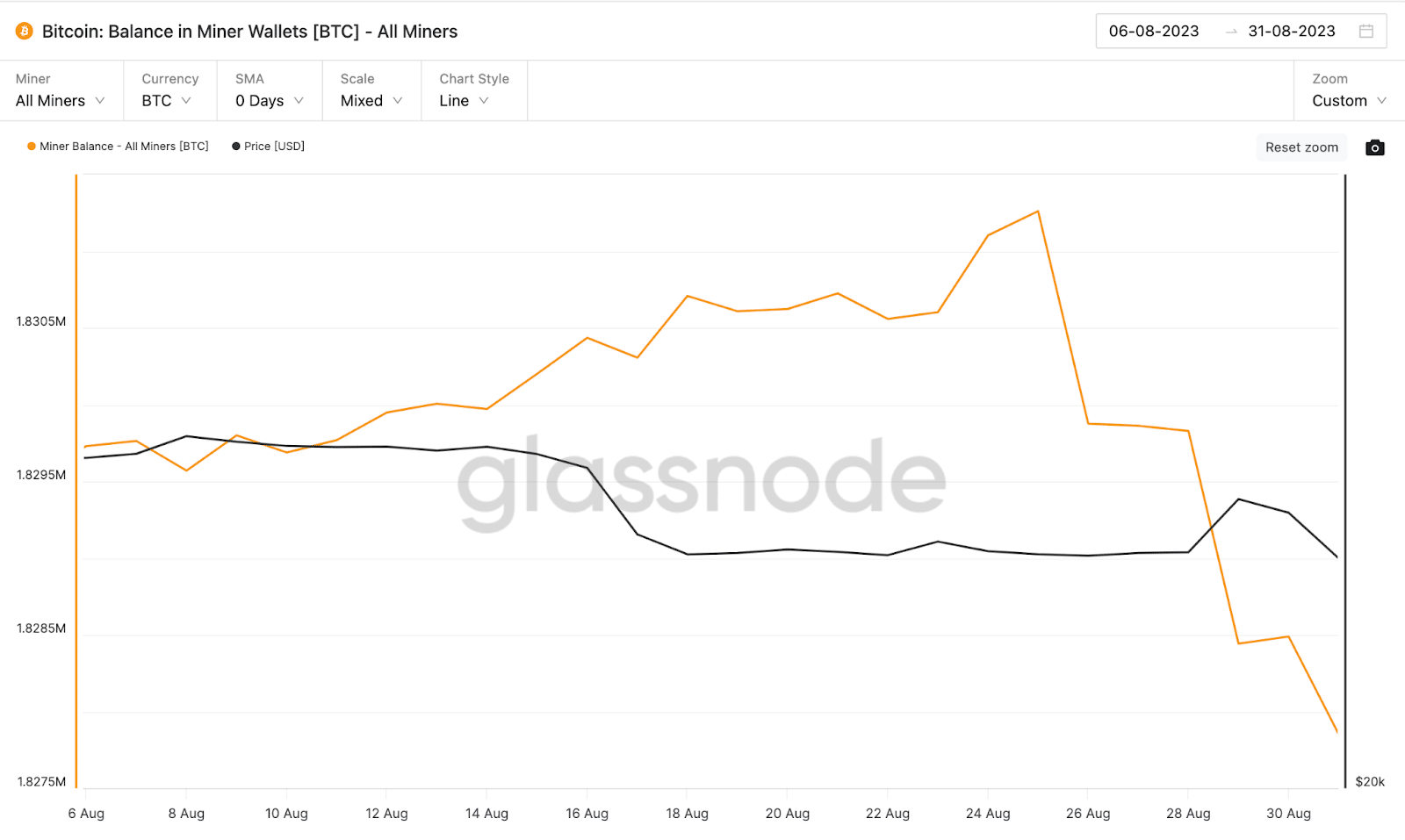 In other developments, Marathon Digital is facing legal challenges. On May 2, a class-action lawsuit was filed by The Klein Law Firm, representing the company's shareholders.
The lawsuit accuses Marathon of making misleading statements over nearly two years, allegedly withholding information that could potentially negatively affect its financial health.
This unfolding scenario places Marathon Digital at a critical juncture, balancing growth aspirations with environmental and legal hurdles. The coming months are poised to be a decisive phase for the company as it navigates through these challenges.