Mass Adoption Report: 101 Million Users Entered Crypto Markets in 2020
The University of Cambridge's third Global Cryptoasset Benchmarking Study states that there has been a nearly 200% increase in the number of cryptocurrency users over the last two years. This is the September 2020 third edition of the Global Cryptoasset Benchmarking Study. It further stated that there has been a year-on-year increase in all sections that dropped to 21% in 2019 from 57% in 2018.
Almost 200% Increase In The Number Of Cryptocurrency Users
The study focuses on four market sections that cover mining, payments, custody, and exchange. Various members from the cryptocurrency world took part in the University of Cambridge (UC) study such as wallet providers, exchanges, miners, cloud mining providers, crypto custodians, and more. The 71-page study shares that it uses two surveys from March and May 2020 to get several reports' metrics.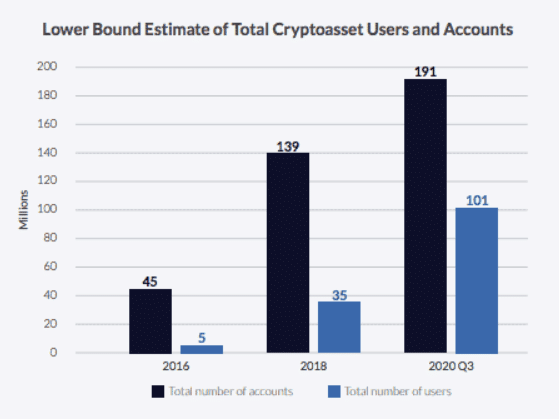 Image Source: Global Cryptocurrency Benchmarking Study
Now, as per the report, the number of cryptocurrency users has touched almost 189% since 2018. Estimations reveal that 101 million different users signed up for Bitcoin and crypto-asset mode with 'service providers' in Q3 2020. These service providers are essentially cryptocurrency trading platforms and wallets. They recorded 191 million accounts for the related users.
Hashers And Global Mining
The report further presents the cryptocurrency mining world and states that mining is regularly approaching an "industrial scale." The conclusions describe the rules miners (hashers) support to decide which coin the process should mine is solely based on profit scaling.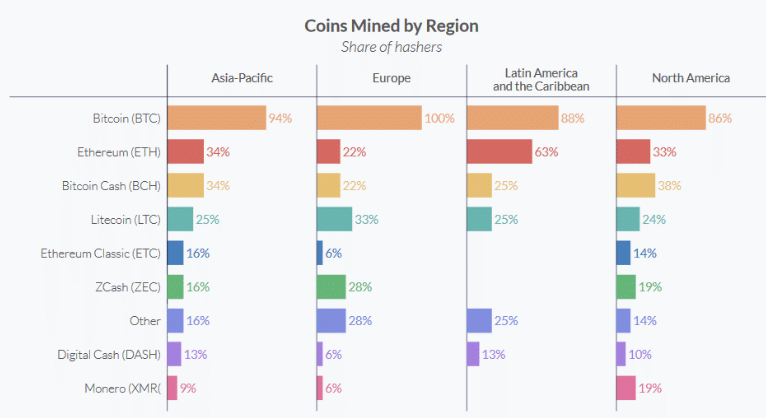 Image Source: Global Cryptocurrency Benchmarking Study
According to the report, Bitcoin (BTC) is the most prevalent coin having 89% of participants mining the crypto asset. It is then followed by Ethereum (ETH – 35%) and Bitcoin Cash (BCH – 30%) sequentially. Some countries have diversified miner fame ratings depending on the area and demographic.
The vast number of findings within UC's report addresses several other topics like stablecoins, IT security, and government laws. Stablecoins like tether (USDT) have displayed very noticeably and are "increasingly available", the report states. Furthermore, crypto asset firms are following new laws, the "decoupling of duties, such as within custody, clearance and agreement obligations, seems to be initiated" as well.
Shortly, crypto service providers may be influenced considerably by the DeFi market. In fact, the study remarks that Defi is likely to change large crypto service providers and their market standards "in the next 12 ." Notable players in the broader crypto market have also voiced out their positive views on DeFi, as BTCManager had previously reported.