MIT Graduate-led Startup Enigma Unveils Cryptocurrency Investment Platform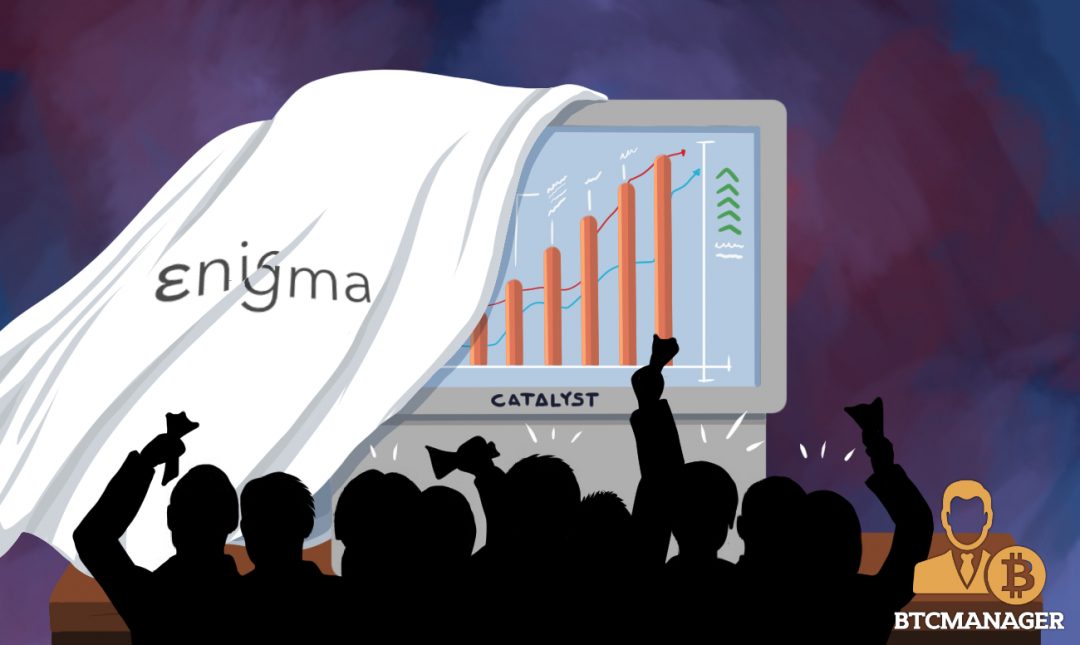 California-based blockchain startup Enigma has announced the creation of a cryptocurrency investment platform that allows developers to start their own digital asset investment funds based on trading strategies that they create themselves.
The platform, named Catalyst, enables developers to create investment funds where they have full control of how their digital assets are handled. Developers are free to incorporate whatever variable they see fit into the algorithms that govern their fund.
The platform is the brainchild of Silicon Valley startup Enigma that is led by Massachusetts Institute of Technology (MIT) graduates. The Enigma team has previously created a different platform that aimed to give users control over their data, who has access to it and, ultimately the ability to sell the data at a profit while retaining their anonymity. Now, the Guy Zyskind-led team has set its sights on cryptocurrency trading.
"A lot of people are starting to look into it, and invest in it, but it's still very much kind of like the Wild West," says Enigma CEO, Guy Zyskind of the cryptocurrency market. This is the reasoning behind the creation of Catalyst, which seeks to open up and demystify the cryptocurrency market to developers and investors alike.
"We are passionate about the role of cryptocurrencies in defining personal financial freedom. We want to play our part in driving their mainstream adoption. Our vision is to enable developers to build winning investment strategies, a strong track record and attract investment from community investors," Enigma explained in their announcement.
The team defines Catalyst as "a platform that empowers anyone to build their own crypto hedge fund and participate in the coming Renaissance of the financial ecosystem. Catalyst is a playground where developers, quants, and experienced traders can easily build, simulate, and eventually live trade cryptocurrencies using sophisticated programmatic strategies."
How It Works
"To begin trading, users open payment channels with a chosen liquidity provider, in the currencies they wish to trade. Orders are then submitted to the liquidity provider that a trader chooses, and matched with an online counterparty. Finally, the assets are exchanged atomically by executing a single, cross-chain payment, routed through the liquidity provider," the Catalyst white paper explains.
The platform is designed to ensure that the investors maintain full control and ownership of their assets at all times. The platform also allows for the details of the trading algorithms to be kept private:
"The core of Catalyst's architecture provides a method of performing cross-chain atomic swaps using hashed timelock contracts (HTLCs), operating under the direction of an algorithmic trade manager. This ensures that traders can maintain custody of their assets and privacy of their trading algorithms."
The team plans to open source their infrastructure which they hope will further enhance and grow both the market and their platform. "We believe an ecosystem of multiple exchanges will further enhance the reliability of the trading infrastructure and liquidity of the underlying payment networks, while simultaneously providing an avenue for scaling beyond the throughput of a single exchange."
Further to its vision of opening up and growing the cryptocurrency investment market, the Catalyst platform will be able to handle live trading of Initial Coin Offerings (ICO's). "One of Catalyst's long-term goals is support live-trading of ICO tokens. These tokens are typically managed via an Ethereum smart contract, thus, our implementation plans to be fully compatible with the proposed Raiden Network, which enables off-chain transfers of value between Ethereum smart contracts."
For investment strategies that are able to generate high returns, the team recognizes that developers must have access to all pertinent data and addresses this through the creation of a data bank of sorts within the platform which they believe will make the process easier:
"Developers will be able to access a large variety of data sources specifically around crypto-assets. These include price data, sentiment data, social networking data, and more. While we plan to curate the initial data sets, it is likely that most data will be generated by the community in return for incentives. Developers can utilize the myriad of data sources that will be made available through our platform to build their models, back-test them according to historical data, as well as put their strategies to the test in a simulated or real trading environment."
Enigma hopes the platform will be attractive to developers who are interested in creating algorithms for the cryptocurrency market since they do not have to put up the initial capital themselves.
"Beyond making development of crypto-trading strategies easy, our goal is to create a marketplace for trading strategies that non-developers can invest in. In this way, developers are not required to obtain capital to fund their algorithms personally. Instead, they can focus on becoming the best algo-traders they can be, while earning management and performance fees from investors that choose to invest in their strategies."
Though the platform will initially only be available to developers with coding experience, there are plans to incorporate certain tools to allow "regular" people to create their own strategies. "In order to further lower barriers to invest in and increase adoption of crypto-assets, we will offer tools that enables individuals with no coding experience to build, test and master algorithmic trading strategies. This interface would be similar to the visual programming languages, like Scratch developed at MIT, and would provide full-functionality of the Trading SDK and connect to all existing data sources."
To allow investors to put money into the fund with the best performance, there will be a  "web-based leaderboard ranking of all strategies deployed by developers. These will include standard return and risk metrics, such as ROI, Sharpe ratio, alpha and beta and max drawdown." The investors have the choice to put their money in the well-performing funds, at a management fee to the fund developers, as is the practice in traditional investment funds.
Catalyst hopes to help both experienced investors and newcomers make smart cryptocurrency trading choices. "This kind of marketplace can benefit both the investors, who now have access to algorithmic trading, as well as the developers, who may lack the capital to fund their strategies personally. To the best of our knowledge, our platform will be the first to make machine-based investing accessible. Regular investors can then invest directly in winning strategies through our system."
"From a vision perspective, we would like to be able to enable the average Joes to be able to invest in these technologies as well," added Can Kisagun, Chief Product Officer at Enigma.
Why Digital Assets Funds Are Poised to Succeed
With the steep rise in demand for both altcoins and newly issued ICO tokens, a platform such as Catalyst will likely draw investor attention once it goes live.