NEO DevCon (Did I Read That Correctly?)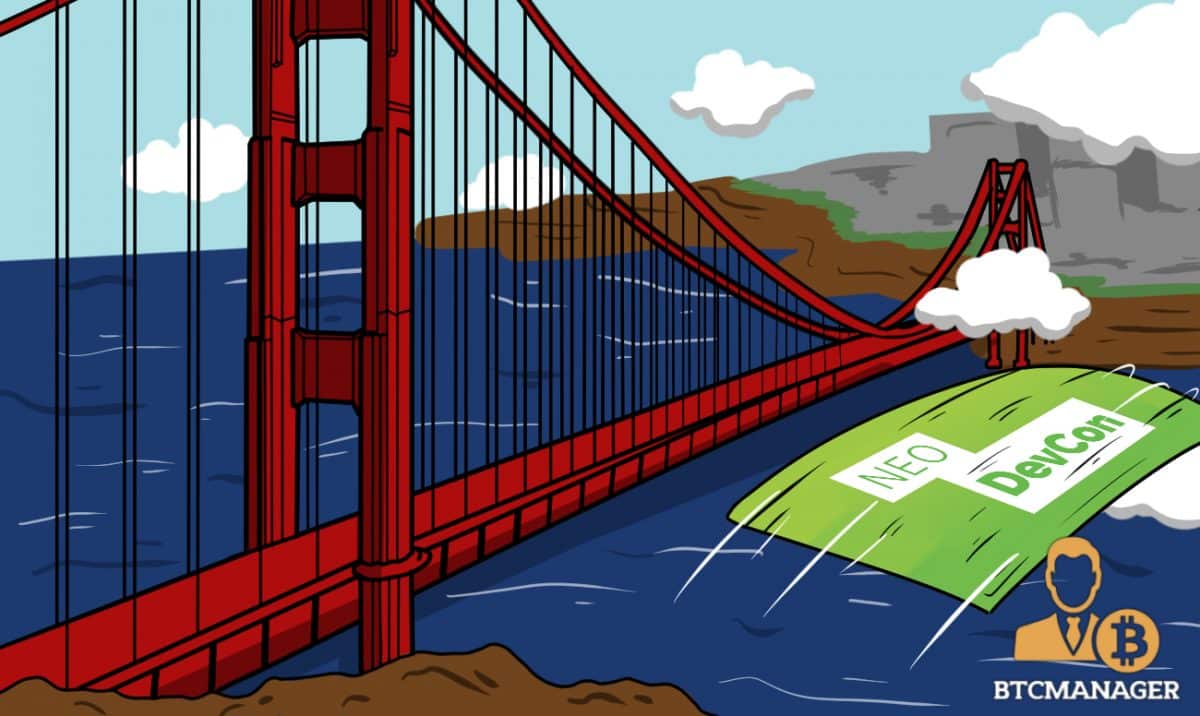 DevCon this year is occurring next week in San Francisco. NEO, more commonly known, as the "Chinese Ethereum," will be hosting this massive conference. Whether you are physically attending or plan to stay tuned for updates, there are many ways to profit if you are monitoring the NEO DevCon and their agenda.
Background on NEO
NEO went through major changes in June 2017; formerly known as, "Antshares," they rebranded releasing the Neo Smart Contract 2.0. Through their rebranding, they also initiated many new strategic partnerships. This was a turning point for NEO becoming one of the largest players in the cryptocurrency sphere because of partnerships with companies such as Microsoft China. This drove developers to create over 40 dapps in a very short period of time. The NEO platform has also begun releasing ICOs at an increasing rate earning it the nickname, the "Chinese Ethereum." DevCon is a major conference, and NEO has sponsored the entire event, making a very bold statement regarding their presence in crypto and their intentions to remain relevant.
NEO DevCon Takes Place in San Francisco
Yes, indeed you read that correctly. The name of the conference has the name "NEO" in it. This was surprising because most conferences have a tiered level of sponsors with a focus on Bitcoin ("BTC"), altcoins, or blockchain technology. Very rarely, if ever, will a specific coin besides BTC be listed exclusively in the title of the conference. For example, DASH was the main sponsor of the Miami BTC Conference.
Yet, the name was not changed to the "Dash Miami BTC Conference." However, NEO managed to fully sponsor, and in essence, take over this January's DevCon. A quick glance at the agenda and speaker list demonstrate that not only is NEO hosting DevCon but they are doing most of the presentations, and the presentations that are not NEO specific, are handled by ICOs that were launched on the NEO platform.
NEO DevCon is being held on a Tuesday and Wednesday highlighting what the author feels is the main reason it has yet to sell out. The Dallas Super Conference, three weeks later has already sold out of the main venue and is almost sold out of the alternative (and cleverly named) "Forked" venue as well. Regardless if tickets are still for sale, NEO has made a large statement hosting DevCon in the United States' technology capital.
San Francisco has long been known for its diversity, Asian heritage, and being a technology hub for the world. NEO DevCon being hosted in San Francisco and sponsored by NEO speaks volumes to what NEO has planned for 2018. NEO had an "antshare" sized portion of the market six months ago. The next 12 months should see them grow exponentially chipping into the total market share of Ethereum.
NEO DevCon: Agenda
One of the most significant strategic partnerships NEO formed was with Microsoft China. The Opening Address for the entire conference is being given by Scott Hunter who is a Partner Director for Microsoft. Directly following his speech will be DA Hongfei, who is the Founder of NEO and Onchain. Having a Partner Director of Microsoft followed by the Founder of NEO sets the stage for both NEO DevCon and for what NEO has planned for the following year.
The remainder of the first morning is rounded out by Stanford Professors, Senior Research and Development at NEO, along with another Founder of NEO and COZ. The next day and a half does not stray much from the platform laid out during the first half of day one. There are ten presentations following day one's lunch break, and of those five have NEO specifically in their title, and the other five are either on the NEO blockchain or NEO related. Day one is stacked with NEO presentations almost entirely.
When analyzing the agenda, day two's calendar looks just as NEO oriented as day one. More than 50 percent of the presentations held before lunch are once again NEO specific, ranging from NeoAuth (login using the NEO blockchain) to a "NEO" Frontier (clever word use). HashPuppies is also being introduced prior to lunch! HashPuppies is the CryptoKitties equivalent on the NEO blockchain.
CryptoKitties took the Ethereum blockchain for a roller coaster ride in early December spiking gas prices as thousands were addicted to breeding and trading digital pets. These breed able, digital, blockchain, tokenized trading cards had prices in the thousands of dollars. HashPuppies should similarly take the world, and especially, the NEO blockchain by storm. The second half of day two there is about a 50/50 split between NEO specific presentations and ICOs or other developer related topics. NEO closes out the conference with two back to back presentations regarding off-chain scaling and an introduction to the entire NEO team.
NEO, the Asian ether, has completely taken over DevCon. The amount of publicity that will be provided to NEO due to this enormous conference coupled with all the newest features being on display for the world to see should result in a significant price climb for NEO.
The author expects this northern price trend to continue following BTC futures expiration on January 26, and continue to climb through the end of the conference. Binance pays GAS payments on the first day of every month, so the author expects to see NEO continue to climb until their GAS payments have been sent. At this point, the author does not expect a decline in price but more of a plateau. The conference will demonstrate NEO's solidified position in the blockchain space while giving previews of upcoming ICOs, recently completed ICOs, and exciting technology waiting on the horizon.
How to Profit While Trading the Conference
With NEO DevCon tickets starting at $750 it is clear why some would hope to be able to make some of that back while attending the conference located at the Intercontinental San Francisco. NEO is a fantastic play following future expirations on January 26. This conference will provide exposure on an unprecedented scale while the timing of the market couldn't be better. It is likely this was unintentional, but NEO holders should benefit regardless.
Following BTC futures expiration last week the market began its bull market rally precisely at 4:00 pm EST.  If the trend repeats itself which from the dip already taking place on January 26 it seems to be, we can assume the next few weeks will be a nice bull rally until we hit option expirations again in a month. That being said, NEO is situated perfectly to take full advantage of the bull rally that should begin within the next twenty-four hours if it has not started already. An impending bull market rally following BTC option expiration, DevCon adding NEO to its name for the conference, significant worldwide publicity and an agenda loaded with NEO-oriented speakers should lead to a very impressive week for NEO.
For those interested in day trading, the author generally buys coins prior to their speakers presenting at conferences, and then sell in the final few minutes of the presentation as the spike in coin price is occurring. However, this technique works best when there are multiple different coins speaking.
NEO DevCon is mainly about NEO, making NEO not necessarily a day trading play, but more of a short-term hold for those looking to capitalize on the conference. The team, the technology, and the market adoption is there to make NEO a long-term hold as well. However, regarding the near future, NEO should be a spectacular one-week play.
Conclusion
Today's recommendation is NEO as a short-term hold for those looking to beat the standard bull market returns following futures expiration. The Neo DevCon conference should provide the necessary publicity while introducing NEO to the U.S. market on a national scale. Although NEO is unlikely to "moon" in the next week, it is highly likely to appreciate well above the average market return of altcoins and bitcoin.
Beyond NEO being a great play this week there is some other great news! In compiling research, the last few days', a true moonshot has presented itself. NEO by no means is a moonshot as it already has a market cap of approximately $9 billion. However, a coin with a market cap far less than $500 million has presented itself in a very unique fashion. This will be the focal point of an upcoming article!
A true moonshot is a coin you expect 100 to 1000 percent returns on. These returns could be somewhat instantaneous if the coin is already extravagantly undervalued, but generally, take a few months for the exponential gains to materialize. NEO is not a moonshot, although it is a great choice as a safe pick that should appreciate significantly this coming week.
On January 28, 2018, the author will be releasing the first true moonshot on BTCManager as the down markets have provided serious opportunities that the public deserves to know about and hopefully enjoy being able to take advantage of. January 28's moonshot will be located on exchanges KuCoin and Huobi if you want the ability to purchase it! A quick preview to get excited; it has major news/events occurring this week and is both a short- and long-term moon possibility!
The author will publish his first Moonshot article on January 28. However, today the safer and most likely very high yielding play is NEO.