Opera Crypto Browser Users Can Now Access BNB Chain Ecosystem dApps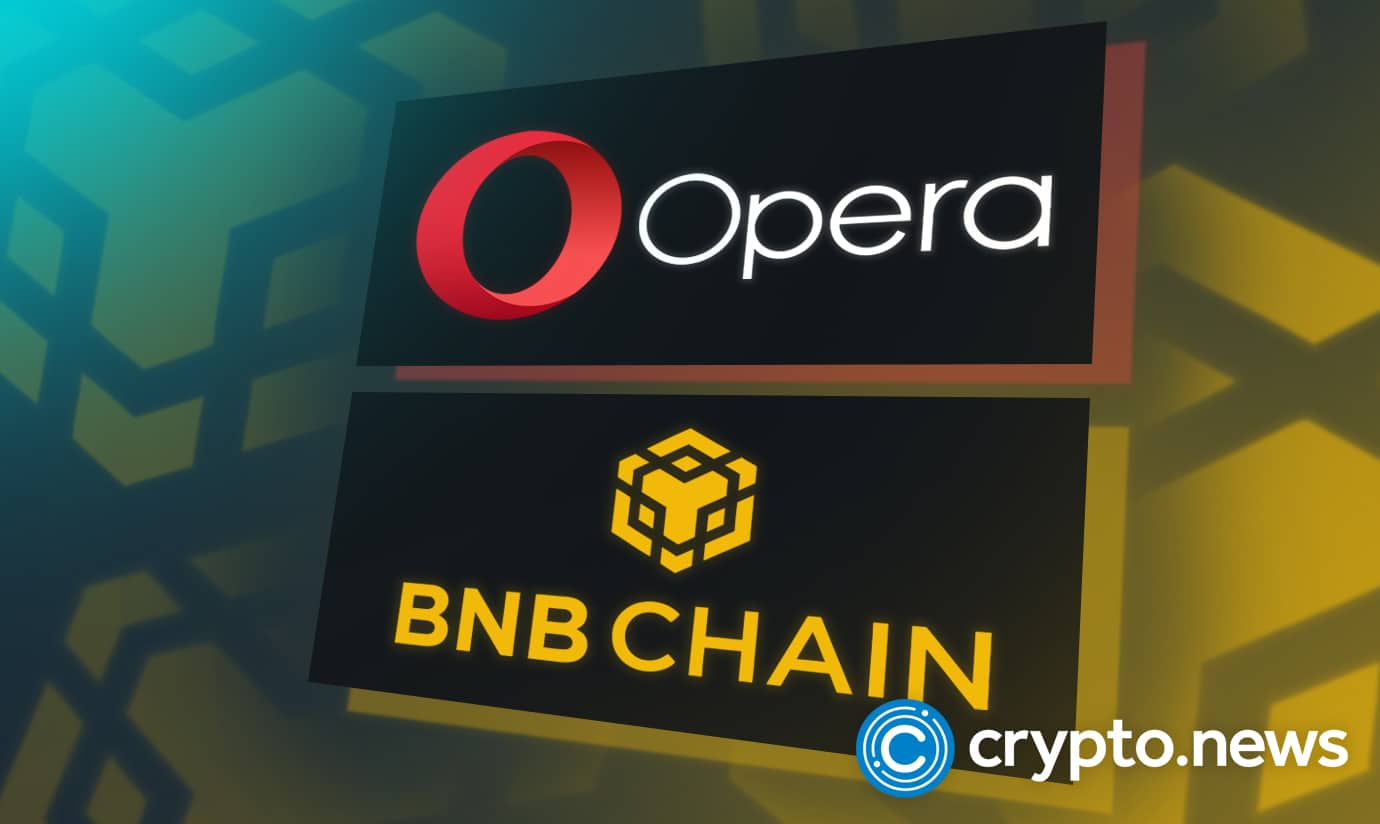 Opera Crypto Browser has added support for BNB Chain, enabling its more than 350 million monthly active users across the world to interact with decentralized finance (DeFi) solutions, and decentralized applications (dApps) and purchase the BNB token right from their browsers, according to a blog post on May 5, 2022.
Opera Crypto Browser Integarts BNB Chain
As the Web3.0 ecosystem continues to evolve, Opera is doing everything within its powers to remain at the forefront of the movement.
Barely two months after adding support for leading blockchain networks including Bitcoin, Solana, Polygon, StarkEX, IXO, Ronin, and others in its Crypto Browser, the Opera Web3 initiative has achieved another significant feat.
In the latest development, Opera Crypto Browser has added support for BNB Chain (formerly Binance Smart Chain) on desktop and mobile, making it possible for users to seamlessly purchase Binance's BNB token with fiat, send and receive it via the built-in Opera crypto wallet, while also being able to interact with the numerous decentralized applications and DeFi solutions in the BNB Chain ecosystem.
Opera wrote:
"We're very happy to announce that the Opera Crypto Browser now supports BNB Chain on desktop and mobile. BNB Chain is the largest smart contract blockchain in terms of daily active users (DAU) and hosts a plethora of community-driven and decentralized applications (dApps).
DeFi and Play-to-Earn Games Live on Opera
With the integration of BNB Chain (Build N Build) into the Opera Crypto Browser, decentralized finance (DeFi) enthusiasts will now be able to access popular decentralized exchanges, including PancakeSwap. 1inch, and BiSwap, as well as DeFi solutions such as DRIP Venus, Tranches, Treehouse, AprSwap, and AutoShark Finance.
Additionally, immersive play-to-earn blockchain games including StarSharks, Thetan Arena, StarryNift, and SecondLive, as well as non-fungible tokens (NFTs) applications like Galaxy, NFTrade, and Galler, are now directly accessible from the Opera Crypto Browser.
Since commencing its blockchain-based browser project in 2018, the Opera team has been making significant progress in its mission to accelerate the global adoption of Web3.0
Earlier in January 2022, Opera rolled out the beta version of its Crypto Browser for PC, Mac, and Android, before making it available on iOS last April.
BNB Chain is one of the most used blockchain networks at the moment, thanks to its low transaction fees, high throughput, and more. It boasts more than four million weekly Unique Active Users, 36 million weekly transactions on average, and over $13 billion in total value locked (TVL) within its DeFi ecosystem.
On top of that, BNB Chain is quite eco-friendly, as it uses the proof-of-staked authority (PoSA) consensus algorithm, which allows for increased energy efficiency and instantaneous transactions.
With its more than 350 million monthly active users globally, Opera says its latest integration of BNB Chain will potentially take Web3 adoption to the next level.
"With today's announcement of BNB Chain integration, Opera continues to streamline mainstream access to Web3 and beyond. With the Opera Crypto Browser, existing users of BNB Chain dApps and token holders alike can now join the hundreds of millions of Windows, Android, and Mac users worldwide in having unique Web3 access functionality at their fingertips."
At press time, the price of the BNB token is hovering around $407.66, with a market cap of $66.56 billion, as seen on CoinMarketCap.