PIP Expands into the Binance Ecosystem, Integrates BNB and BUSD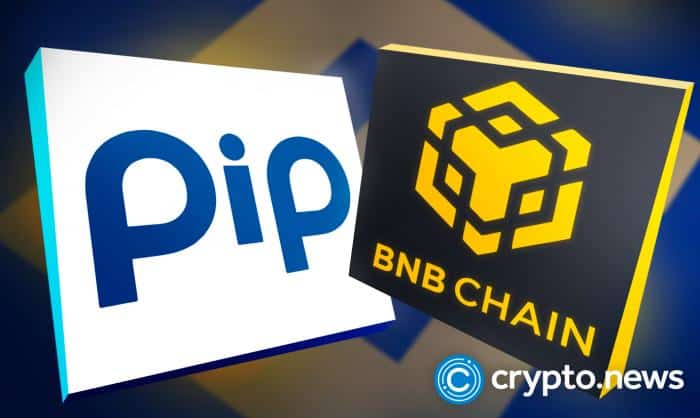 PIP, a blockchain payment service provider, now supports Binance Coin (BNB), the native coin of the vast Binance ecosystem, and BUSD, the stablecoin tracking the USDT.
PIP Supports BNB and BUSD
In a press release on August 16, PIP said they are integrating BNB and BUSD, offering advanced services to BNB Chain users, and bridging them to an array of already supported web2 social media ecosystems. Through the PIP browser-based extension, the payment platform would deliver its unique value proposition to the broad and fast-growing Binance base from across the globe via popular browsers such as Chrome.
Notably, PIP developers are optimistic that they will be helping accelerate the vision of realizing crypto objectives, precisely that of breaking down needless barriers and connecting billions of social media users through a well-designed and all-inclusive financial tool. Through their payment solution, Jeff Baek, the CEO of PIP, believes they will expand the use of BUSD beyond trading to be an integral part of the global payment system.
The integration with Binance is when the general crypto market is recovering after sharp drops in H1 2022. Top crypto assets, including BNB, crashed from their record highs posted in 2021, dropping by a ballpark 75 percent. BNB has been spearheading the broader crypto market recovery, hedging higher, buoyed by the improving on-chain activity, especially in DeFi.
At its core, BNB is useful within the proof-of-stake ecosystem to pay on-chain fees. BNB is coupled with the network and plays a critical role. Additionally, Binance has a coin burning schedule, seeking to halve the total supply. It is a welcomed schedule that could drastically pump the secondary prices of BNB by amplifying scarcity.
Pay, donate, or Tip Through PIP Tags
PIP allows users, including BNB and BUSD holders, to create unique PIP tags. Through these tags, they can connect through their chosen social media platforms, including Twitter, Reddit, Twitch, and Discord, and connect with other users, streamlining payment between them. To transfer funds, a user has to share PIP tags and not the long addresses common with crypto transfers, simplifying the process of sending funds.
PIP further eases fund transfer by enabling transfers through an easy-to-use platform that supports a variety of crypto assets, including highly liquid and reputable stablecoins that now include BUSD. Through PIP tags, users can readily tip other social media users, reward content creators, or even make payments for goods and services received. Clients, including merchants, can leverage PIP's inclusive monetization channels.
Because all they need are PIP tags, they are free to embed them on their websites or share them via their official social media platforms, thereby receiving instant funds in crypto. PIP notes that this is a cost-effective means that saves time and resources and presents a convenient alternative to traditional payment providers.
Future Plans
Eventually, PIP plans to integrate BNB and BUSD into PIP.ME and PIP Button ecosystems. PIP Button is designed expressly to accelerate the monetization of online activities while PIP.ME allows PIP account holders to share customizable blockchain profile links for accepting payments, sharing content, or displaying NFTs.