Price of Queen Elizabeth NFT Shot up as Artworks Floods the Marketplace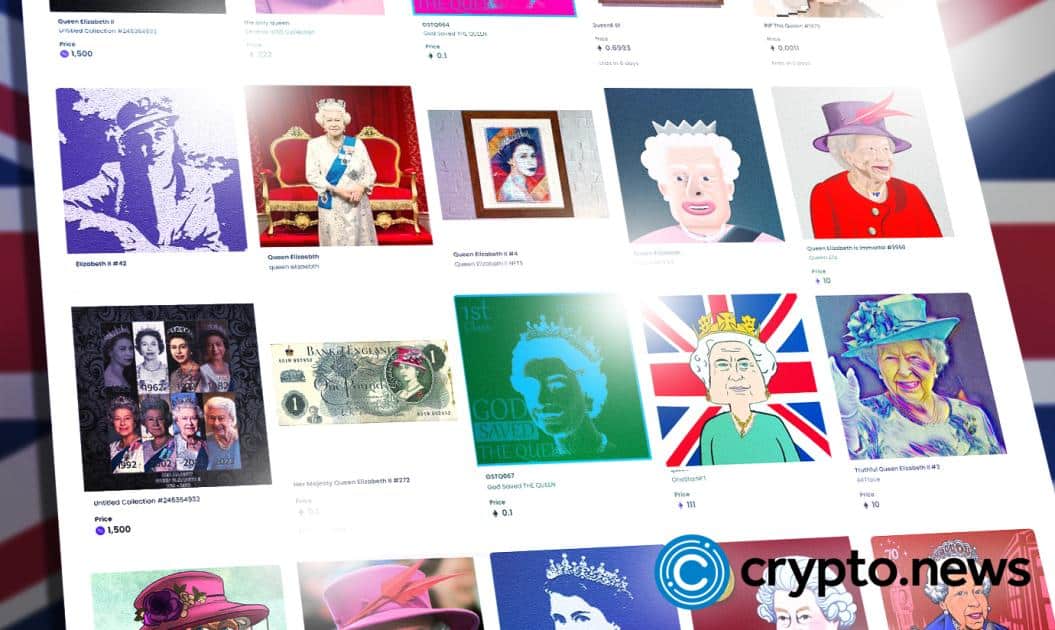 The death of the longest-living British monarch, Queen Elizabeth II, has elicited condolence messages worldwide. However, it also signifies another money-making round for the ever-thriving digital assets industry.
Marketplace Flooded With Queen-Related NFT
The digital collection industry has grabbed the opportunity to present the recent demise of the British Queen. Accordingly, moments after the news of the Queen's death, NFT marketplaces were rife with digital artworks depicting the late monarch.
Creators developed thousands of different collectibles, like the Queen's photograph and the pixel-art style of NFTs.
OpenSea has the largest number of Queen NFTs on its platform. One of the famous collections, "RIP The Queen Official," has close to 8000 digital arts and has already sold out since the news broke out. In addition, the NFTs have a combination of features like eyes, mouths, and backgrounds.
Moreover, LongLiveTheQueenNFT is also one of the famous collections that users are purchasing. It also has an airdrop for users who like, retweet, and tag three of their friends.
Meanwhile, reports indicate that those who already own the Queen NFT are using it to pay respect to the deceased monarch.
Furthermore, the Queen's passing has favored many existing NFT holders, as many have recorded massive sales in less than 48 hours.
A self-styled NFT, Queena DAO Collection, has experienced a surge in sales volume and the number of demands for its artworks.
Moreover, August has seen some of the lowest interest in NFTs. However, the death of Queen Elizabeth II triggered more demands for digital artworks. More than $1000 worth of NFTs has been sold as a result.
Celebrity NFTs Are on the Rise
Since last year, digital arts have acquired a new look. The coming of the NFT has changed how people view art, and 2022 continues the trend.
This year, many NFT collections have many of the top celebrities as holders. Bored Ape Yacht Club (BAYC) and CryptoPunks have set the NFT acquisition by celebrities at a high. Moreover, celebrity buyers have spent millions of dollars to purchase NFT.
And it is no surprise that digital arts have surpassed cryptocurrency in terms of transaction volume for most of 2022.
Over the past months, many celebrities have announced their proud owners of NFT collections. Some even announced the launch of their celebrity NFT platform to leverage their ownership and tokenize their creations.
NFTs are beginning to have broader appeal across industries, and celebrities like artists, sports stars, and musicians have jumped onto the bandwagon.
With blockchain technology's emergence, NFT has come to stay and will continue to change how asset ownership and digital arts are viewed.
Many new and exciting NFT projects are waiting to excite the digital art community.
Meanwhile, the future of NFT is robust enough for any sector to venture into or for people looking for investment opportunities.