Privacy Cryptocurrency Matrix Spreadsheet Compares Top Privacy Projects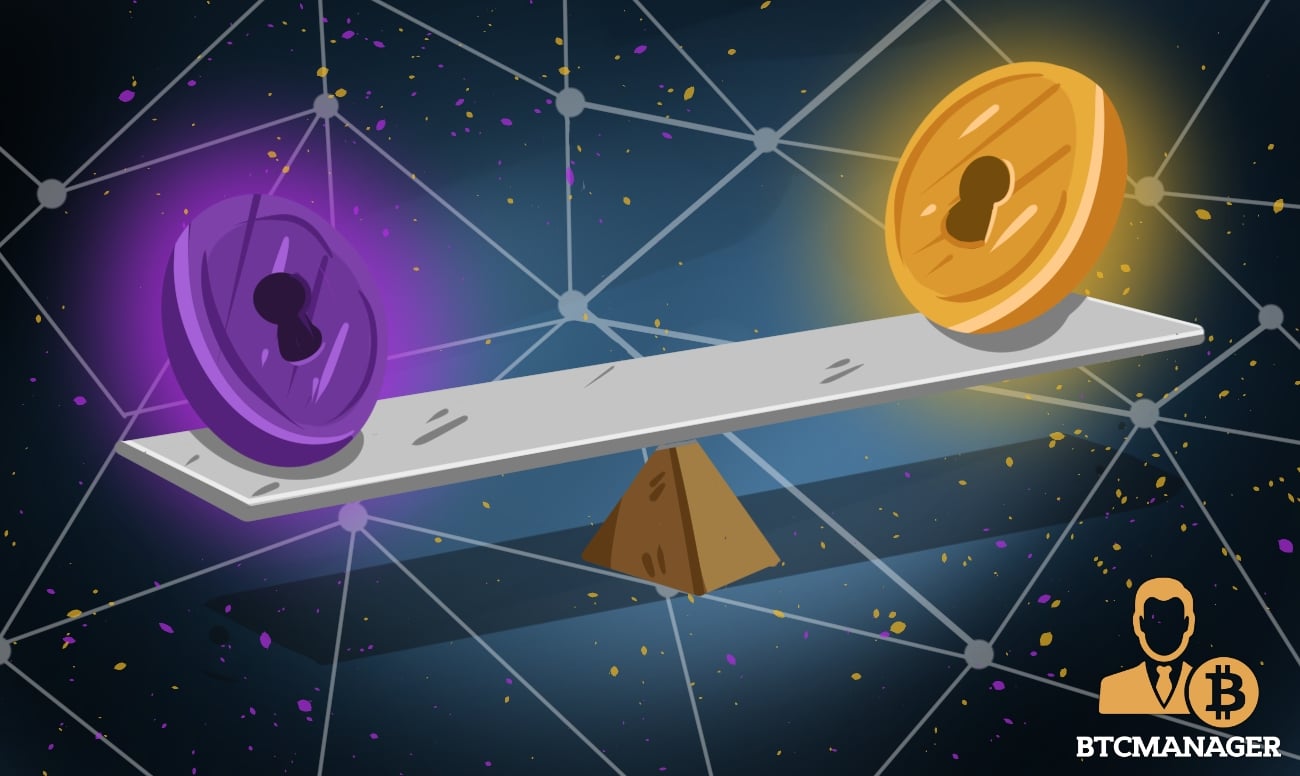 Cryptocurrency communities are often compared to tribes. As a result, it can be hard to objectively compare the different technologies and advantages of each cryptocurrency. To cut through the noise for privacy-focused cryptos, a Google spreadsheet has surfaced on the internet, allowing for users to see differences between different cryptocurrencies.
The sheet, titled "Privacy Coin Matrix," the focus is on coins with solutions for improving fungibility and security of the coin.
It includes coins and blockchain networks you would expect; bitcoin, ether, monero, and dash. But it also includes some smaller projects like phore, sumokoin, and zoin.
The privacy coin matrix is incredibly detailed, as users can compare various attributes, such as coin supply, algorithms, and other variables. Being able to see information across so many coins at a glance reveals interesting findings.
Anonymity
In the 'Privacy' section, for example, you quickly see that most of the coins have no cryptographic privacy. The rest are equally divided between implementations of Zerocash, Zerocoin, and Cryptonote. Particl is the only one of the 20 using RingCT and Confidential Transactions.
Looking at dash will be an eyeopener for many. The largest privacy-focused coin by market capitalization scores poorly in the privacy section.

In comparison, particl received top marks with a green score in all but three sections, and a yellow score in one.
Yet dash is ranked 12 on CoinMarketCap and Particl is at 133. Perhaps the most technologically superior coin is not always the most successful. Perhaps it's the one with the right amount of privacy – enough to keep transactions obscured from onlookers but transparent enough to satisfy potential authorities.
Distribution of Coins
Another interesting trend is the distribution in many of the coins; 25 percent of the coins have 70-80 percent of their supply owned by the top 100 addresses. Bitcoin and dash are the only ones with less than 20 percent of the supply owned by top 100 addresses. For Cryptonote-based coins like monero and sumokoin, it is impossible to give any indication of equity in the blockchain network, as all addresses, and the amounts held, are private.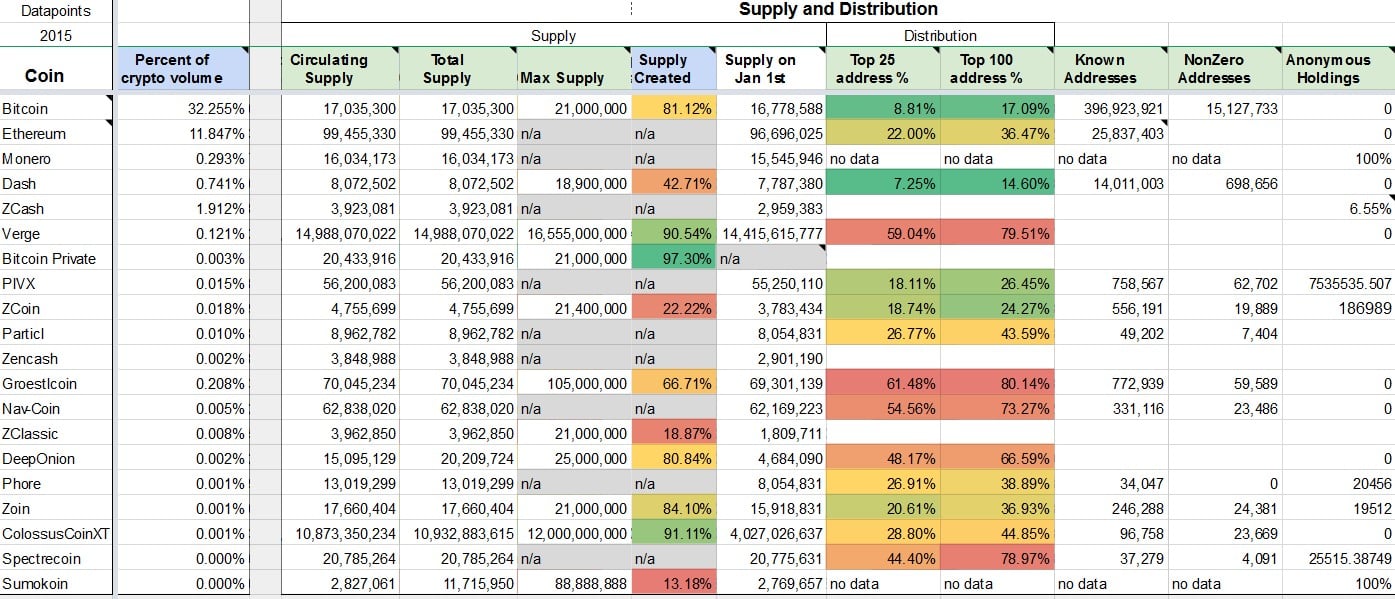 Scalability of Privacy-focused Coins
Scaling is also discussed, in terms of max theoretical transactions per second (tx/s) and max theoretical private transactions per second. Bitcoin is already seeing the limits of what the network can handle, an issue that only gets bigger as time passes by.
Bitcoin and Zcash tie for last, with 7.73 tx/s. NavCoin leads the pack by a longshot, with a theoretical max of 309 tx/s and a private max of 101 tx/s, which beats PayPal average tx/s of 193 but is still far from VISA's 1,667 tx/s.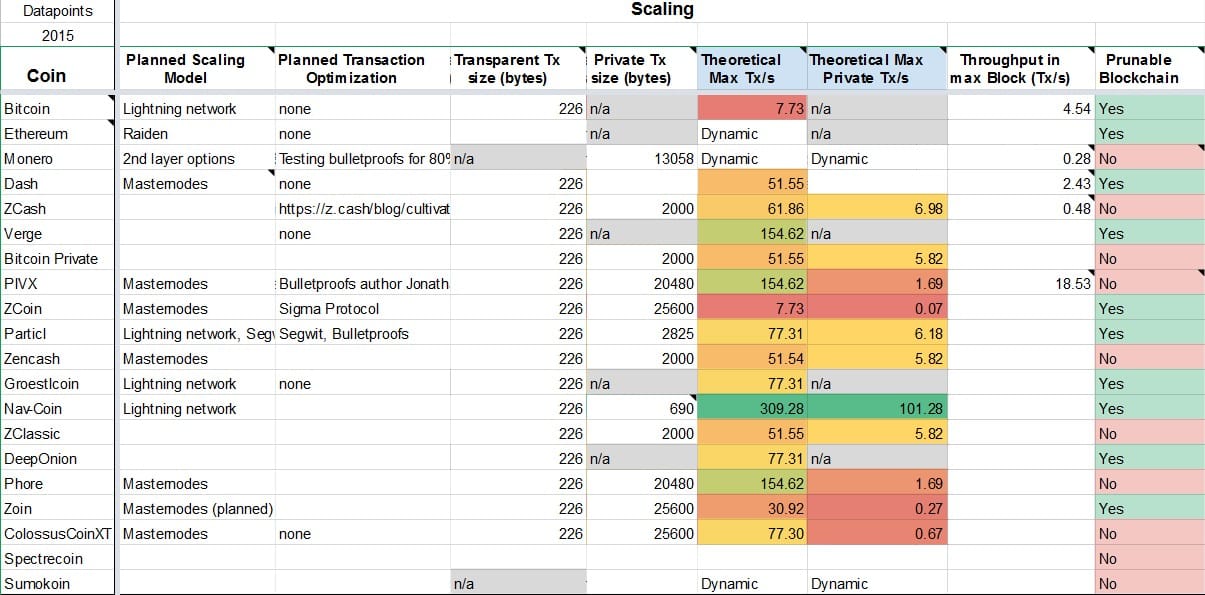 Inflation
Inflation is another factor to consider when investing, as this attribute is not captured by many metrics such as market capitalization. Bitcoin, bitcoin private, groestlcoin, particl and navcoin have the lowest daily inflation, whereas DeepOnion and Zcash have the highest daily inflation.

When looking at annualized inflation we see a similar picture emerge; the cryptos based on zcash have the highest inflation (zcash, zencash, and zcoin), while bitcoin, groestlcoin, particl, navcoin have the lowest figures for this measure.
Regardless of whose team you're rooting for, it is beneficial to see comparisons like this surface. It shows what crypto is doing right as a whole, but also what could use some work universally.