Reality Cards Giving a New Meaning to Decentralized Prediction Markets with NFTs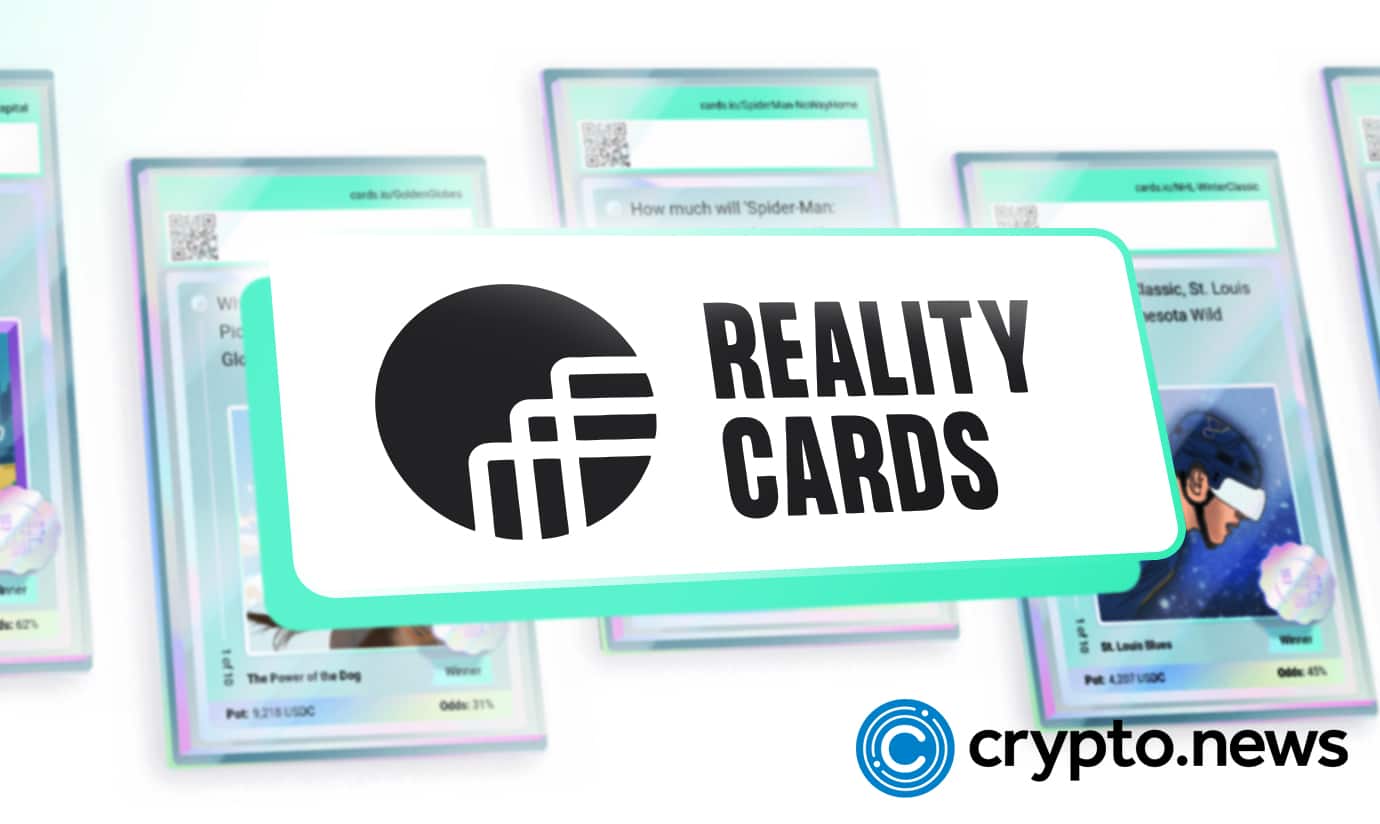 Reality Cards is bringing non-fungible tokens (NFTs) to the decentralized prediction market ecosystem, giving users a never-before-seen betting experience. Reality Cards is now giving away free digital collectibles to early adopters plus token whitelist spots for the CARDS token sale scheduled to go live on its own platform, Launch Cards soon.
Reality Cards Brings NFTs to Prediction Markets
Putting your money where your mouth is,'- by betting on the outcome of a real-world event such as a football match and more is not a new phenomenon in the crypto space as established prediction markets like Augur, Gnosis, Polymarket, and more, have been offering bettors this service for quite some time. However, the truth remains that blockchain-based prediction markets have yet to reach their full potential.
Though nascent, as compared to traditional betting platforms, decentralized prediction markets offer users a plethora of benefits, like zero barriers to entry, transparency, and lack of manipulation. These platforms offer users more than just an avenue to make a few quick bucks via correct predictions.
In spite of the countless benefits that decentralized prediction markets currently offer their users, proponents of decentralized finance (DeFi) and blockchain technology still argue that the prediction markets space has a long way to go before completely revolutionizing the global betting industry, and it appears that Reality Cards is on course to bring that paradigm shift to fruition.
Shifting the Paradigm
In the current prediction market space, users often rely on the opinion of the public to find odds to bet on. However, these selections may not correspond with their own foresight or their idea of what an event's outcome may be.
The user will then proceed to wager however much they are ready to risk and wait for the final outcome of the event. If the user gets the prediction correctly, they earn the reward that was initially agreed upon.
Even though the experience of watching an event you have a stake in can be quite exciting, the entire process lacks gamification.
For successful bettors, a large part of being able to accurately predict the outcome of real-world events is the urge to share their foresight with others. However, this area of prediction markets hasn't been explored much apart from the regularly shared screenshots in group chats and on social media platforms.
Notably, Reality Cards, an NFT-based prediction market aims to solve this problem with its rent-bidding mechanism. Reality Cards gamify the prediction market space by enabling users to compete with each other to participate in the prediction.
Specifically, unlike regular prediction markets, real-world events are only available for a limited time on the Reality Cards platform and every possible outcome has its own card.
To predict the outcome of an event, a user must rent the corresponding card at a specified hourly rate. There is only one Card for each outcome, which means that anyone can take over the ownership of a card at any time by paying a higher hourly rental.
Once the event is over, the funds are divided among all the users who rented the Card that corresponds with the event's outcome. The top users, based on how long they held their Cards, will each receive a unique NFT version of the Card.
Reality Cards has been beta testing its platform for one year now and it's now putting preparation in top gear to go live before the end of Q3, 2022. The gamified decentralized prediction market will first launch its own token via its proprietary launchpad dubbed Launch Cards, a gamified platform built on the same rent-bidding mechanism used in Reality Cards.