SafeMoon Crashes 50% In 24 Hours After Its Recent Price Pump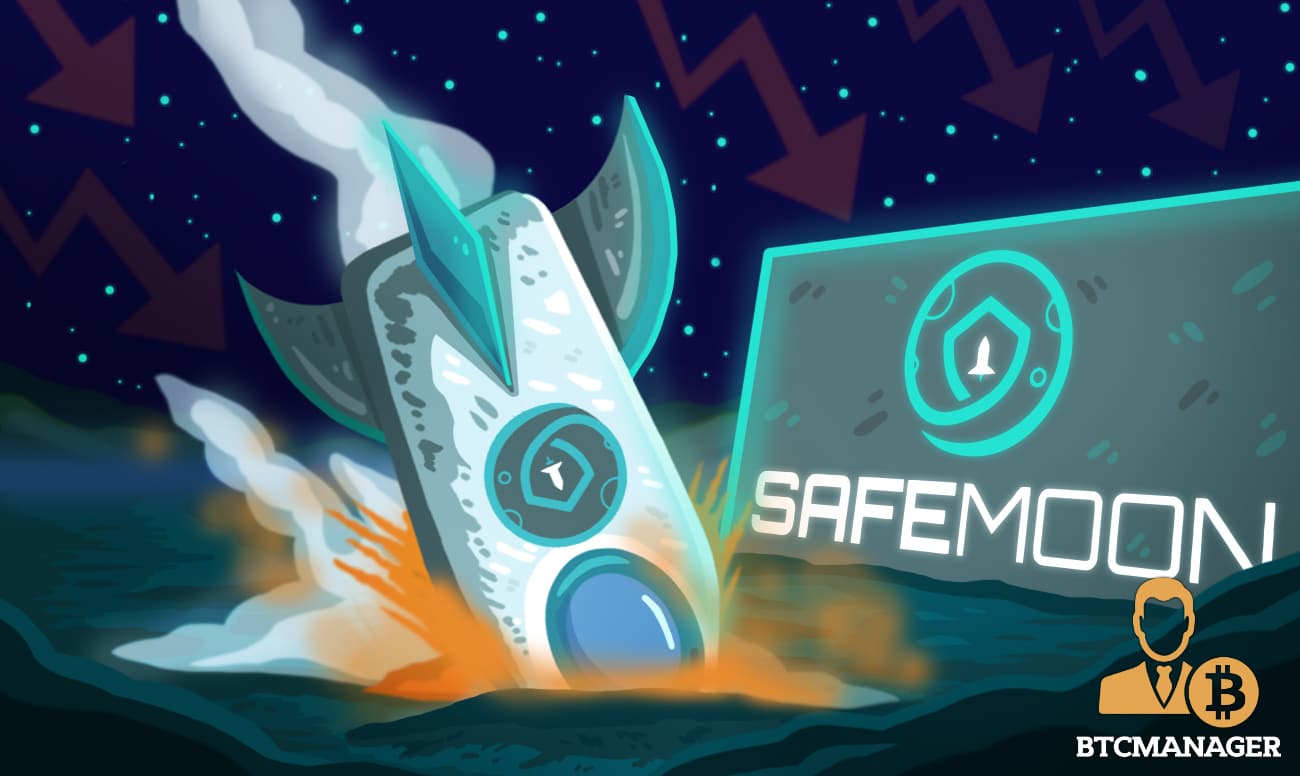 SafeMoon grabbed the attention of crypto enthusiasts this past Sunday after it logged a 99% rise. On April 20, the token soared to its highest level yet when it traded for $0.000013, as per data from CoinMarketCap. 
SafeMoon is the latest digital asset to sweep the internet with its promise of rewarding investors who buy and hold instead of trade it. The Defi token was founded this April by CEO John Karony with the aim to circumvent bank lending and establish peer-to-peer networks. 
A Sudden Mishap
The parabolic rally came to a drastic end on Thursday morning when SafeMoon lost a shocking amount of value. The token shed two-thirds of its value in just an hour, dropping sharply from $0.000015 to $0.000005.
The team behind SafeMoon appeared to acknowledge the massive plunge. The protocol's official Twitter account wrote: "Who said there wouldn't be turbulence," adding that investors should continue holding. 
The SafeMoon price has since recovered slightly to trade at $0.00000504 per data from CoinMarketCap.
A Rivalry with DogeCoin?
Before paring significant gains in the past 24 hours, SafeMoon was indeed mooning, having increased in value nearly 12-fold in the past week. The DeFi token's explosive growth meant that early investors who bought in at launch were sitting on an astonishing 200x gain just five weeks into the project's lifespan.
Like DOGE, the newly launched token, which boasts a fully diluted market cap of $4.3 billion, hopes to drive its value "to the moon". Over the last three days, the recently launched SafeMoon has overtaken Dogecoin as the most searched crypto asset on CoinMarketCap.
SafeMoon launched with the slogan "Safely to the Moon," with its developers noting on their Facebook page: "Remember, getting to the moon takes time and the longer you hold the more tokens you pick up."
Since its launch, SafeMoon has benefited from a spat of attention from crypto influencers on social media. That media-fuelled surge mirrors DOGE's price action, which rallied over 91% in 24 hours after Elon Musk mentioned it in a tweet last week.
The rate at which SafeMoon has been closing in on the US dollar since its launch has led some crypto investors to speculate that it could soon overtake DOGE. Crypto price-tracking platform DigitalCoinPrice has already forecasted SafeMoon will reach $0.00001959 in 2025.
However, SafeMoon still has a long way to go before it can rival DOGE, which has a market cap of over $37 billion and support from a vibrant community.
Is SafeMoon a Scam?
Some members of crypto Twitter are already hailing SafeMoon as "the hottest token in the world."  
However, crypto influencers are calling out what they believe is an apparent get-rich-quick Ponzi scheme. For instance, Dutch YouTuber Quinten François took to his channel to warn the crypto community about getting in too early:
"I'm pretty convinced this is a pyramid scheme and that you will lose your money if you get in right now, because this is a scam that is growing faster than everything I have ever seen before," he stated in a video post.
Similarly, one Redditor flagged a recent wallet that is bleeding hundreds of billions of coins constantly. He also criticized a recent AMA session held by the SafeMoon protocol developers for failing to explain anything of substance about the project.
Laith Khalaf, a financial analyst at investment firm AJ Bell, cautioned crypto users looking to buy the newly launched token that it could be a risky bet. He noted that most of the demand for SafeMoon has come from speculative traders hoping to cash in on future price surges rather than using the token as a means of exchange.
At this point, it is difficult to say if the project is a pyramid scheme with no real purpose other than to enrich early adopters. Therefore, anyone considering an investment in SafeMoon should do thorough research on the project and consider the inherent risks involved with buying digital currencies.