Samsung Unveils TRX dApp Building Tools for TRON Blockchain Support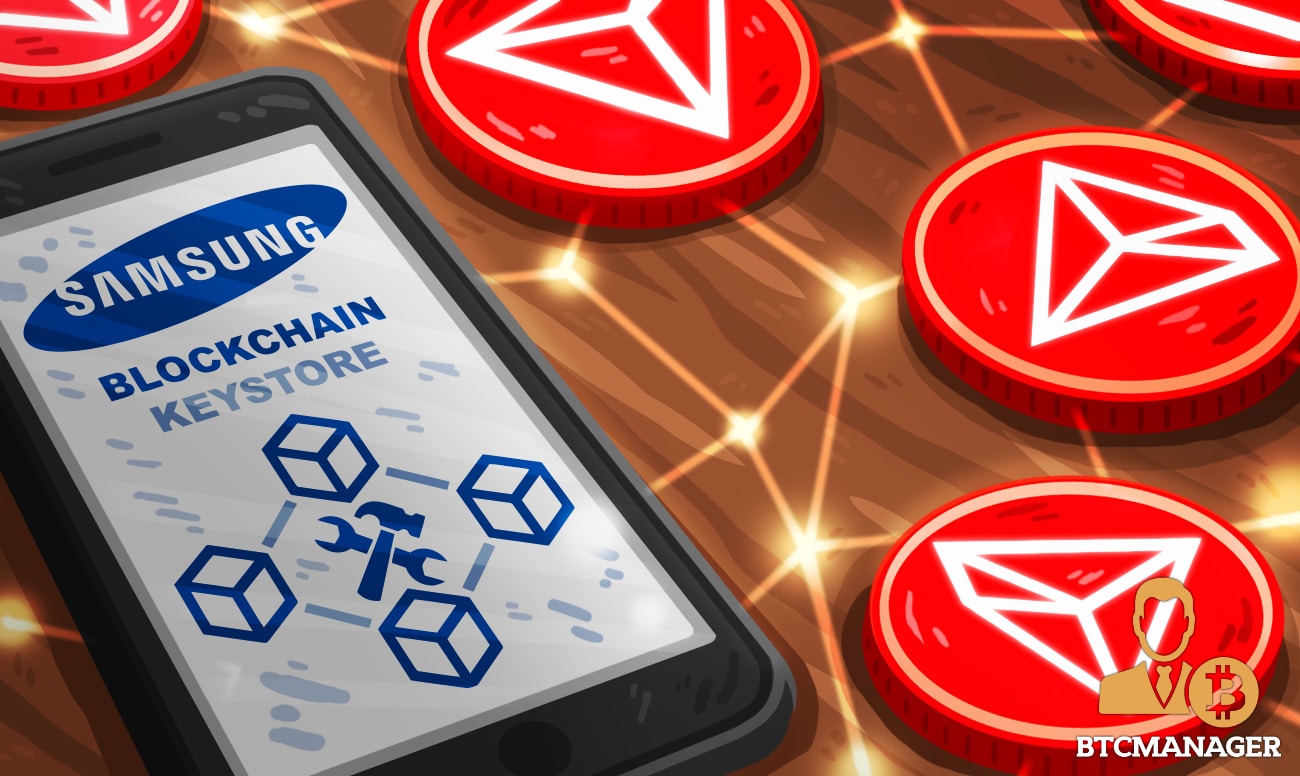 Per an October 29, 2019, release note shared by South Korean electronics behemoth Samsung, the multibillion-dollar firm has successfully integrated decentralized web blockchain Tron (TRX) to its dApp store – Blockchain Keystore.
Tron dApps Coming to Samsung
In a major boost for the development and adoption of the TRX ecosystem, smartphone giant Samsung announced that its latest blockchain dApp API – Samsung Blockchain Keystore SDK v1.2.0 – will support APIs powered by TRX transactions.
Per sources close to the matter, Samsung is set to announce the highly-anticipated Samsung Blockchain Platform SDK at the Samsung Developer Conference 2019. The official announcement reads in part:
"Samsung Blockchain Keystore is a critical part of Samsung's blockchain initiative and addresses some of the key security concerns presented by bringing blockchain to mobile platforms. Samsung Blockchain Keystore allows security-conscious users to treat their phone like a cold wallet, storing their private information in a dedicated secure zone with the additional protection of Samsung Knox and TEE."
With the new integration, APIs for digital tokens based on TRC-10 and 20 standards, along with Tron dApps, can be used by any of the nearly one billion Samsung smartphone users who have access to the Blockchain Keystore.
Notably, Justin Sun, CEO, Tron, teased the high-profile partnership in a cryptic tweet on October 26, 2019. At the time, the crypto poster child hinted that Tron "will partner with a hundred billion USD mega-corporation next week."
#TRON will partner with a hundred billion USD megacorporation next week. It will not only benefit $TRX but all TRC10&20 tokens including $BTT & $WIN etc. It will broadly distribute #TRON Dapps and tokens to billions of customers. TBA. Make a guess?

— H.E. Justin Sun 孙宇晨 (@justinsuntron) October 25, 2019
Tron Looking to Displace Ethereum as the Go-to Platform for Blockchain dApps
Since the unforgettable initial coin offering (ICO) frenzy of 2017, Ethereum has, by far, been the largest and the most successful smart-contract platform which has attracted hundreds of thousands of developers and coders from across the world to fiddle with decentralized ideas.
However, competitors including Tron and EOS are eyeing the pole position held hostage for multiple years now. This is evident from recent developments in the TRX and EOS ecosystems that are a testimony to their determined efforts to push for mainstream adoption of dApps.
As reported by BTCManager on October 22, 2019, leading web browser Opera had unveiled support for the Justin Sun-led DLT project giving some 350 million users across the globe direct access to their favorite TRX dApps and wallets.