Shping and IBM Food Trust™ partner to enhance product transparency for consumers
Melbourne, Australia, Sep. 28, 2023, Chainwire
Melbourne's tech firm, Shping, is collaborating with IBM Food Trust™, unveiling the possibility for consumers to interact with their purchases.
Through a partnership between IBM Food Trust™ and the Shping App, Australian consumers can now access comprehensive information about the origin and traceability of products. This joint effort enables consumers to explore the details of the raw materials used in their products, tracing their journey from start to finish.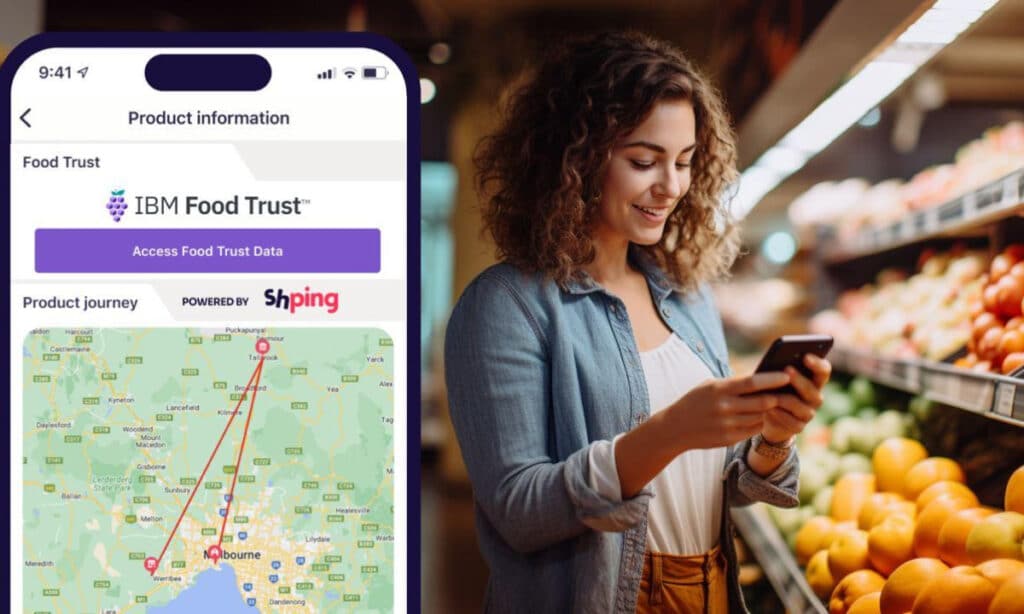 Track and trace technologies are critical as they record the complete journey of a product through the supply chain, allowing for verification of its authenticity and history. Each product and its ingredients are assigned a unique identifier and closely monitored throughout production.
IBM Food Trust is a traceability platform that utilizes blockchain technology to monitor the production process of global brands. Through this platform, these brands are connected to a vast and trustworthy network of companies that guarantee the traceability of their products from the initial stages of production to their final destination on retail shelves.
Shping, on the other hand, is a global rewards platform powered by its blockchain token, Shping Coin. The platform has a substantial user base in Australia. It gives them brand rewards and valuable insights like product pricing, reviews, and nutritional data.
Consumers can now access a complete and trustworthy view of product data, from its origins to distribution details. This collaboration aims to enhance the shopping experience by promoting consumer awareness and strengthening trust through industry transparency.
Shping's CEO and founder, Gennady Volchek, said:
"Brands are increasingly adopting track and trace technologies to bolster their production's security and integrity, aiming to instill consumer confidence. Until now, there hasn't been a straightforward way for consumers to access this data. Our collaboration with IBM Food Trust™ not only illuminates this information for consumers and offers brands an opportunity to enhance their ROI through increased consumer trust, ultimately boosting sales."
Wiggs Civitillo, IBM Food Trust's program director of Product Management, added:
"By joining forces, IBM Food Trust™ and Shping will bring consumers a host of third-party benefits, including enhanced transparency into their food. This partnership aims to give customers the information and tools they need to make more informed and health-conscious shopping choices. Furthermore, brands that join IBM Food Trust™ can leverage Shping's platform to increase their return on investment (ROI) to track and trace implementation through enhanced consumer confidence to drive sales. Being more transparent improves brand positioning and fosters increased trust among consumers."
About Shping
Shping is a global rewards platform based in Melbourne, Australia. Shping Coin utilizes blockchain technology to provide consumers with an informative and rewarding shopping experience. Working with well-known brands such as Coca-Cola, Pepsi, and Kraft Heinz, Shping bridges companies and their customers. The focus is building trust and transparency in the retail industry, encouraging informed shopping rather than simply pushing sales.
About IBM Food Trust
IBM Food Trust™ is a collaborative network of growers, processors, wholesalers, distributors, manufacturers, retailers, and others, enhancing visibility and accountability across the food supply chain. Built on IBM Blockchain, this solution connects participants through a permissioned, immutable, shared record of food provenance, transaction data, processing details, and more.
Website | Telegram | Medium | Discord | X
Contact
Chief marketing officer
Brent Vrdoljak
Disclosure: This content is provided by a third party. crypto.news does not endorse any product mentioned on this page. Users must do their own research before taking any actions related to the company.