StarkNet open-sources Cairo 1.0 for better developer engagement in Ethereum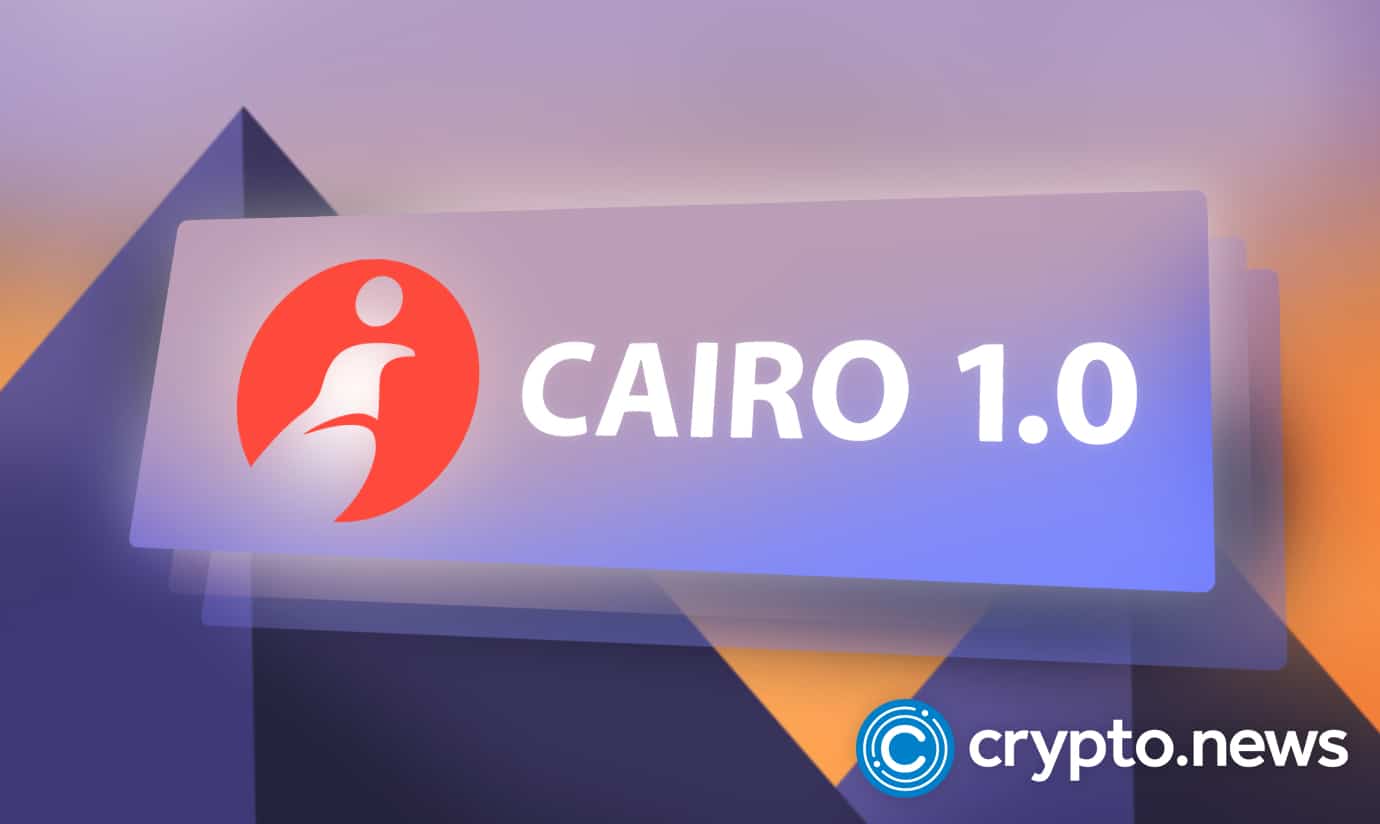 Zero-knowledge (ZK) StarkWare, a business specializing in roll-up tech, has released an open-source version of their Cairo 1.0 programming language compiler, which will be integrated into Ethereum's layer-2 scaling solution StarkNet in the first quarter of 2023.
StarkWare tweets announcement
The company behind StarkNet, StarkWare, tweeted the announcement on November 25. StarkWare's roll-up tech and recursive proofs can reduce millions of L2 transactions to a single Ethereum transaction. Still, the venture has been criticized for retaining control over its intellectual property, not least by its more open source-centered contenders, zkSync.
StarkWare has called open-sourcing Cairo a "milestone move" in its effort to provide greater power and IP to its developer community. The Cairo programming language was developed to take advantage of zk rollups and validity proofs.
StarkWare announced that developers can now compile and run rudimentary Cairo 1.0 apps until it is actively supported on StarkNet in the first Quarter of 2023. Erstwhile Ethereum core developer and current leader of Starkware's exploration team, Abdelhamid Bakhta, claims that once Cairo 1.0 is released, feature development can go more quickly, and community participation can increase.
Starting with Cairo 1.0, we will continue to release the StarkNet technology stack as open source. We're doing this so that StarkNet may become the kind of public benefit that everyone can utilize and that communities can constantly improve, he explained.
Once Cairo 1.0 is released, blockchain developers can develop and publish smart contracts on StarkNet, the team stated on Medium:
"In a nutshell, this maximizes how open we are with our code and how we write it. Additionally, it enhances the community's capability to detect issues and enhance the compiler. This feeling of community engagement will only increase as more and more technology stack is made open source."
StarkWare elaborated by saying that due to Cairo 1.0's ability to make every computation "provable." As a result, StarkNet's censorship resistance features will be improved, and it will be better positioned to react to Denial-of-Service assaults. Some of the Web3 projects that are powered by StarkWare's STARK tech stack include the DEX platform dYdX, the NFT platform Immutable X, and the blockchain interconnection protocol Celer Network.
StarkNet speeds up Its EVM solution
Although Cairo is not a native EVM (Ethereum Virtual Machine) implementation, StarkNet has taken a chance on it to speed up its solution (EVM). The Ethereum software tooling company Nethermind developed a transpiler named Warp to translate Solidity programming into Cairo code.
In the meantime, the mainnet for zkSync, a competitor also compatible with EVM, is being released. Even though it's the more challenging route, StarkWare CEO Eli Ben-Sasson recently stated that adopting a custom-created coding language like Cairo, as contrasted to Solidity, is the only realistic option to take full use of the Ethereum scaling allowed by ZK Rollups:
"I would wager that Ethereum will never implement a full-fledged ZK EVM capable of fitting a billion transactions in a single proof. As we've been doing for a long time and have the technology to do today." In related news, on November 17, Starkware launched the brand-new StarkNet token (STRK) on Ethereum, which can be staked, voted on, and used to cover the network's cost.