Swap Automated Market Maker Launches on Serum DeFi Platform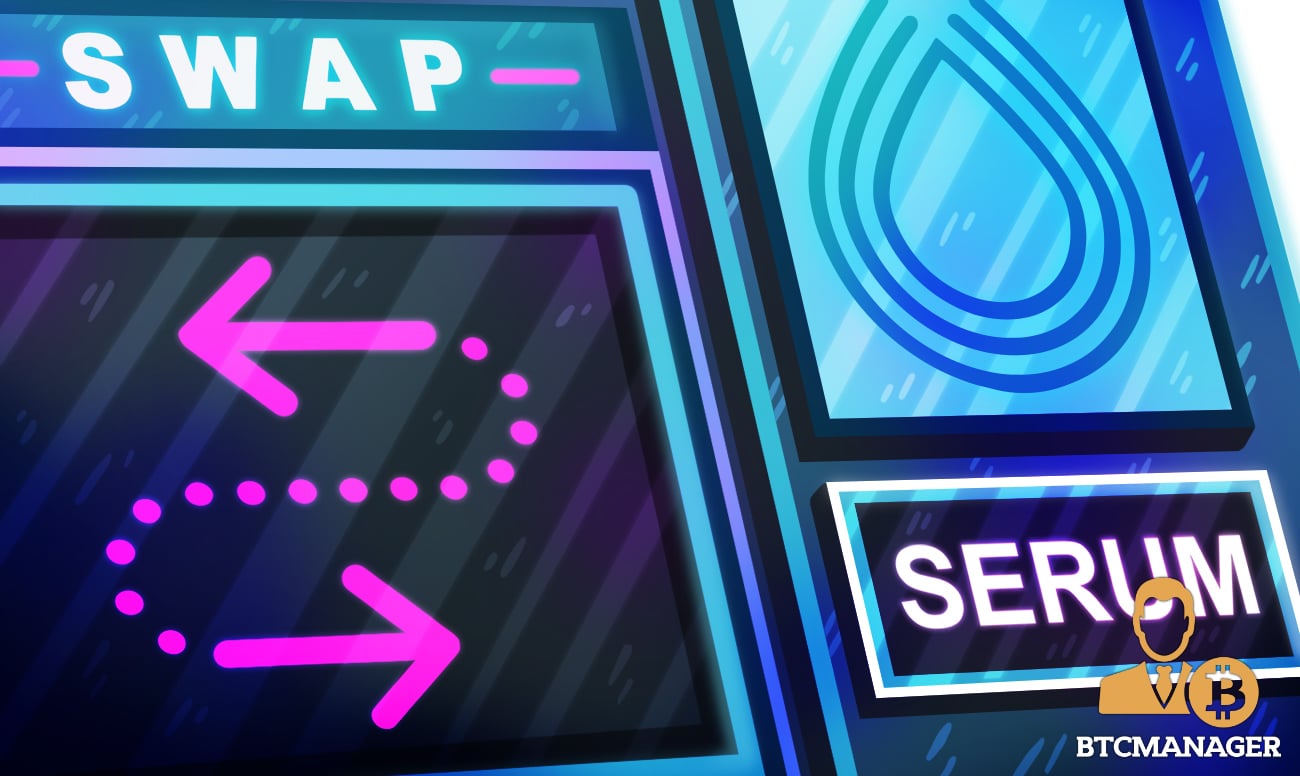 Serum, decentralized finance (DeFi) platform powered by the Solana distributed ledger technology (DLT) project, has welcomed Swap, an automated market maker (AMM) into its growing ecosystem, according to reports on October 28, 2020.
Swap Now Live on Serum 
As Ethereum, the king of the decentralized finance (DeFi) ecosystem continues its search for a permanent solution to its scalability issues, other blockchains are now rolling out innovative platforms designed to give the former a run for its money, while also satisfying the insatiable appetite of DeFi investors for high yielding investments. 
In the latest development, Serum (SRM), a Solana (SOL) powered decentralized exchange (DEX) that claims to bring speed and cost efficiency to decentralized finance, has welcomed Swap, a decentralized automated market maker (AMM), into its burgeoning ecosystem.
Just like Uniswap (UNI), the world's number one DEX by total value locked (TVL), Serum allows users to swap supported cryptocurrencies without third-party interference. However, unlike the former, Swap is yet to be audited and the creator of Serum, Sam Bankman Fried, who also doubles as the CEO of FTX exchange, has urged newbie DeFi investors to tread carefully.
He tweeted,
1) The first AMMs are live on @ProjectSerum!

1,000,000 SRM yield this month! https://t.co/IfIkwQUR03 pic.twitter.com/ETsiedrD0S

— SBF (@SBF_FTX) October 27, 2020
Swap to Airdrop 1 Million SRM Tokens to LPs
In a bid to reward early adopters of the Serum Swap platform, the team has made it clear that 1 million serum (SRM) will be airdropped to liquidity providers on 10 different pools including SRM/BTC, SRM/ETH, SRM/USDT, and SRM/SOL, among others, until November 25, 2020.
For the uninitiated, SRM is the native token of the Serum AMM platform and it is used to settle transaction fees on DEXs in its ecosystem. Unlike Ethereum-based DeFi platforms, Serum Swap, which is based on the Solana blockchain, claims to have a one-second trade settlement time, with gas fees of just $0.00002 per trade.
At press time, Serum's SRM token is ranked 134th on CoinMarketCap. SRM is currently trading at $1.06, with a market capitalization of $52.9 million.
Despite the fact that Solana is yet to fully launch its mainnet, the platform is determined to make a significant impact in the rapidly evolving DeFi space.
As reported by BTCManager, earlier in September 2020, Solana announced the launch of Wormhole, a cross-compatibility platform designed to bridge the gap between it and Ethereum by connecting ETH and ERC-20 tokens to SPL tokens.