Swift Snubs Ripple; Enters Partnership with R3 for Blockchain-Based Payment Solutions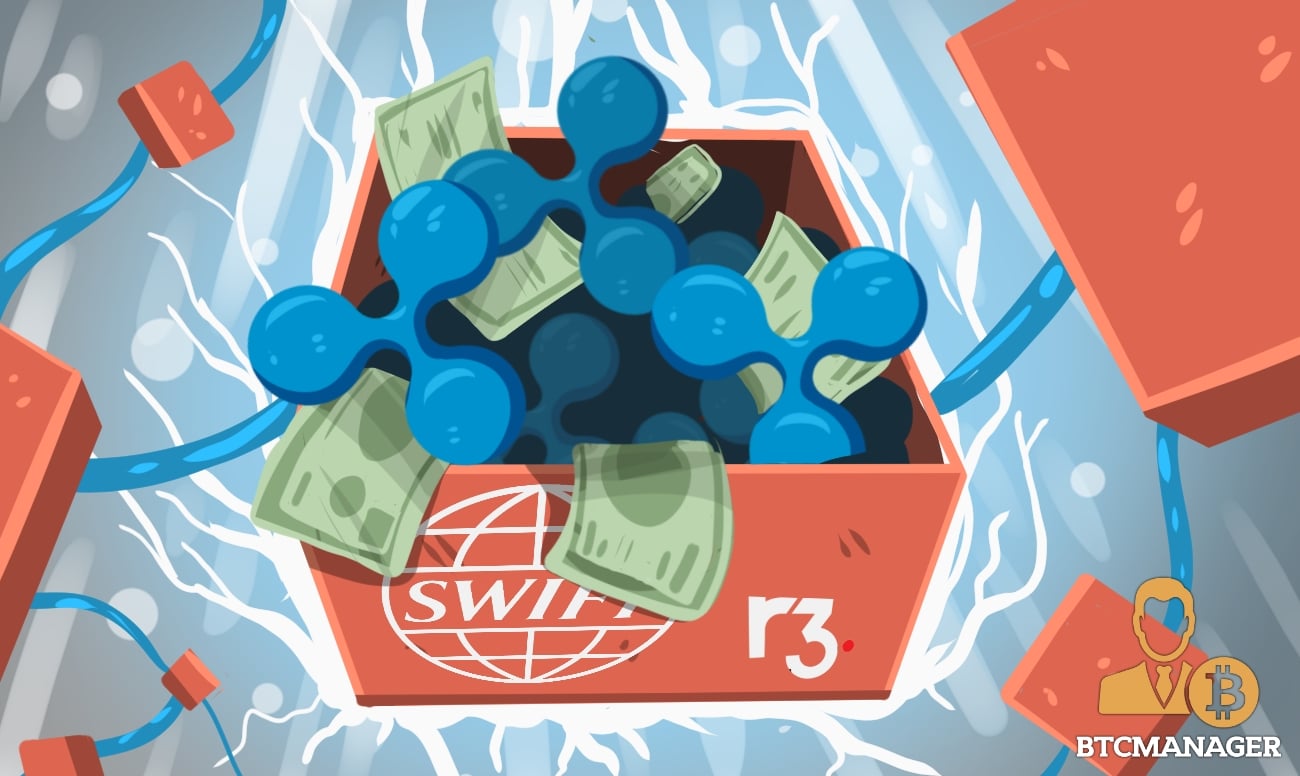 Cross-border payments leader Swift has inked a partnership with blockchain-based startup R3 to integrate the latter's trade finance platform to its latest payments standards framework GPI, reports CNBC on January 30, 2019.
Swift Snubs Ripple for R3
Swift, the undisputed leader in international payments transfer industry is looking to revamp its newly unveiled Global Payments Innovation (GPI) infrastructure through blockchain technology. In this quest, the organization has entered into a strategic allegiance with R3, an enterprise blockchain software firm.
Speaking at a CNBC-hosted panel session on January 30, 2019, Swift CEO, Gottfried Leibbrandt, said:
"We are announcing later today a proof-of-concept with the R3 blockchain on trade where you can initiate a payment on the trade platform and then it goes into GPI." He added:
"We're exploring interconnectivity with a lot of things and banks have always been a part of that interconnectivity."
Interestingly enough, the panel discussion also included Ripple's CEO, Brad Garlinghouse.
Keen followers of the crypto industry are well aware of the rivalry between Ripple's XRP and R3's Corda platform. In fact, Ripple has never shied from publicly stating its vision of displacing Swift from the top of the pyramid in the cross-border remittances sector.
In a rather formal remark, Garlinghouse stated at the panel discussion that Ripple was open to "ways [they] could work with Swift." However, neither of the companies have hinted anything regarding a potential partnership.
Scope for Blockchain in International Payments
The Internet has connected the world in a way unlike ever before. Today, globalization has minimized the distance between extremes ends of the planet. Yet,  making or receiving international payments continues to be a chink in the armor for an intricately connected world.
According to Garlinghouse, Swift's centralized nature is one of the reasons that its system is so slow and expensive compared to its decentralized competitors. Garlinghouse added that he believes decentralized systems will eventually win the race over time. Further, he dubbed Swift as a one-way messaging framework and that it "isn't a liquidity provider."
Leibbrandt had his own contrasting views to share during the discussion. He said that one of the major reasons Swift is cautious of tinkering with DLT is the wild movements of cryptocurrency prices. He noted:
"I think that the big part of Ripple's value proposition is the cryptocurrency XRP. There we do find the banks are hesitant to convert things into a cryptocurrency right now because of the volatility in the currencies."
Meanwhile, R3 has been on a spree of its own forging high profile partnerships and getting an increasing number of clients on board. BTCManager reported on December 5, 2018, how 26 firms tested R3's PoC blockchain solution for KYC purposes.
More recently, Dutch bank ING announced a five-year partnership with R3. The partnership gives ING the rights to use R3's Corda platform across their business operations.