Swiss Regulator FINMA Rejects Bitcoin Suisse Application for a Banking License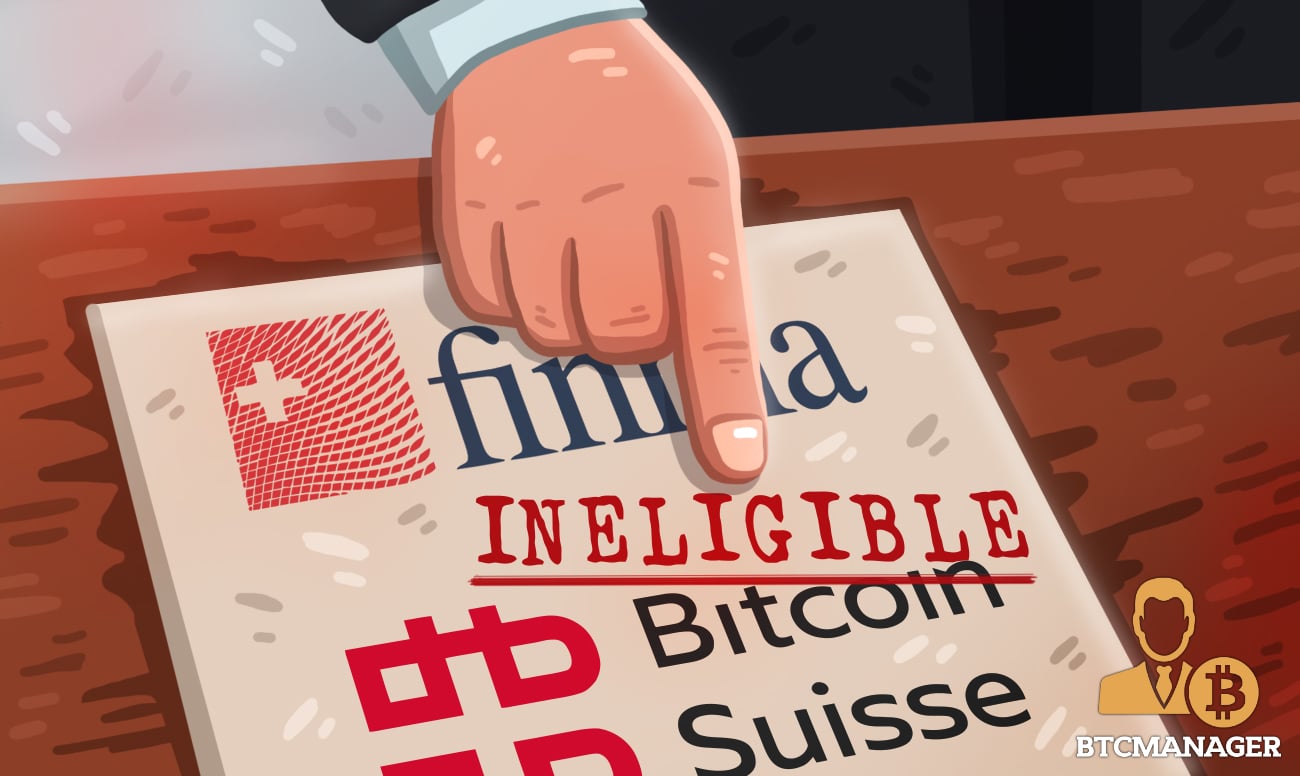 The Financial Market Supervisory Authority (FINMA) of Switzerland has rejected Bitcoin Suisse's application for a banking license.
AML Weaknesses Contributed to the Rejection
The move is a significant setback for the eight-year-old crypto broker, which is flush with cash, on track for a double-digit million-dollar profit in 2020. Furthermore, it is currently dealing with surging client demand as bitcoin approaches $50,000.
Bitcoin Suisse AG is a Zug-based financial intermediary that specializes in the cryptocurrency industry. FINMA does not regulate the organization, but an anti-money laundering self-regulatory organization oversees it.
FINMA's role for unregulated companies focuses on opening inquiries and, where applicable, taking corrective action where there are signs that supervisory legislation has been violated by unlicensed activities carried out without the appropriate authorization.
Following various complaints, the Swiss regulator has decided that Bitcoin Suisse AG is ineligible for clearance. The absence of a range of factors applicable under FINMA's licensing laws, according to FINMA, made its prognosis of the situation unfavorable. According to FINMA, the critical reason it rejected Bitcoin Suisse's banking license was the discovery of shortcomings in the company's anti-money laundering defense mechanisms.
For the time being, the company has agreed to withdraw its proposal, and FINMA has terminated the licensing process. According to the application, Bitcoin Suisse would have provided custodial services to its crypto-facing customers in Switzerland. In 2019, Bitcoin Suisse applied to FINMA for banking and securities dealer licenses.
According to the press release, these licenses will allow Bitcoin Suisse to further grow its offering with regulated services and products, reinforcing its role as a leading provider of crypto financial services.
Bitcoin Suisse's Surge in Profit
Aside from the licensing mishap, Bitcoin Suisse's company is thriving. Bitcoin Suisse received over CHF 45 million ($48.5 million) in a Series A funding round led by Roger Studer of Vontobel fame, a private bank with $ 215 billion in assets under management (AUM).
In July 2020, this fundraising round's market value increased to CHF 302.5 million (approximately $327 million).
The company is reportedly speeding up the initial public offering (IPO) and will be publicly traded in the next few years. According to Arthur Vayloyan, CEO of Bitcoin Suisse, they intended to use this new capital to scale their platform and other items. A new portfolio of crypto, financial, and digital asset services is also expected to be introduced. Last but not least, the organization will look to accelerate its international expansion plans.
Bitcoin Suisse, the first company in Europe to do so, recently launched a payments solution that allows crypto owners in Switzerland to pay taxes with digital money.