Switzerland's Franck Muller Launches Limited Edition NFT Watches on Binance NFT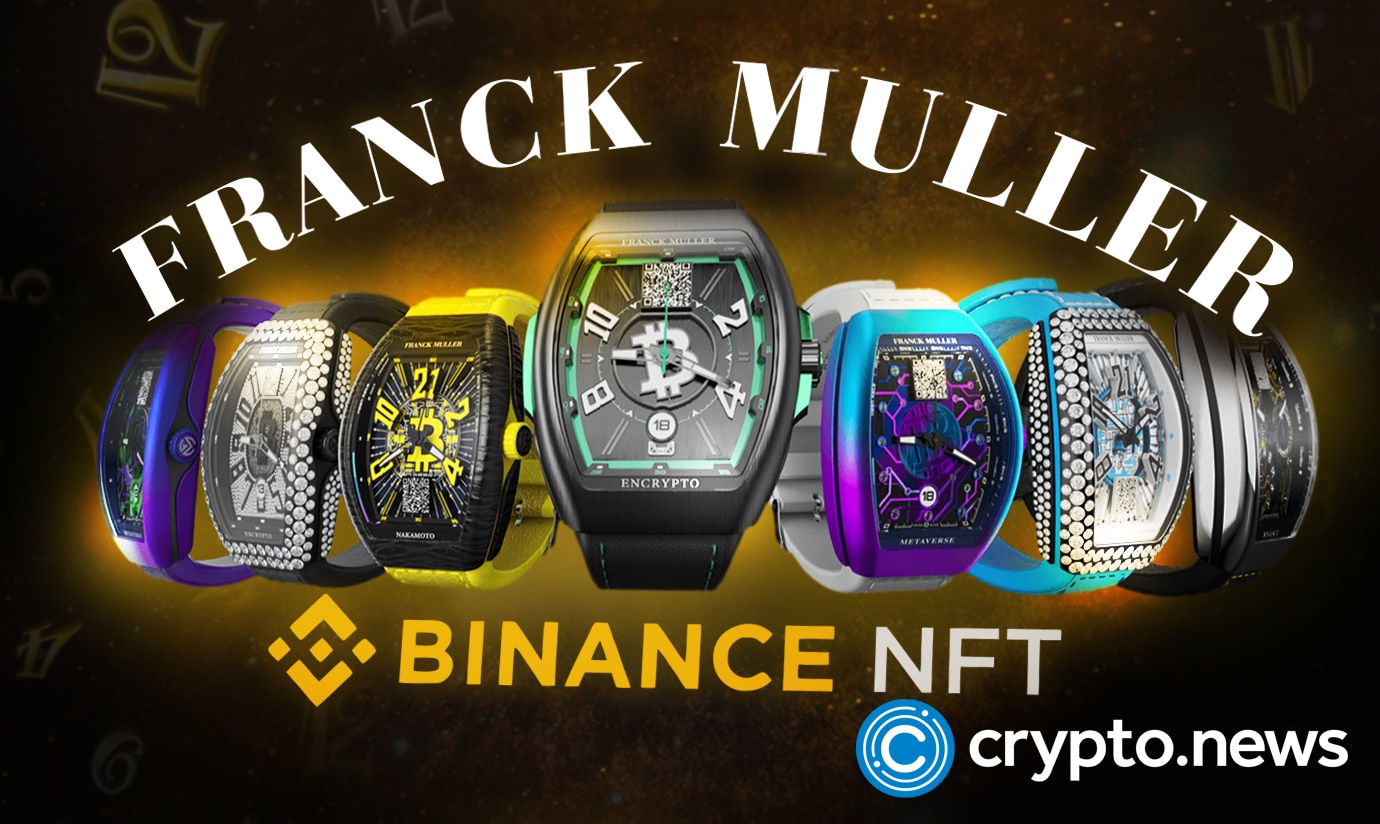 Franck Muller has announced the launch of a series of digital wearables and physical watches on the Binance NFT marketplace. The series will commence with the official release of 'Mystery by Franck Muller' generative non-fungible tokens (NFTs) on July 27, 2022, effectively kickstarting the second phase of Franck Muller's journey in Web3 innovation, following the release of its iconic Bitcoin watch in 2019.
Mystery by Franck Muller
Building upon the success of its 2019 Bitcoin watch release, Franck Muller, the elite Swiss watchmaker famous for its unique creations, bold designs, and incredible complications, has joined forces with Binance NFT to kickstart the second phase of its metaverse journey.
Per a press release shared with crypto.news, the world-famous Swiss luxury watchmaker has launched a series of digital wearables and physical wristwatches on Binance NFT. The team says the official release of the NFT collection will commence with the roll out of its "Mystery by Franck Muller'' generative NFTs on July 27, 2022.
'Mystery by Franck Muller' is an exclusive NFT Mystery Box collection loaded with incredible rewards, such as physical Franck Muller timepieces, Apple Watch faces, metaverse wearable NFT watches, and private events.
The Auction
The Mystery by Franck Muller mystery boxes has different rarity levels: Normal (N), Rare (R) Super Rare (SR), and Super Super Rare (SSR). Franck Muller Mystery Box holders who collect 10 or more Mystery Boxes will be able to redeem a whitelist spot in Franck Muller's future NFT avatar collection, which in turn grants NFT avatar holders access to a Lux-Club membership.
What's more, in addition to the Mystery by Franck Muller NFT Box release, Binance NFT will also be hosting a unique Franck Muller NFT auction from July 27, 2022. The team says the auction winner will get an exclusive NFT artwork and a one-off physical Franck Muller timepiece.
During the auction, collectors will have a chance to lay their hands on Franck Muller's one-of-a-kind artwork of Aoki Sloane, a soldier of peace fighting against the Harakuma warlords who threaten the growth of the metaverse. She is an early adopter of bitcoin (BTC) and die-hard hodler, an active crypto trader, and an avid gamer.
The team has created a super unique 1-of-1, high complication tourbillon for Aoki Sloane. Franck Muller describes the timepiece as a beguiling piece of watchmaking art, laden with intent.
"The watch comes with a sapphire crystal case that gives way to an intricate skeletonized movement where the bridges and pillars of a traditional tourbillon have been turned into an elliptical circle with diameters of 21.2mm. An eccentric balance of 14mm further characterizes this radical tourbillon," explains Franck Muller.
The timepiece is powered by a 24-jewel manual winding CS-03.QT movement, beating at 18,800 vibrations an hour. More information on Aoki Sloane can be found here.