Switzerland's SIX Digital Exchange Launches Ethereum Staking for Institutions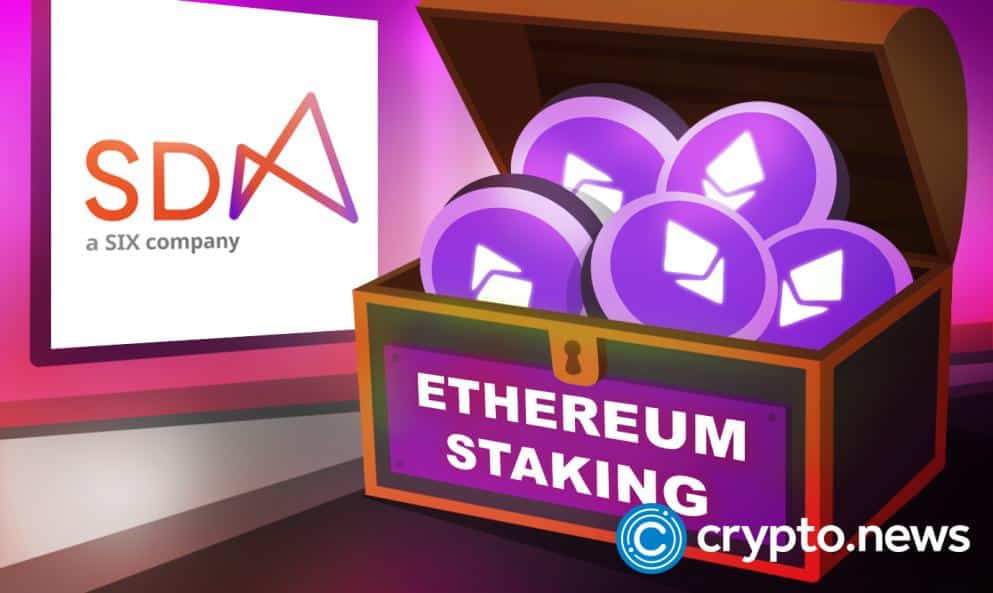 SIX Digital Exchange (SDX), has announced the launch of its non-custodial Ethereum staking solution for institutional investors via its newly unveiled business unit, SDX Web3 Services. The company says the new ETH staking service is focused on offering secure and reliable management of Ethereum validator nodes through its API infrastructure.
SDX Now Supports ETH Staking
SIX Digital Exchange (SDX), a Swiss-based regulated, digital assets trading, settlement, and custody company, has successfully rolled out its non-custodial Ethereum staking service for institutional investors.
Per sources close to the matter, the service is designed to offer businesses secure and reliable management of Ethereum validator nodes via a fully managed application programming interface (API) based infrastructure.
The team says the new service is specially designed for businesses looking to scale their Ethereum staking capabilities without hassles and earn yields from their staking activities.
Earlier in June 2022, SIX Digital Exchange ventured into the world of Web3 by launching SDX Web3 Services, a platform dedicated to enabling the safe and secure adoption of Web3 technologies such as crypto, non-fungible tokens (NFTs), and more, by institutional investors.
The team says the new Ethereum staking infrastructure will be handled by SDX Web3 Services, which is currently making plans to onboard its first institutional client.
Commenting on the project, Alex Smith, SDX Web3 Staking Product Lead reiterated that the new product will leverage SIX vast experience to offer investors a smooth staking experience.
"The integration tools developed by SDX coupled with our experience operating in institutional markets, give our clients easy access to Ethereum staking capabilities with the highest security and reliability standards."
Also commenting on the new product offering, Stephen Kunz, Head of SDX Web3 noted that the serious demand for the firm's Ethereum staking service is a strong indication that institutional investors and wealthy individuals are in dire need of secure and trusted solutions.
Eth2 Transition Going Smoothly
As the debate on global warming and the massive energy consumption of bitcoin (BTC) and other proof-of-work (PoW) based cryptocurrencies continue to heat up, Vitalik Buterin and his team have been working round the clock to transition the Ethereum network to a proof-of-stake (PoS) consensus algorithm.
Ethereum, the world's largest blockchain network for decentralized applications (dApps) and smart contracts-enabled solutions, officially kickstarted its proof-of-stake journey in 2020 with the launch of the Beacon Chain and since that time the team has continued to make significant progress.
The exact date that the transition to PoS will happen has been a major topic of speculation across the entire blockchain ecosystem in recent weeks. However, Ethereum developers are predicting that Ethereum 2.0 could go live around September 15 or 16, 2022.
While the world awaits the much-talked-about Ethereum merge, blockchain industry players and crypto market participants have continued to make adequate preparations for one of the most significant events in the Web3 ecosystem.
As reported by crypto.news on August 23, Ethereum client Teku has successfully launched the mandatory upgrade v22.8.1 that will make it possible for all nodes currently on the Ethereum mainnet to move to PoS when the merge finally goes live. At press time, ether (ETH) is trading at around $1,701.
.