Thailand: SEC to Ban Trading of NFTs, Meme Coins, Fan Tokens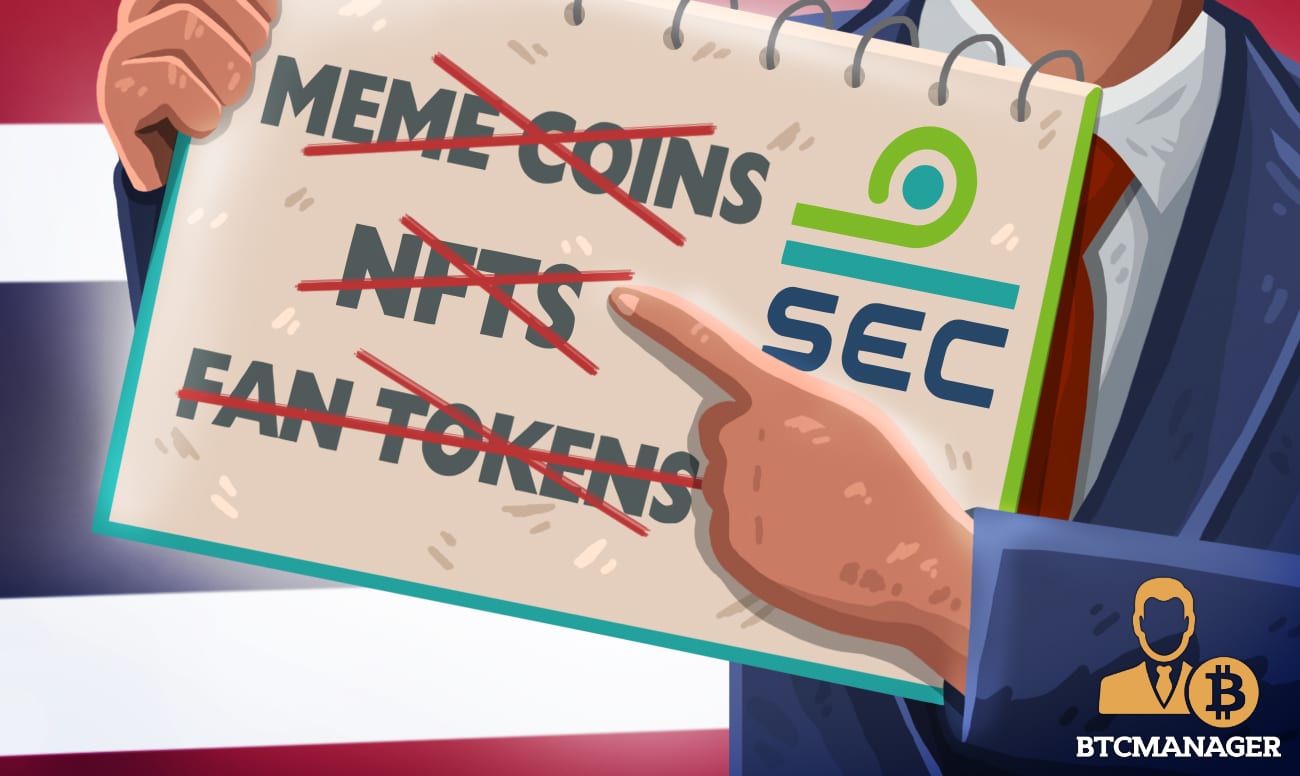 The Thai financial regulator is having none of the meme coins, NFTs, fan tokens, and exchange tokens.
Thai SEC Prohibits Trading of Meme Tokens
In an announcement made recently, the Thai financial regulator, the Securities and Exchange Commission (SEC) stated it was putting a ban on several of the hottest trading tokens in the cryptocurrency market such as meme coins, exchange tokens, NFTs, and fan tokens.
Per sources close to the matter, the SEC's decision is aimed toward cleansing the local digital currency market and ensuring consumer protection.
Further, the move can also be viewed as a net positive for the wider cryptocurrency industry as the regulator is committed to ensuring consumers only trade in legitimate cryptocurrency projects instead of putting a blanket ban on all crypto trading.
What Is Not Allowed to Be Traded?
According to the SEC filing, the following will not be allowed to be traded in Thailand from June 11 onwards:
1) Meme tokens – The Thai SEC has made it clear that meme tokens have no intrinsic value nor a clear objective or substance to justify their price. Essentially, the price is largely dependent on the current trend in the social world. While the regulator did not mention it by name, it won't be a stretch to believe that such meme tokens include the likes of Dogecoin (DOGE) whose price is heavily dependent on celebrities such as Elon Musk tweeting about it.
2) Fan tokens – These include digital assets that signify the ownership of a voting right and give the holder access to club-specific rewards and services. These tokens can also be traded for other goods and services such as VIP experiences, etc.
3) NFTs – The crypto industry witnessed the quick rise and retreat of the NFT euphoria earlier this year. Notably, unlike regular digital assets, NFTs cannot be directly traded with one another.
4) Exchange tokens – These include the likes of Binance's BNB, FTX's FTT, Uniswap's UNI, and the like. Typically, exchange tokens give their holders a wide range of benefits such as discounted trading fees on the exchange, eligibility for airdrops, and others.
In similar news, BTCManager reported on June 1 that the Thai SEC is mulling regulating the DeFi landscape in the cryptocurrency industry.