The American Government Might Outlaw Algorithmic Stablecoins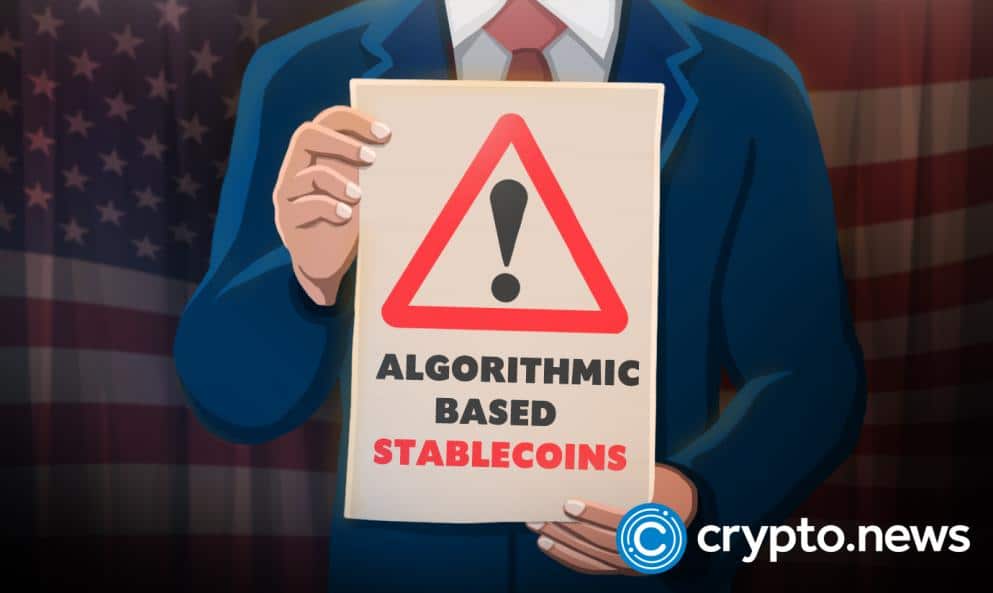 New algorithmic stablecoins like TerraUSD Classic (USTC), which depegged from the U.S. dollar early this year and propagated infection over the cryptocurrency world, might be prohibited for two years under a pending bill within the United States House of Reps. According to a recent draft of the law seen by Bloomberg, the establishment or distribution of new "endogenously collateralized stablecoins" might be illegal.
A Two-Year 'Relief' for Stablecoins
The proposed U.S. bill includes a two-year grace time for current algorithmic stablecoin producers to modify their business models and collateralize their products in alternative ways.
According to reports, the term would incorporate stablecoins that are represented as possessing the potential to be swapped, repurchased, or otherwise redeemable for a predetermined fee but instead rely on the value of another digital asset from the same developer to sustain their weight.
The measure creates uncertainty about whether stablecoins like Synthetix USD (SUSD), which is now collateralized with the native property of the same protocol in the SNX token, will be covered under the term. Similar-looking algo-stablecoins, including BitUSD, are supported by BitShares (BTS).
Along with researching algorithmic stablecoins and consulting with the Federal Reserve, the Securities and Exchange Commission, the Federal Deposit Insurance Corporation, and the Office of the Comptroller of the Currency, the U.S. Treasury is required to comply with the draft legislation.
People familiar with the proposal say Democratic Representative Maxine Waters and Republican Patrick McHenry have already been negotiating on the bill. It's unclear if McHenry endorsed the most recent draft, but it's entirely feasible the board will vote on the measure as soon as next week.
Tuesday's meeting, attended by McHenry, the leading House Financial Services Committee member, and Waters, the committee's chair, featured testimony about how USD-backed stablecoins might improve national security because of the false superiority and dependability of the dollar.
An algorithmic stablecoin called USTC, formerly TerraUSD (UST), lost its 1:1 peg with the US dollar in early May and hit an all-time low of $0.006 in mid-June, causing damage totaling tens of billions of dollars.
What Does This Mean for Algorithmic Stablecoins?
The crypto community was well geared for the massive involvement of governments after the collapse of Terra's UST. Therefore, the district did not appear shocked by the algorithmic stablecoins banning.
However, it should be emphasized that the clauses above may change before the bill's final version has been released. Bloomberg reports that the committee in charge could vote as soon as next week.
The value of TerraUSD, now TerraClassicUSD [USTC], has fallen even as the US government plans to outlaw algo-stablecoins. The stablecoin was selling at $0.033 at the time of publication, significantly below its $1 peg.