The FBI Issues Cyber Attacks Warning on Platforms Using Decentralized Financing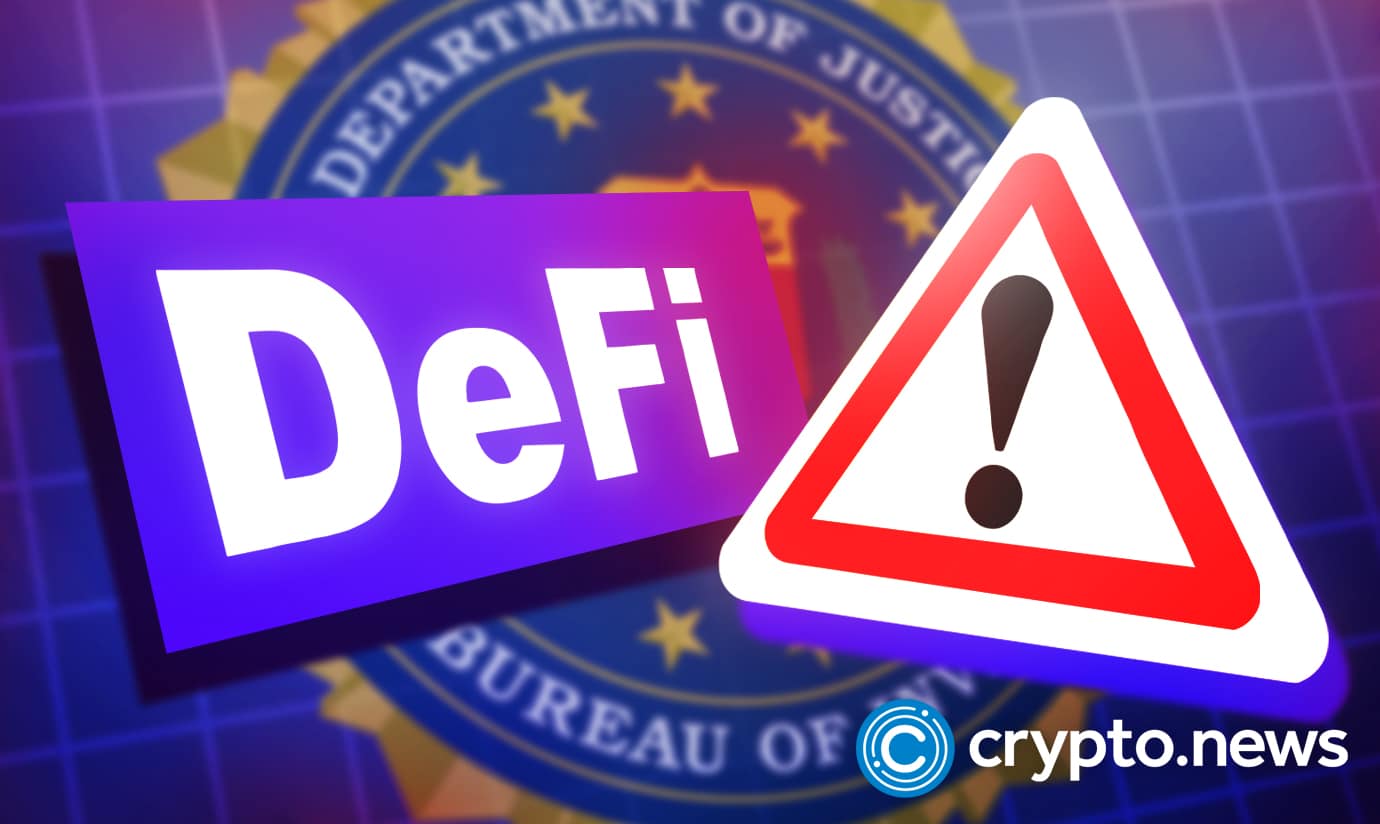 The US Federal Bureau of Investigation is warning Decentralized Finance (DeFi) networks of assaults, claiming that hackers are taking advantage of flaws in the contracts that control these networks. According to an April 2022 report by Chainalysis the agency claims, "Cyber criminals looted $1.3 billion in digital currencies throughout January and March 2022, over 97% of which was plundered on DeFi platforms."
Tactics Used By Cybercriminals on DeFi Platforms
The Bureau identifies one of three methods that hackers have employed to mount an assault on DeFi Platforms.
One entails starting a flash loan, as in the assault on the Ethereum DeFi Initiative bZx in November 2021, when hackers drove off with $55 million worth of virtual currencies.
Another strategy is to take advantage of a flaw in the token bridge of the DeFi platform, as was done earlier this month with the Nomad token bridge.
The Bureau also revealed another method, which involved controlling virtual currency rates by taking advantage of several flaws, among them the use of a single pricing oracle, like in the case of the Deus Finance exploit from April 2022, in which criminals stole $13.4 million.
What's Fueling These Scammers?
Despite greed and easy money being the obvious factors, the Bureau claims that Cybercriminals want to profit from investors' rising popularity in crypto, the open-sourced nature of DeFi systems, and the intricacy of cross-chain capabilities.
Blockchain security corporations have long kept track of the most common ways hackers attack smart contracts.
These are hazardous exploits because, according to the Ethereum Foundation, "smart contract code typically cannot be updated to remedy security holes, funds that have been seized from smart contracts are unsalvageable, and plundered assets are exceedingly challenging to monitor."
Malicious hackers do not only target high-value organizations like DeFi platforms. Blockchain analysis company Elliptic released the "NFTs and Financial Crime" paper last week. According to the research, NFTs totaled more than $100 million between July 2021 and July 2022.
The FBI advises investors to carefully research DeFi networks, procedures, and smart contracts before purchasing and to be mindful of any associated dangers.
For instance, the Bureau warns users to see if the system has undergone one or more self-reliant auditors' code inspections.
Additionally, the FBI advises care when dealing with asset pools that provide absurdly short windows of opportunity to quickly join and implement intelligent contracts, especially without the advised code audit.
What These DeFi Platforms Can Do?
According to the FBI, DeFi networks can also contribute to safety by routinely reviewing their code to find exploitable weaknesses and using real-time analytics and surveillance.
The guidelines also include developing an incident management strategy and warning users of potential system flaws, hackers, exploits, or other questionable behavior.
If all else fails, the FBI advises American shareholders who have been the target of cybercriminals to get in touch with them via the Internet Crime Complaint Center or their nearby FBI field office.