This 3D NFT Collection Brings Real Value to Web 3–MetaBlaze Forges Ahead with Dynamic NFTs & Ecosystem Integration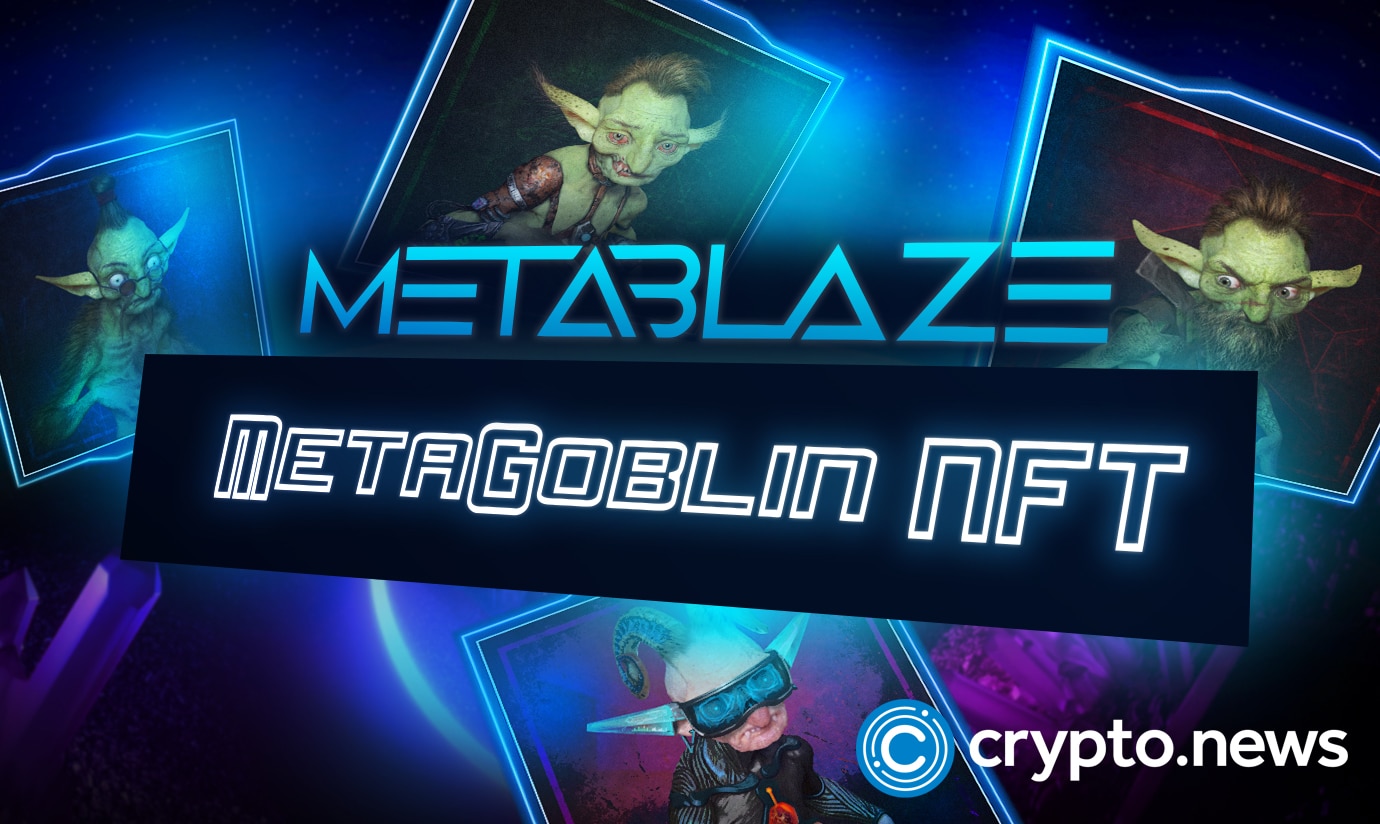 The NFT market needs a change and MetaBlaze is bringing it with a hyper focus on in-game utility, world building, crafting, and social interaction. MetaBlaze is about to unleash its MetaGoblin NFT Collection with a public sale slated to take place on the OpenSea NFT Marketplace, October 15th. This new set features 3D characters and utility driven NFT art, boasting hyper realistic details that will leave your mouth wide open! And all this beauty comes from hand drawn traits or accessories for a truly unique NFT.

For most people, the first time they heard the word 'NFT' was in the same sentence as digital art. When NFTs finally went mainstream for the first time ever, it was thought that the only use case for NFTs was a way of verifying ownership and authenticity for digital art. NFT art became one of the hottest global trends, with pieces from Beeple and Tyler Hobbs being sold for millions of dollars.
As with all emerging technologies and nascent industries, new use cases and applications of NFT technology are being discovered and implemented every single day. One of the largest adopters of NFT art and technology is the surging crypto gaming industry.
NFT games like Axie Infinity and My Neighbour Alice helped put the spotlight on play to earn crypto games. Unfortunately, these early titles didn't quite think through their reward mechanics, resulting in brutal token death spirals. Catastrophic devaluations left thousands of gamers and investors scrambling to recoup their losses in a race against an economy in freefall.
This ultimately gave crypto gaming something of a bad reputation, leaving a foul taste in the mouth of players. NFT game designers had to go back to the drawing board. Figuring out how to provide an engaging and sustainable play to earn crypto economy would be imperative to leading an emerging global industry to unimaginable heights. From the outset, MetaBlaze has cracked the code.
MetaBlaze NFTs
MetaBlaze NFTs are the perfect hybrid of unparalleled utility and aesthetic appeal. The MetaBlaze game designers are building a revolutionary play to earn crypto tapestry, with NFTs woven into every fold of the fabric.
The team behind MetaBlaze has a long -term vision that is as refreshing as it is bold. Create an immersive and captivating narrative in an infinitely deep universe and design crypto gaming's most sustainable play to earn crypto economy ever. All tied together with unique use cases and stunning NFT art.

To fulfill this mission, MetaBlaze decided to create not just one complete product, but a series of interlinked, compatible NFT games. These increasingly compelling and entertaining games serve to continually expand the MetaBlaze universe and drive a rich unfolding narrative, which will eventually culminate in blockbuster, AAA crypto gaming masterpiece, the MetaBlaze RPG.
At the heart of the ecosystem are an iconic range of MetaBlaze NFTs. All MetaBlaze NFTs are packed with utility, and can be strategically used in the MetaBlaze play to earn crypto economy to earn sustainable rewards. Instead of rewarding players with an inflationary native token, MetaBlaze gamers will be able to earn blue chip cryptocurrencies like Bitcoin, Ethereum, and Binance Coin. This visionary approach, paired with increasing utilities as the ecosystem expands will ensure that MetaBlaze NFTs retain their value for years to come.
The MetaGoblins
The first MetaBlaze NFT to burst onto the scene and begin their story in Galaxia Blue are the shrewd and resourceful MetaGoblins. MetaGoblins will play the lead role in the hotly anticipated and inaugural NFT game of the MetaBlaze universe, MetaMinez. MetaMinez will be the first installment in a chain of remarkable NFT games that will drive the narrative of Galaxia Blue and build momentum as the MetaBlaze universe expands.
The MetaGoblin collection will have a supply of 10,000 unique characters. Every single MetaGoblin is the result of immaculate attention to detail and artistic creativity. A true marvel of NFT art, each MetaGoblin is generated from over 398 hand-drawn traits. What's more, every attribute has been tested and reviewed in combination with every other trait to ensure a seamless design and stunning final result.
All MetaGoblins are distinctive and rendered in jaw-dropping 3D. MetaBlaze NFTs will come to life with the arrival of the MetaBlaze RPG, which will provide a fully immersive 3D virtual reality experience to make James Cameron's Avatars green with envy. NFT Art is a key focus for the MetaBlaze team. The goal is to create an NFT collection that is both an indispensable tool within NFT games and something holders would be proud to use as a profile picture on their social media.
Attributes and traits are not just purely cosmetic. Different properties in MetaGoblin DNA mean that each NFT will have strategic advantages over its peers in NFT games, dependent on external factors. For example, a MetaGoblin with a Glacial Land Focus attribute will be less efficient than a MetaGoblin with a Carbon Land Focus, reliant upon the terrain of their allocated mining environment. Rarity comes into play as well, with different tiers of MetaGoblin earning potential increasing at higher tiers.

MetaGoblins will have further utilities in other MetaBlaze NFT games down the line, with each new game approaching the MetaBlaze's innovative play to earn crypto economy from a different angle. If that wasn't enough, each NFT entitles holders to additional perks, such as exclusive access to events and content, NFT airdrops, Land parcel airdrops and Comic book airdrops that further explore the mysterious corners of Galaxia Blue.
The upcoming mint of the MetaGoblin collection is just around the corner on October 15th, and promises to be an event of unprecedented magnitude. MetaBlaze is offering up some of the biggest prizes for lucky minters the crypto industry has ever seen. Hidden amongst the 10,000 MetaGoblins are three MetaGoblin Kings that give the fortunate holder the ability to instantly claim astounding rewards which, naturally, are fit for a king of his prestige.
Legendary King Unlocks $50k in Bitcoin
Epic King Unlocks $25k in Bitcoin
Mystical King Unlocks $10k in Bitcoin
The historic MetaGoblin NFT mint will be hosted by OpenSea, the largest and most recognised NFT Marketplace in the industry. The mint is completely randomized, giving everyone a chance to take home one of the 3 Goblin Kings.
MetaGoblin Presale – Avoid the Gas War!
Mint day is expected to be competitive. The official MetaBlaze Telegram Group is buzzing, with over 17,000 passionate and active members eagerly discussing all things MetaBlaze adn crypto gaming. Many will be looking to secure their personal collection of unique MetaGoblin NFTs and hunting for the three kings and their generous bounties.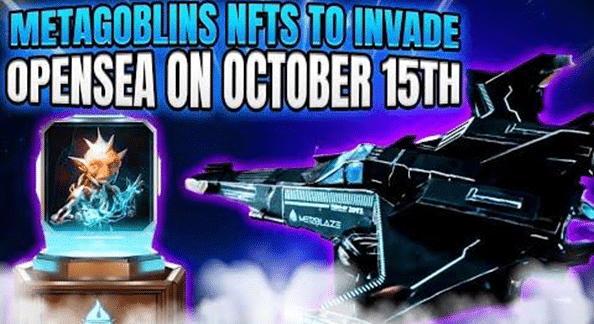 It is likely that the hunt could cause a surge in network congestion and a sharp spice in gas prices. Fortunately, the MetaBlaze team has a solution. The MetaGoblin presale is still live, and gives early investors the benefit of getting in ahead of the crowd and avoiding the inevitable gas war.
To secure your MetaGoblin NFT ahead of time, head to https://metablaze.xyz and jump the line at a discounted price!
The $MBLZ Token Presale Enters its Final Stages
With the first NFT game of MetaBlaze's cutting edge play to earn crypto ecosystem approaching swiftly on the horizon, there's never been a better time to join the crypto presale and secure your $MBLZ. Having successfully raised over $3.2 million USD, time is running out before the hard cap is reached. Presale participants are showered with additional benefits like token allocation bonuses and discounted token prices. In addition, investors that acquire $2,500 or more in $MBLZ will be rewarded with a MetaGoblin NFT.

In an industry that is sometimes plagued with celebrity cash grabs and low-quality craftsmanship, MetaBlaze NFTs are a breath of fresh air. By combining unmatched in-game utility and incredible NFT art, MetaBlaze has written a lasting manifesto and blueprint that ensures continued growth and increasing value at the MetaBlaze ecosystem expands.