Top 5 cryptocurrencies that gained the most in February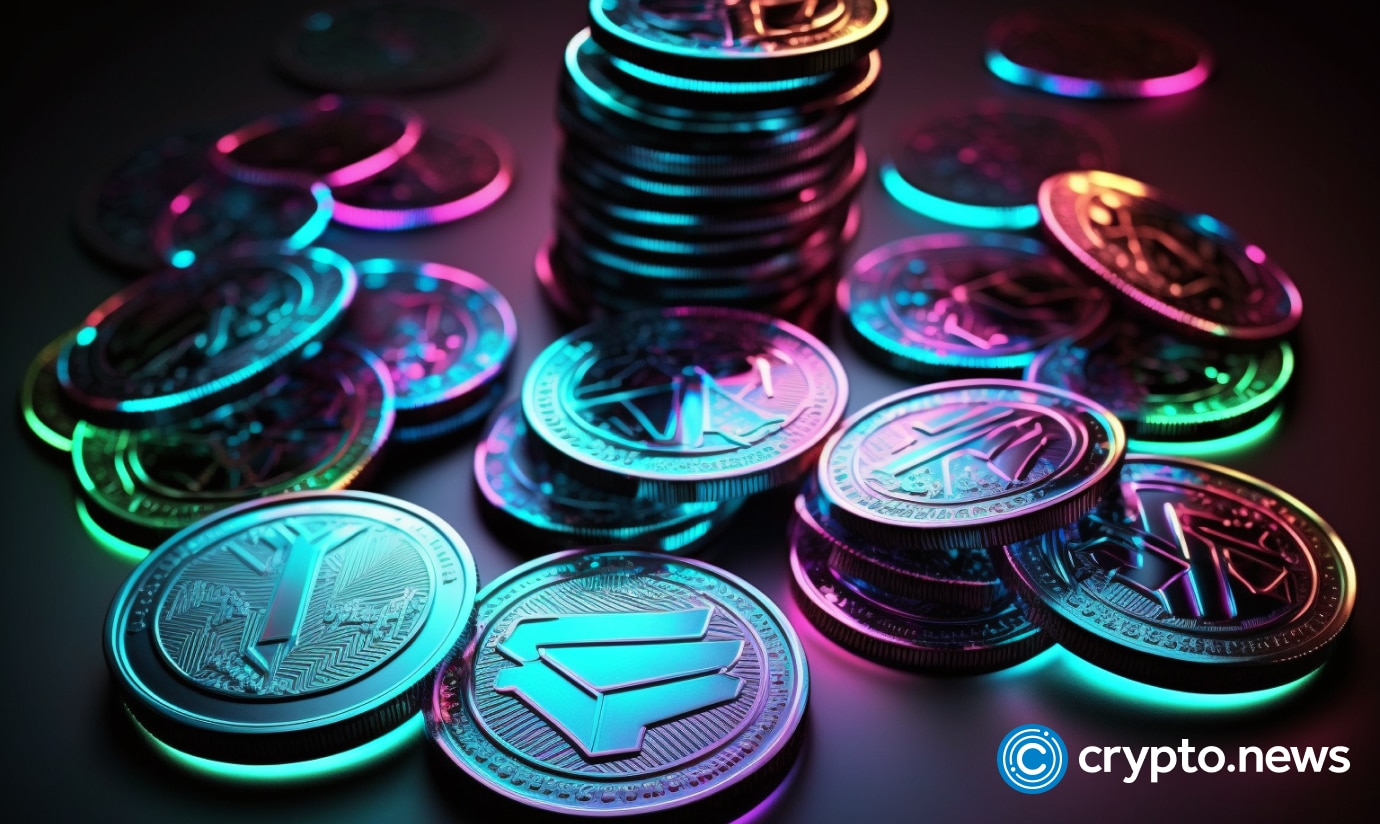 The crypto market has gained momentum with the start of 2023 — with the total market capitalization surpassing the $1 trillion mark. Some assets have continued the upward trend in February as well. Here are the top five gainers in the last 30 days, according to CoinMarketCap (CMC) data.

Conflux (CFX)
Conflux (CFX) is the top winner of Feb. 2023, with over 243% gains in the past 30 days. The CFX price reached roughly $0.35 on Feb. 21, but saw a sudden drop in a week. The asset is currently trading at $0.2344 with a market cap of $592 million, per CMC data.
Stacks (STX)
The second-best mover in the mentioned timeframe is stacks (STX) with an almost 200% upward movement. The STX price has reached a 10-month high at the time of writing and is trading at $0.876. Moreover, its market cap is $1.19 billion at the moment, still down by 76% from its all-time high (ATH) of $3.6 in Nov. 2021, according to data provided by CMC.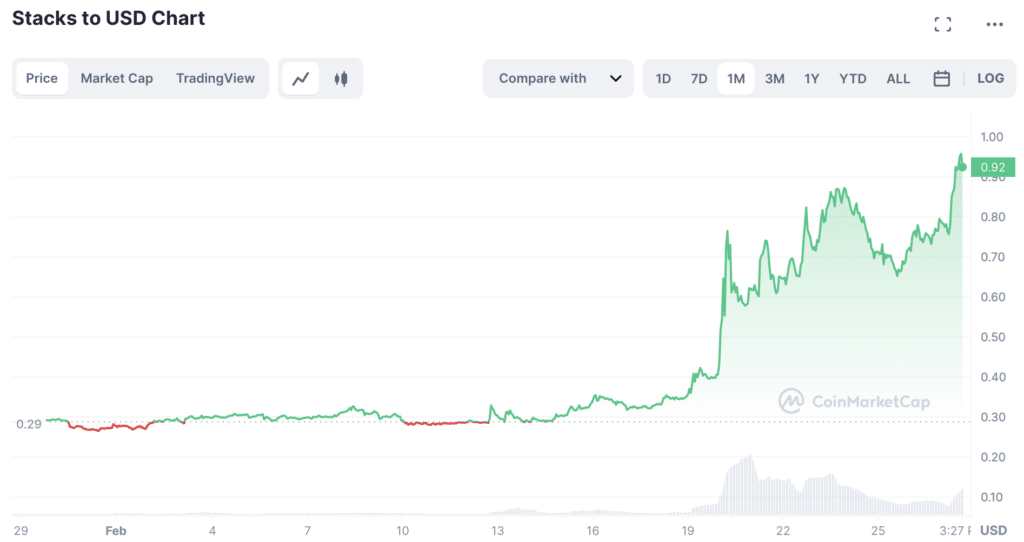 Ssv.network (SSV)
The ssv.network (SSV) secured the third spot with 157% gains in the past 30 days, 2% down from its ATH of $45.19 on Feb. 26, 2023. The token, launched in Oct. 2021, is trading at around $44.1 with a market cap of $441 million. Last year, the decentralized protocol raised $10 million to build a robust infrastructure for staking the second-largest crypto, ethereum (ETH).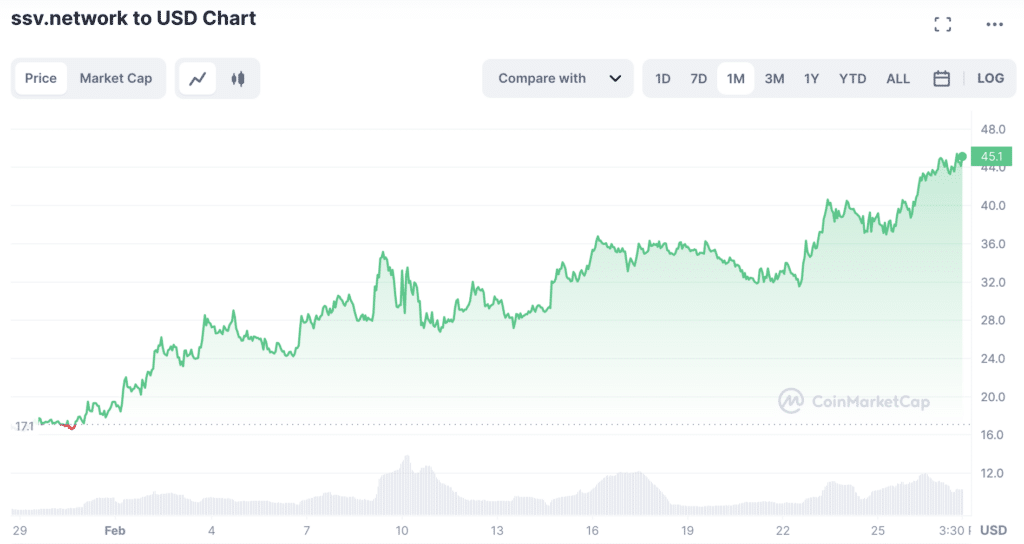 SingularityNET (AGIX)
The fourth rank goes to SingularityNET (AGIX), with a 130% surge over the past 30 days. AGIX rose to $0.65 on Feb. 8 and is now trading at roughly $0.42, down by 77% from its ATH of $1.86 in Jan. 2018, per CMC.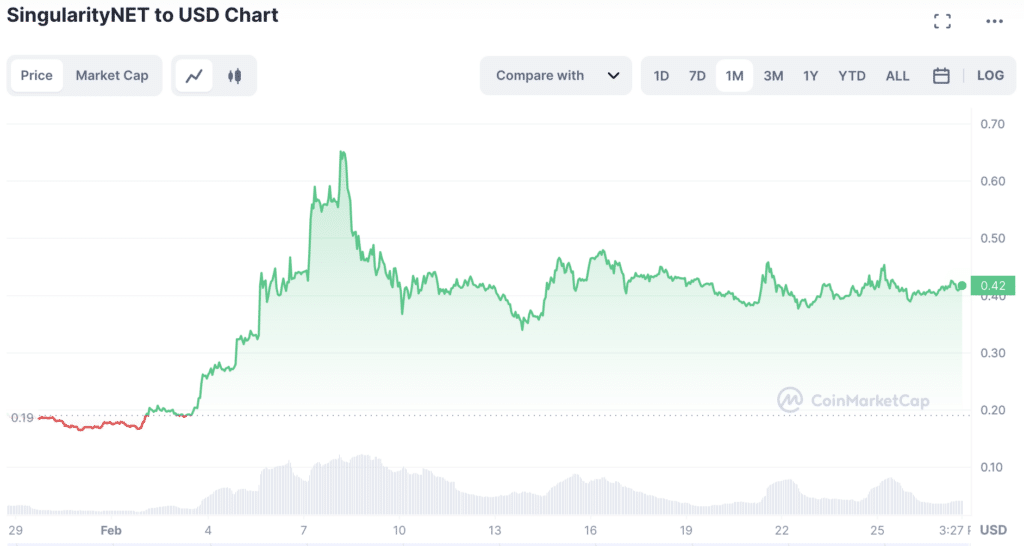 Graph (GRT)
Graph (GRT) has secured the last spot on the list with almost 65% gains over the past month. It's important to note that GRT is the largest asset in terms of total market cap — $1.396 billion — among this list. It's currently trading at $0.158, down by 94% from its ATH of $2.88 in Feb. 2021.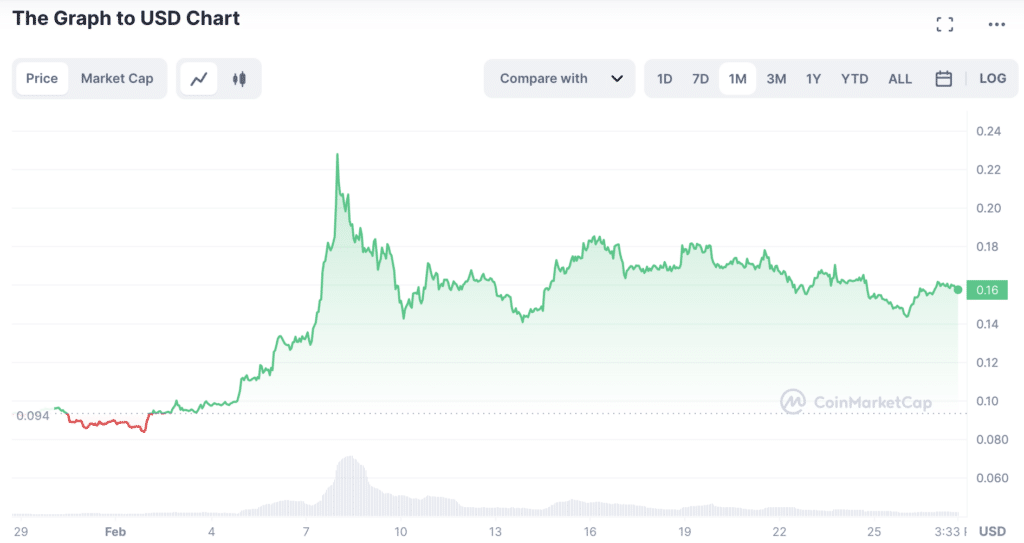 According to CMC data, as the green movement of some crypto assets continued in February, the total crypto market cap reached $1.13 trillion on Feb. 16. At the time of writing, the number sits at $1.07 trillion.