TRON Founder, Justin Sun, Looks To Buy BitTorrent Inc.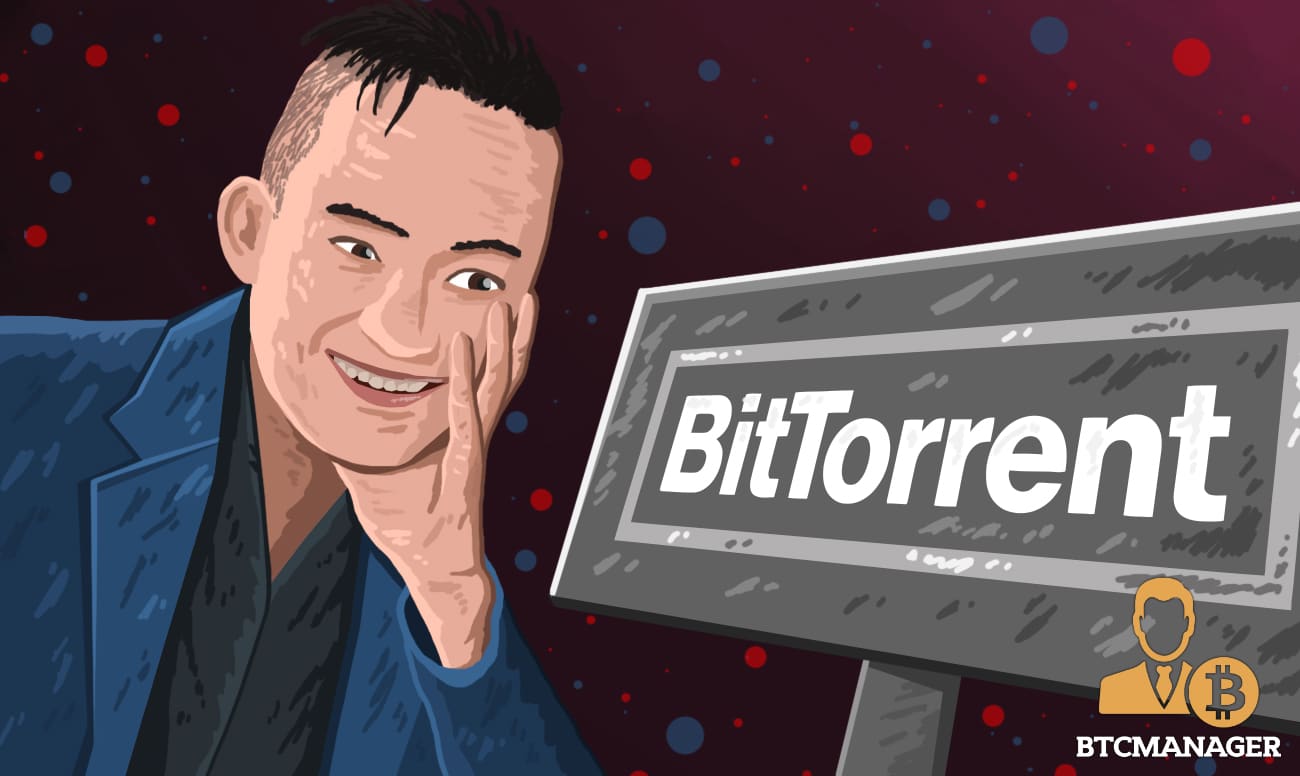 BitTorrent Inc. is in the middle of takeover negotiations with Justin Sun, the founder of the TRON Foundation and the cryptocurrency of the same name.
The takeover of BitTorrent, which achieved fame with its torrent client, uTorrent having more than 150 million users, looks set to add a crucial piece to the puzzle in TRON's stated mission to decentralize the internet.
Drawn Out Sale
Ever since BitTorrent failed to achieve a billion-dollar valuation, the company has suffered from bad publicity, lack of focused strategy, and infighting. More recently, founder Bram Cohen has been in the news for his ambitious new project CHIA which aims to replace bitcoin as the global cryptocurrency of choice.
In the midst of this ambiguity, TRON has been pursuing a takeover for some time and may be close to completing a deal for the company.
Information obtained by Torrentfreaks shows that after the company renamed itself "Rainberry INC" in early 2017. Rainberry was named in a lawsuit earlier in 2018 for allegedly violating a "No Shop" clause in a preliminary purchase agreement. This clause protects a prospective buyer from being upstaged while negotiating the deal by preventing the takeover target from talking to other potential buyers.
The buyer named in the agreement is Justin Sun, whose TRON cryptocurrency is taking advantage of a hot streak on the market to aggressively drive expansion and make progress toward its goal of web decentralization.
Rainberry Acquisition Drama
The takeover process began in September 2017 with the signing of a letter of intent, after which things almost immediately started to head south.
An extract from Sun's lawsuit against Rainberry reads as follows:
"Within literally hours after the parties agreed to the Letter of Intent, and after Ro Choy (BitTorrent CEO) began performing the terms of the Letter of Intent, Defendant claims it received three 'superior' bids from companies that David Chao (Venture Capitalist) admitted they had been communicating with."
What happened after this is unclear as both parties are being very cagey with information about the takeover bid, the only thing that is known for sure is that some movement toward the goal of purchasing Rainberry is still going because a holding company called "Rainberry Acquisition" was registered in California. This company incidentally, is also owned by Justin Sun, as proved by the statutory Statement of Information below.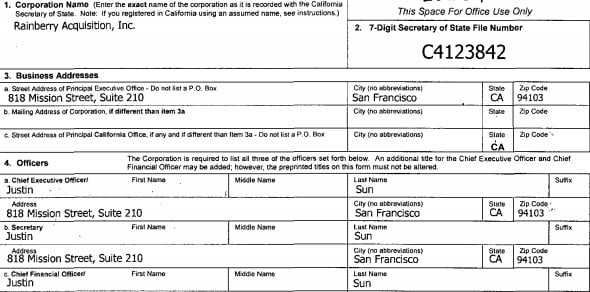 Source: TorrentFreak
Sun remains tight-lipped about any prospective deal, and even a statement released by BitTorrent merely confirms that Sun is indeed interested in buying the company, without divulging any further details. The story develops as more information becomes available.
The acquisition makes perfect sense for TRON as it also mentions 'Entertainment File Sharing' as one of their business models in the white paper.