TRON (TRX) Gets Integrated Into DeFi App Metal Pay (MTL)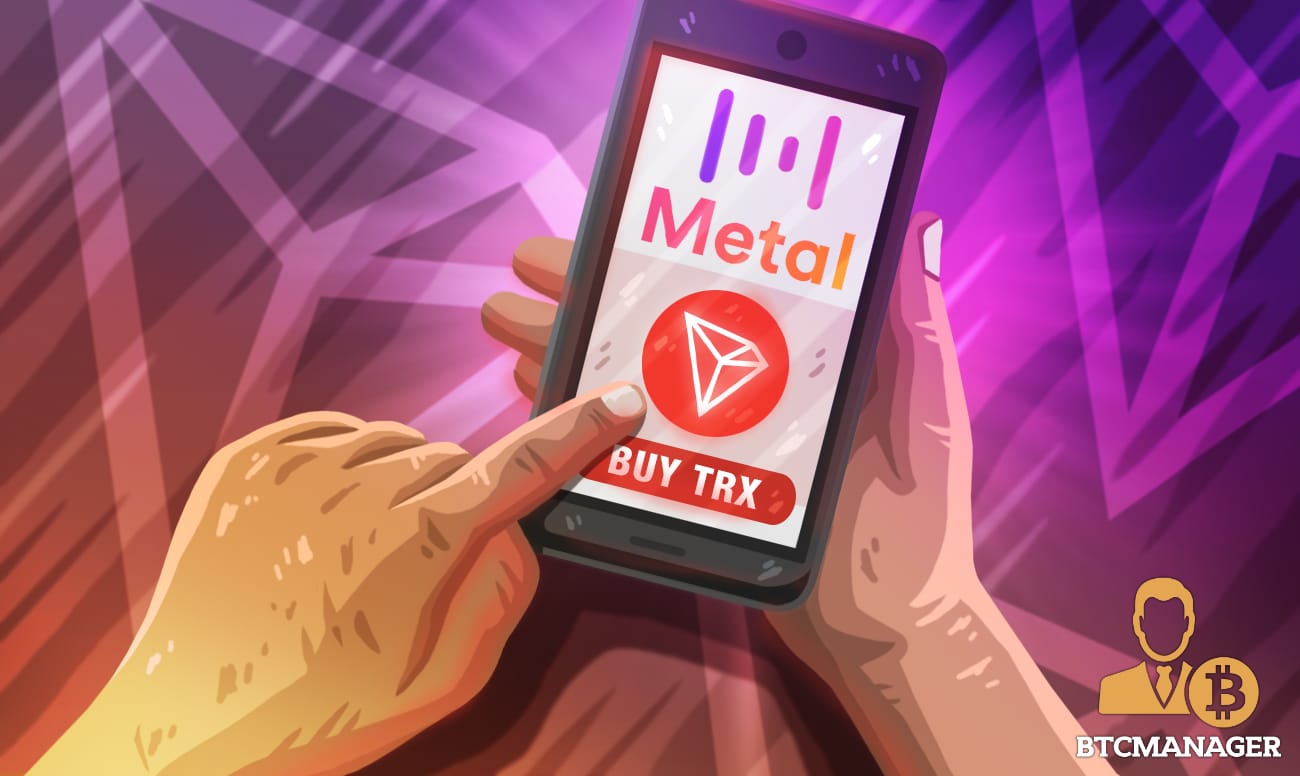 Metal Pay (MTL) a United States-based peer-to-peer (P2P) platform that enables users to easily send fiat or cryptocurrency payments between one another has inked a partnership deal with Justin Sun's TRON, the blockchain project in charge of the TRX altcoin. The alliance will see TRX get integrated into the Metal Pay mobile app, allowing users to buy TRX with fiat or crypto and earn rewards when they use the app, reports Finance Magnates on March 25, 2020.
Metal Pay Integrates TRON
In another exciting development for the TRON ecosystem, Metal Pay, a United States-based DeFi platform that claims to process $1 million in crypto and fiat payments monthly for its 30,000 active users, has integrated TRON into its processes.
Per sources close to the matter, users of the peer-to-peer (P2P) payments platform will now be able to purchase TRX with a credit card or crypto right from their mobile apps and TRX holders will enjoy a five percent cashback when they send or receive money via the app.
The cashback rewards are paid in Metal Pay's native MTL altcoin and users can convert them into USD, send it to another Metal Pay user or simply hold it in their wallet.
Marshall Hayner, Founder and CEO of Metal Pay said:
"TRON's integration into Metal Pay gives its community an exciting new DeFi platform. Home to a variety of developers, dApps, and more, the products that Metal is developing will accelerate the growth of the cryptocurrency ecosystem."
Launched in August 2019, by the self-acclaimed youngest crypto millionaire, Erik Finman alongside Marshall Hayner, Metal Pay is reportedly backed by several bitcoin big whales including Erik Voorhees, CEO of Shapeshift, and Bram Cohen, creator of TRON's BitTorrent.
Despite being faced by numerous criticisms and controversies, Justin Sun's TRON ecosystem continues to wax stronger, creating new use cases and products for its ecosystem.
Commenting on the Metal Pay partnership, Justin Sun, CEO and Founder of TRON Foundation said:
"We will always serve our community by providing users with secure, fast, and simple access to TRX. With Metal Pay, we have created the fastest TRX transaction infrastructure while maintaining world-class security."
At press time, the price of TRON (TRX) sits at $0.0115, with a market capitalization of $767.14 million, as seen on CoinMarketCap.