TrueUSD Holders Can Now Spend TUSD at All Visa-Supported Merchants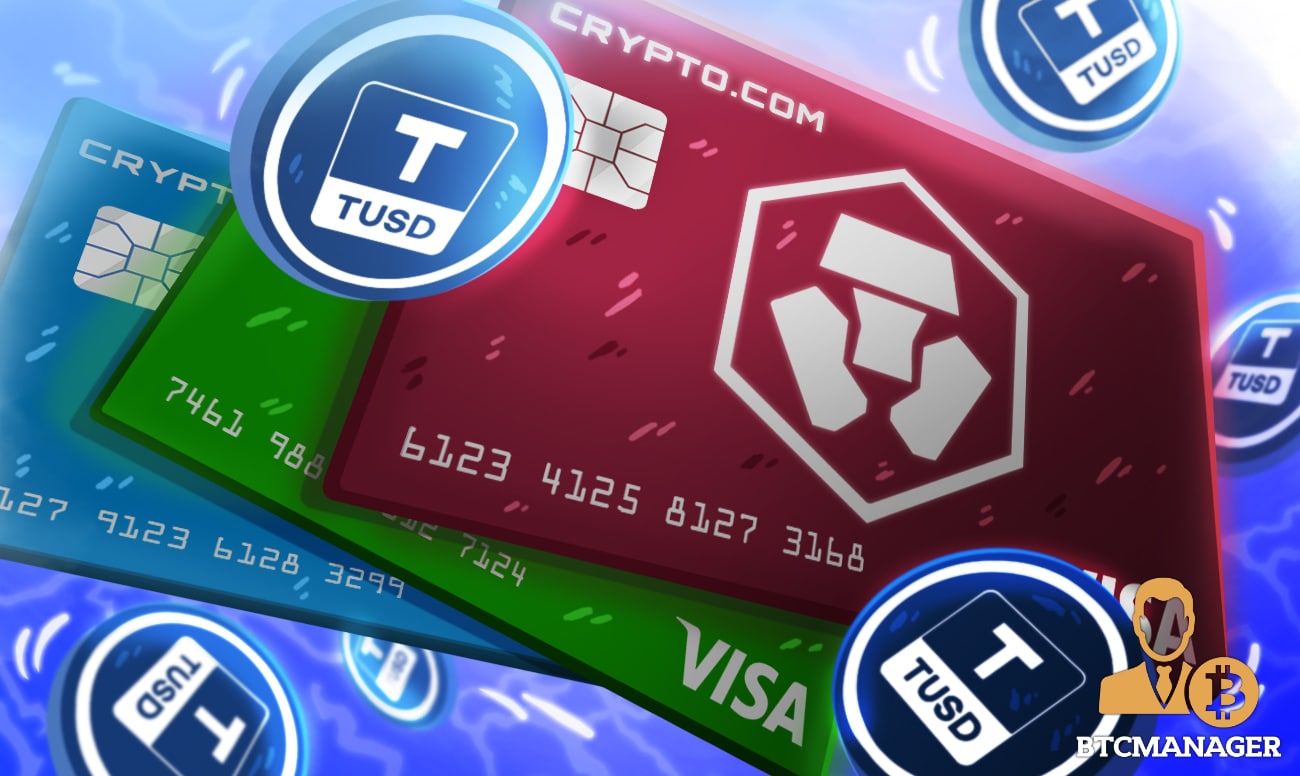 Crypto.com, a crypto-powered platform that allows users to buy, sell and pay (or get paid) with Bitcoin (BTC) and altcoins, has integrated TrueUSD stablecoin into its MCO Visa Card, to enable TUSD holders to easily spend their coins at all Visa-supported locations around the globe, according to a blog post on February 26, 2020.
Crypto.com Adopts TUSD
As part of its mission to foster financial inclusion and make financial opportunities accessible to everyone, the TrustToken team, an Ethereum-powered decentralized application (dApp) in charge of several asset-backed tokens including TrueUSD (TUSD), has joined forces with Crypto.com to provide more use cases for the stablecoin.
As stated in its blog post, TrueUSD is now live on Crypto.com's MCO Visa Card, making it possible for holders of the dollar-backed virtual currency to spend their coins and make payments in real-time at all Visa-supported merchants.
The team said:
"We're proud to announce TrueUSD (TUSD)is now available in the Crypto.com app, making it available for conversion into fiat to be spent at more than 40 million merchants around the world with the MCO Visa Card. Users can still earn up to 12 percent on their TUSD with Crypto.com Earn."
What's more the team says all Crypto.com users can now buy the TUSD stablecoin with 21 fiat currencies at true cost with no fees or hidden charges, using their credit/debit cards or even bank transfers.
Crypto.com Offering TUSD Users Exciting Rewards 
Launched in July 2019, Crypto.com's MCO Visa Card is a prepaid card that features high-end metal cards, offering users up to five percent back on all spending without annual or monthly fees.
Also, the team says users of the MCO Visa Card will get 100 percent rebate on their streaming subscription on popular platforms like Netflix and Spotify, as well as a 10 percent rebate on Expedia and Airbnb.
That's not all users will also get "unlimited LoungeKey airport lounge access" at over 1,000 premium lounges in more than 400 airports globally.
Crypto.com remains one of the crypto-focused projects dedicated to creating real use cases for bitcoin and other digital currencies and promoting broader adoption of digital assets.
Last November, BTCManager reported that Crypto.com has expanded operations to 49 jurisdictions in the United States.
On February 27, 2020, reports emerged that Crypto.com has inked a partnership deal with Travala.com, a bitcoin-friendly hotel booking platform, to enable the integration of Crypto.com Pay, a service that makes it possible for users to pay or get paid in any cryptocurrency, into the Travala.com website.
With the latest deal, Travala.com will now support CRO, the native altcoin of Crypto.com, as well as other established cryptos including Bitcoin (BTC), Eether (ETH), and XRP, via Crypto.com Pay.