U.S. Agency, CFTC, Aims to "Aggressively Monitor" Cryptocurrencies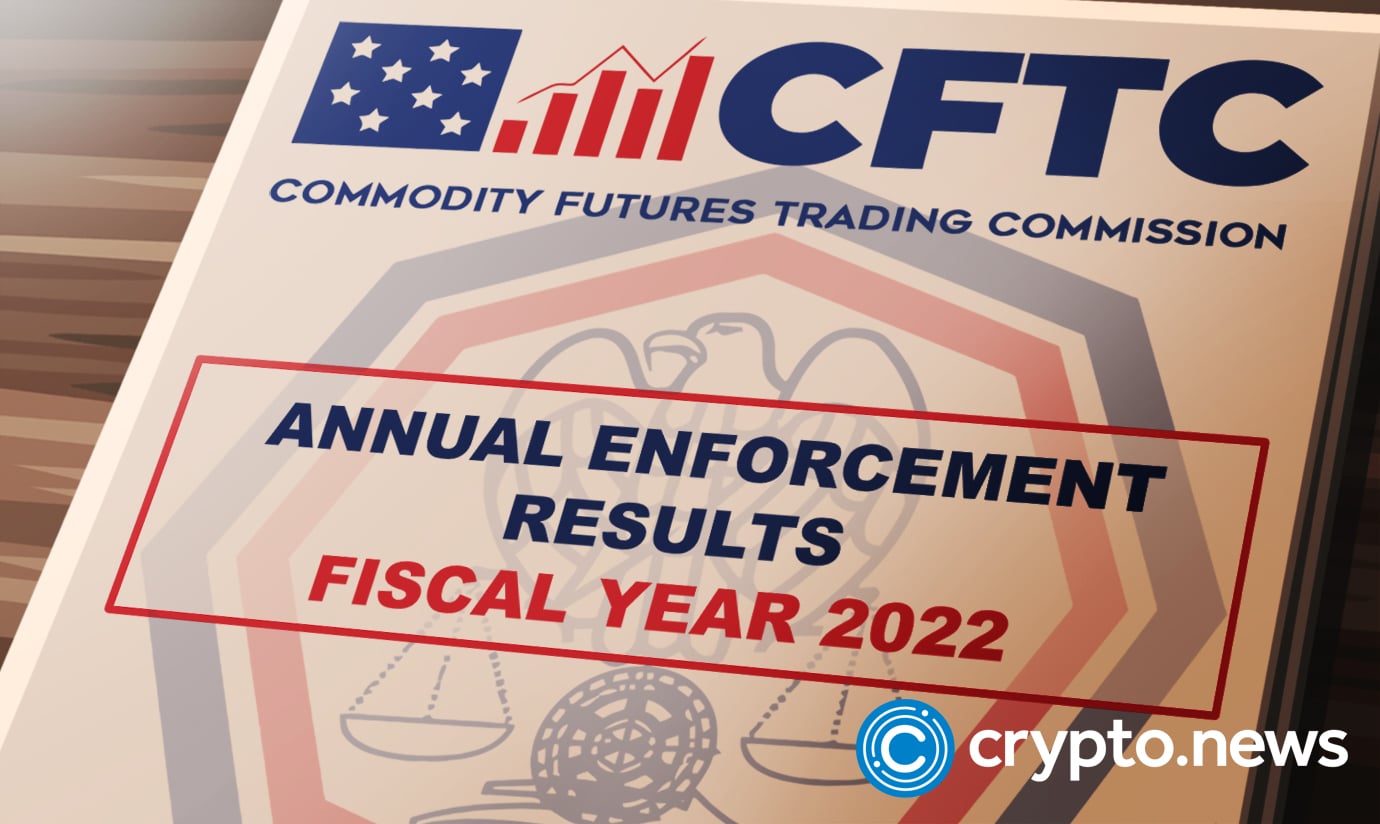 According to a recent report from the Commodity Futures Trading Commission (CFTC), 20% of its enforcement proceedings in the fiscal year 2022 were directed at the market for digital assets. The U.S. commodities regulator said it was behind 18 different enforcement actions pursuing digital assets in the 2022 fiscal year because it doesn't want to seem to be being lax on cryptocurrency.
82 Enforcement Proceedings
CFTC said on October 20 that 82 enforcement proceedings totaling $2.5 billion in disgorgement, civil monetary, and restitution fines via settlement or litigation were brought in the fiscal year of 2022.
The CFTC's chairman, Rostin Behnam, while stating that 20% of the regulatory action targeted companies dealing in digital assets, was quoted saying;
"This F.Y. 2022 enforcement report demonstrates how the CFTC is still using all of its resources to actively monitor emerging digital commodities asset markets."
A $250,000 fine against bZeroX, its successor Ooki DAO, and its creators in September was one of the more recent CFTC enforcement actions that became well-known in the cryptocurrency community.
Who are the victims of CFTC's regulation actions
Coming after, members of the decentralized autonomous organization (DAO) generated intense condemnation from the public, and CFTC commissioner Summer Mersinger called the conduct "blatant regulation by enforcement."
The CFTC also highlighted measures taken against the owners of the Digitex Futures exchange throughout the year for unlawful futures offers, manipulation of its native token DGTX, and failure to implement an anti-money laundering and consumer identification scheme.
It also initiated action against Bitfinex for operating without licensing as a futures commission merchant and conducting illegal, off-exchange retail commodities transactions in digital assets with U.S. persons (FCM).
According to the article, Tether Holdings was sanctioned for making misleading claims and omissions of material about the Tether (USDT) stablecoin and had to pay a $41 million civil monetary penalty.
Cornelius Johannes Steynberg, the CEO of a South African pool, was also the victim of fraud allegations for taking over $1.7 billion in Bitcoin worth around 29,400 from 23,000 American non-eligible contract participants in late June.
Partnership with Law Enforcement and Regulatory Authorities
The CFTC maintained its focus on cooperation and parallel measures with criminal authorities and regulatory partners locally and abroad to protect participants, customers, and markets effectively. This was essential to prevent violations, penalize misbehavior, maintain market integrity, and safeguard market participants.
More on the U.S. regulator: CFTC move demonstrates the need for crypto developers to prepare to leave the U.S.
The CFTC formerly praised the crypto sector for its laxer regulation of digital assets. Chairman Rostin Behnam warned that no one should anticipate a free pass earlier this month, as he pledged to crack down hard on the asset class.
Currently, CFTC and Securities and Exchange Commission (SEC) battle it out to be in charge of regulating crypto assets.
The CFTC would oversee crypto regulation, according to a bill introduced by senators Cynthia Lummis and Kirsten Gillibrand in June. This action would be much better for the industry since the assets would be classified as commodities rather than securities, subject to stricter regulations.
However, as reaffirmed this week by Congressman Jim Himes, Congress is not expected to focus on regulating digital assets until some point in the next year.