Uniswap (UNI) Weekly Trading Volume Surpasses $10 Billion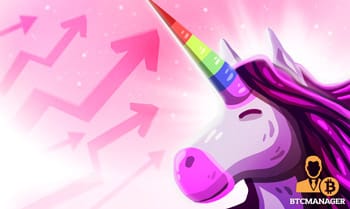 Uniswap's (UNI) Hayden Adams has revealed via a tweet on April 20, 2021, that the weekly trading volume of the decentralized finance (DeFi) protocol has surpassed $10 billion for the first time in the platform's history. 
Uniswap (UNI) Trading Volume Skyrockets 
Despite the numerous risks inherent in decentralized finance (DeFi), investors have continued to flock to automated market makers (AMMs) such as Uniswap (UNI), which has now achieved a new milestone in its existence.
Per a tweet by Uniswap creator Hayden Adams, the leading decentralized exchange and AMM has surpassed the psychological $10 billion weekly volume for the first time ever, a figure that is twice higher than the platform's recorded volume in the past six months.
🔥 @Uniswap weekly trading volume just passed $10b for the first time!!!

👀 $10b/week is over $0.5 trillion per year pic.twitter.com/ZibcDT9Zob

— hayden.eth 🦄 (@haydenzadams) April 20, 2021
While Uniswap's 25.74 increase in weekly trading volume is an impressive feat in itself, considering the fact that gas fees on the Ethereum network are still very high, the tweet has drawn mixed reactions, with Twitter user @KapuriaAbhay suggesting that Uniswap should find a way of automatically adjusting slippage in accordance with the size of a transaction to make it impossible for users to lose their ETH when a transaction fails due to insufficient gas fee.
In contrast, PancakeSwap (CAKE), a decentralized exchange launched in September 2020 and powered by Binance Smart Chain (BSC), has a 24-hour trading volume of over $4 billion, according to CoinGecko.
Uniswap V3 Promises Exciting Improvements 
As reported by BTCManager, earlier in September 2020, Uniswap launched its governance token, UNI, and made it available to its loyal users via an airdrop, as a way of saying thank you to its faithful, while also strengthening its community.
"The introduction of UNI (ERC-20) serves this purpose [sustainability and governance], enabling shared community ownership and a vibrant, diverse, and dedicated governance system, which will actively guide the protocol towards the future," the project wrote at the time.
Since that time, the Uniswap ecosystem has continued to wax stronger and the platform is now the third-largest DeFi protocol in terms of total value locked (TVL $5.99 billion).
To even make life easier for its users, Uniswap announced earlier in March 2021, that the third iteration of the protocol, Uniswap V3 will be rolled out on May 5, 2021, and it will offer users a vast array of innovative features.
According to the team, in Uniswap v3, users will experience less slippage, fewer gas costs, capital efficiency, and more.
At press time, the price of UNI sits at $32.05, with a market cap of $16.66 billion, as seen on CoinMarketCap.