VeChain, DNV GL Launch New COVID-19 Risk Assessment Solution for Hotels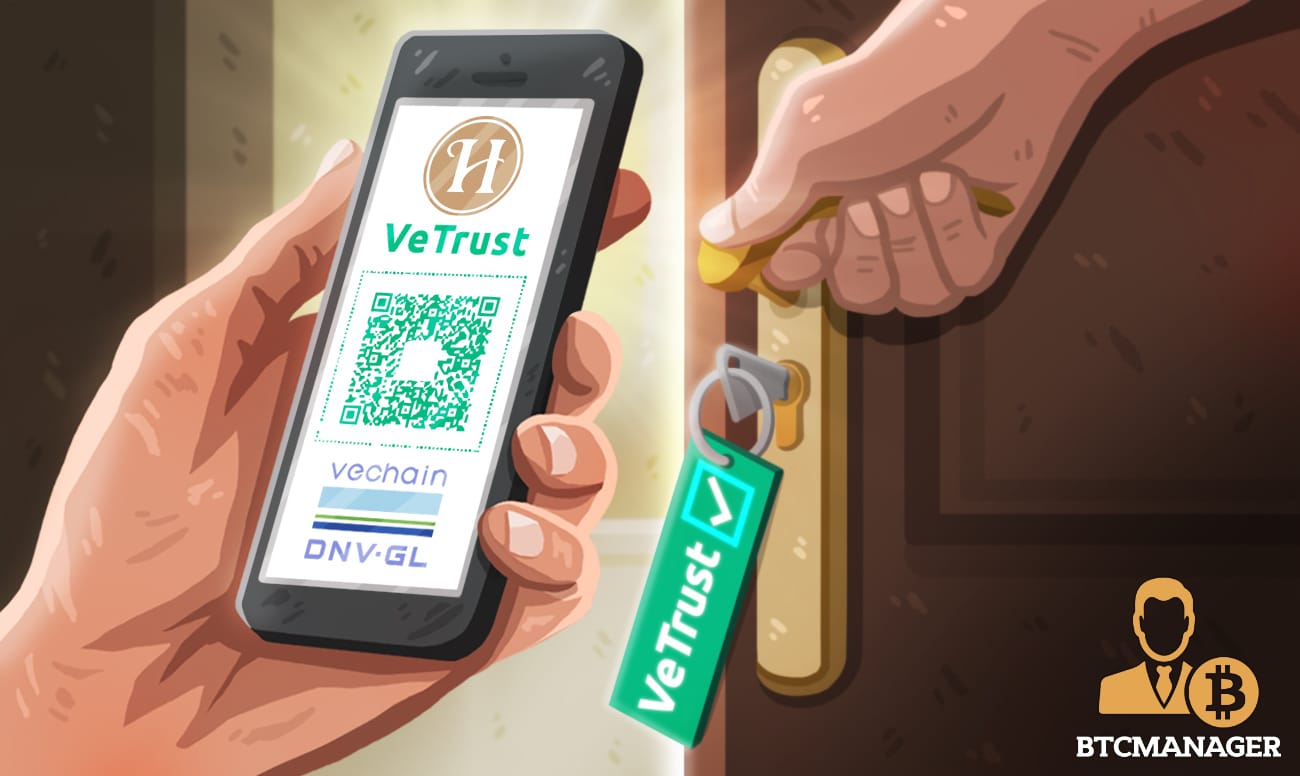 VeChain (VET) and its partner, DNV GL has announced the launch of VeTrust, a new COVID-19 risk self-assessment solution for hotels in China, according to a blog post on September 9, 2020.
VeChain Launches VeTrust 
As business activities gradually return to all sectors of the global economy amid the devastating coronavirus pandemic, VeChain and DNV GL has released a new blockchain-based solution designed to help hotels in China effectively tackle a further spread of the deadly virus.
As stated in its blog post, the VeTrust COVID-19 risk self-assessment application uses the VeChain ToolChain BaaS system to provide hotels with a highly functional risk assessment toolkit to enhance their safety and risk management, now and even after the pandemic.
Back in June 2020, VeChain and DNV GL joined forces to create the MyCare COVID-19 infection risk management solution, which is designed to help enterprises effectively access, mitigate and manage infection risk in their operations. 
Now, the team has hinted that the new VeTrust solution will combine MyCare's methodology and proven track record to help both small and mid-scale hotels in China to maintain the highest infection prevention standards.
An All-in-One Package 
While the MyCare solution is actively being adopted for COVID-19 infection risk assessment in China, the team has made it clear that VeTrust is like an all-in-one package for enterprises, as it integrates professional services and distributed ledger technology (DLT) into the risk management processes of users.
VeChain wrote:
"VeTrust aims to help Chinese hotels to strengthen their risk management practices, safeguard the health of the hotel guests and staff, restore customers confidence, and seek business growth, especially for small to mid-scale hotels."
What's more, the team says the VeTrust Solution allows hotels to provide immutable and trustworthy proof of cleanliness standards and customers will be able to access the readiness of these hotels by simply scanning a QR code. 
VeChain (VET) solutions have continued to gain traction across the globe and the project has forged alliances with a good number of highly reputed firms of late.
Earlier in August 2020, BTCManager informed that Grant Thornton Cyprus and VeChain have inked a strategic partnership deal that would allow the former to integrate the latter's blockchain solutions into its processes.
At press time, the price of VeChain (VET) is up by 5.89 percent in the past 24-hours, trading at $0.012880, with a market capitalization of $714.25 million, as seen on CoinMarketCap.