WakeUp Labs and Kilimo Leverage Rootstock to Compensate Farmers for Water Neutrality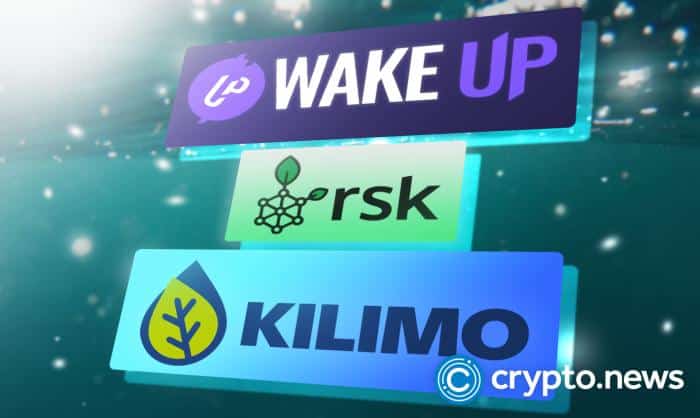 WakeUp Labs, built on Rootstock, has teamed up with Kilimo, one of the top platforms for agricultural irrigation management, to offer the technological foundation for non-fungible tokens to be used to create water-saving certificates (NFTs)
NFTs will Tokenize Water Savings and Incentivize Savings
The duo plans on using NFTs to tokenize water savings to incentivize farmers and accomplish water-neutral goals. This signifies that the water saved by farmers will be represented by an NFT, which can be purchased by businesses seeking to offset their water footprint. Farmers who employ irrigation effectively will benefit from this mechanism's enhanced revenue generation.
The creation of NFTs certificates that are registered on the blockchain and supported by WakeUp Labs, a component of the Rootstock Ecosystem, will make it possible to demonstrate the water savings made. With more than 50% of the Bitcoin network's hash rate going to Rootstock, the first sidechain to add smart contract capability, this ecosystem is among the most secure worldwide.
A ClimTech startup called Kilimo measures and helps improve agriculture's water use. They employ big data and machine learning to efficiently use these resources in agriculture. There are more than 2,000 farmers who employ their irrigation techniques. A 2020 report by the WWF (World Wildlife Fund) predicted that by 2050, 51% of the population could be in high water danger. And in Latin America, Kilimo helped conserve almost 72 billion liters of water.
Jairo Trad, the creator of Kilimo, said:
"We are thrilled about Kilimo's technology since it will enable businesses to offset their water footprint while also paying farmers for water conservation. This is how Everyday DeFi may become a reality."
"It's fantastic to see RSK getting leveraged by these two powerful entities for a fantastic sustainable cause that supports farmers' access to cutting-edge everyday DeFi." Augustin Pandolfini remarked.
What's Tokenizing NFTs
Through fractionalizing tangible assets like buildings/land/property, NFTs democratize investing. A digital real estate asset can be divided between numerous owners far more easily than a physical one.
This ethic of tokenization need not be limited to real estate; it can also apply to other assets, such as works of art. So a painting doesn't necessarily need to have just one owner. The digital version's numerous owners, each in charge of a portion of the painting, are possible. Such agreements might raise its value and revenue.
About the Partnering Companies
IOVLabs aids in the development of decentralized technologies required for a new, open, and trustworthy global financial ecosystem. The company contributes to various platforms such as Taringa!, RSK Infrastructure Framework, and Rootstock Network (RSK).
The Rootstock is a platform for smart contracts created to expand the functionality of Bitcoin while utilizing its hash power. The RSK Infrastructure Framework (RIF) is a group of open, decentralized infrastructure protocols that make it possible to create distributed apps (dApps) more quickly in a single setting.