Web 3 Asset Management Firm, Serenity Shield Signs A Strategic Partnership With Singapore-Based Digital Insights To Boost Commercial Success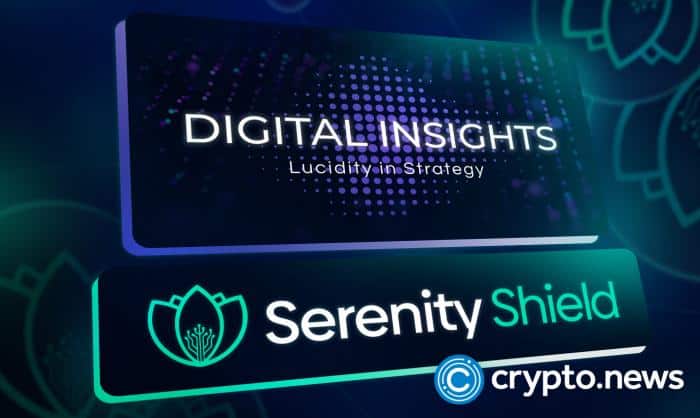 The strategic partnership aims to offer economic, financial, marketing, and commercial cover to Serenity Shield's users, boosting the development and adoption of the platform.
Serenity Shield, an innovative Web 3 digital assets management platform, has announced a strategic partnership with Digital Insights, a Singapore-based digital advisory and venture firm to simplify and enhance the management of digital assets and rights. The partnership will also cover economic, financial, marketing and commercial aspects. Announced this week, Digital Insights will join Serenity Shield offering the latter long-term support for the commercial deployment of its solution, as well as business development and marketing support.
Speaking on the launch of the partnership, Rodolphe Seynat, Co-founder of Serenity Shield, praised the journey his company has had since its launch in 2017. The partnership with Digital Insights shows "a great testament to the fundamental value and support from the market", adding:
We are excited to work together with the team to refine our strategy as we release the MVP. The DI team is one of the most knowledgeable and well-connected in the industry, and with their support, we are ready to realize our vision of equitable digital rights for all.
Serenity Shield is an asset management platform for cryptocurrencies, allowing users to recover seed phrases and secure their wallets from theft or hacking. Over the past few years, the digital asset investor community has struggled to find ways to pass down their digital assets to their next of kin or friends in case of unexpected illness or death. For security purposes, investors do not share their passwords or seed phrases with anyone, sometimes choosing to lock them in hidden cold storage locations. However, in case of an unexpected death, these digital assets are lost forever or incredibly difficult to trace.
Serenity Shield offers a solution to this debacle, designing an advanced innovative asset management platform that allows digital asset holders to secure the inheritance process without losing security and access to their holdings in the meantime. A statement from Digital Insights reads:
The Serenity Shield team is one of the most impressive we've seen, combining technical skills and business acumen. Their solution is badly needed to bolster adoption of Web3, and we are extremely excited to support them in their quest.
Recently, Serenity Shield launched its Strongbox MVP, a cross-chain secure storage solution utilizing the Secret Network and Solana tech stack to provide a secure storage solution for asset holders. The platform is compatible with Metamask and other Ethereum-based wallets, which directly bridge to the StrongBox platform. 
On the other hand of the partnership, Digital Insights aims to enhance the overall digital asset field through embracing collaboration and providing education to digital asset companies and holders. It aims to create an ecosystem of stakeholders who are inspired to collaborate with the community to enable true sustainability. Since its launch, DI has supported over 300 blockchain and FinTech spaces, amassing and dispelling a wealth of knowledge in the legal, technological and commercial aspects of the space.
Finally, the collaboration will help develop better storage solutions, with DI committing to supporting the startup in future fundraising efforts, both public and private.