10 meme coins that will likely dominate this month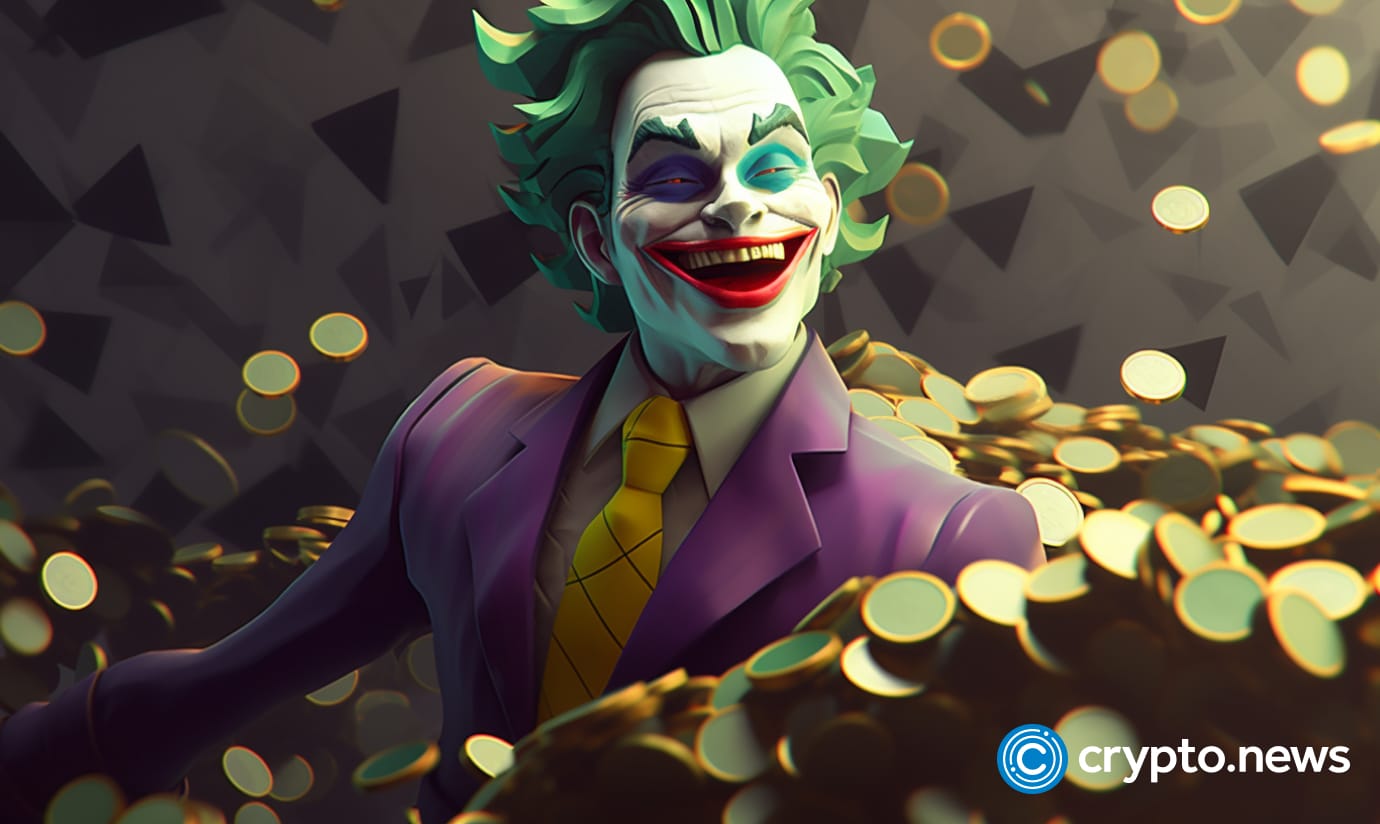 Investors are seeking meme coins that offer the potential for rapid returns. However, with numerous choices available, identifying the most promising options requires thorough research and consideration. To assist, we have curated a list of the top ten meme coins anticipated to make an impact this month.
Whether your interest lies in emerging projects or well-established players, this article aims to provide comprehensive coverage. Consider it a guide to navigating the dynamic realm of meme coins.
List of top 10 meme coins
Shiba Memu: the self-promoting meme coin
Pepe Coin: from internet meme to billion-dollar sensation
Floki Inu: linking memes with utility
Dogecoin: the leader of the meme coin pack
Shiba Inu: the crowd favorite in the meme coin market
Baby Doge Coin: a playful DOGE spinoff
Dejitaru Tsuka: where mystery meets memes
Milady Meme Coin: rising from the ashes
Dogelon Mars: a meme coin for the cosmos
Snek: Cardano's first meme coin
You'll notice there's a mix of old and new here. More established meme coins can be less volatile and offer a degree of certainty. In contrast, newer projects can provide tremendous gains quickly.
Whichever you prefer, keep reading to find the ten best meme coins investors can consider
Shiba Memu: the self-promoting meme coin
Shiba Memu is a meme coin that fuses the wonders of AI and crypto to create a next-generation investment opportunity. Using a blend of advanced natural language processing, sentiment analysis, and predictive analytics, Shiba Memu can self-promote with minimal human involvement. It's a marketing machine capable of generating hype from around the globe.
The AI gives Shiba Memu adaptive self-sufficiency, enabling it to create PR campaigns, social media content, and promotional materials. In an ongoing feedback process, Shiba Memu adjusts its strategy where necessary, optimizing promotion to suit current trends and sentiment.
It also offers a real-time dashboard where users can observe the marketing and interact with the AI. Investors staking their tokens can even provide tools and resources for Shiba Memu. If these suggestions are incorporated, they earn extra SHMU tokens for their efforts.
Billed as a meme coin users should examine in 2023, Shiba Memu has created a buzz amongst investors with its token presale. It's aiming to raise over $30 million in presale.
One of the biggest draws for investors is a daily price increase throughout the SHMU presale; while it'll start at $0.011125, SHMU's price will increase by $0.000225 daily. After 60 days, the earliest Shiba Memu investors will be up 119.33%.
The philosophy of Shiba Memu, a meme coin, is future-oriented and unique. Numerous investors remain bullish on the project's presale and price despite its price volatility.
>>> You can find more information, including how to buy SHMU, here <<<
Pepe Coin: from internet meme to billion-dollar sensation
Pepe Coin has carved a niche for itself in the crypto market, fusing the lighthearted nature of the Pepe the Frog meme with cryptocurrency. In 2023, PEPE, the project's native currency, surged to a $1 billion market cap in just three weeks. 
With major cryptocurrency exchanges like Binance and Huboi offering PEPE, the coin's infamy in crypto circles has soared. Prices have cooled off slightly since its peak in early May, but many anticipate a resurgence soon.
While the project states that PEPE has no utility, there are incentives to pick up the token. Its deflationary tokenomics – a product of its unique burning mechanism – encourages long-term holding. While other memes coins inflate their supply, PEPE investors can look forward to a potential price appreciation as more and more Pepe Coins are burnt.
The biggest drawback of Pepe Coin is its lack of utility. Other projects on this list, like Shiba Memu, can fall back on utility if interest wanes. PEPE's value is primarily dictated by unpredictable social media trends, which results in significant price volatility and potentially weaker longer-term prospects.
Floki Inu: linking memes with utility
While Floki Inu is part of the hype-driven crypto space, it's a project that looks to be more than a passing trend. Following the Shiba Inu coin in 2020, Floki Inu is named after Elon Musk's own Shiba Inu, Floki. This aspect has driven substantial interest, as has the project's mission to become the "people's cryptocurrency."
Regarding functionality, Floki Inu goes beyond its meme coin roots with its expansive web3-ready ecosystem. This includes endeavors in decentralized finance (DeFi), non-fungible tokens (NFTs), and a venture into the metaverse.
FlokiFi, for example, allows investors to provide liquidity and lock up their NFTs. Its humanitarian efforts are also noteworthy, echoing Dogecoin's community initiatives by supporting the construction of a high-tech school in Ghana.
Despite investor confidence, Floki Inu remains highly speculative. Its utility-driven ecosystem provides a solid backdrop for growth. Still, it relies heavily on community support and market sentiment to support its value.
Dogecoin: the leader of the meme coin pack
Far from its humble beginnings in 2013, Dogecoin has indeed outlived its initial role as a lighthearted alternative to Bitcoin. Dreamed up by software engineers Jackson Palmer and Billy Markus, Dogecoin was the first in a long line of crypto meme coins, using the Shiba Inu mascot seen across the market today.
Dogecoin's potential as an investment opportunity stems from its widespread community support – its Twitter page, for example, boasts 3.8 million followers. Being built on Litecoin's code means that DOGE's low transaction costs and speed have made it a popular choice for microtransactions and tipping content creators on social media platforms.
Meanwhile, Tesla and SpaceX CEO Elon Musk's frequent mentions of Dogecoin have propelled its status, pushing DOGE into the mainstream. This mass attention led to Dogecoin reaching a peak market cap of $88 billion in mid-2021. It has consistently placed in the top 10 most valuable cryptos ever since.
While DOGE is seen as one of the best meme coins of all time, it's still susceptible to the extreme volatility meme projects face. Moreover, with new contenders like Shiba Memu and Pepe Coin constantly emerging, the hype is often directed toward these projects instead of DOGE. This means DOGE may offer different gains than new meme coins in 2023.
Shiba Inu: the crowd favorite in the meme coin market
Shiba Inu, recognized as the leading competitor to Dogecoin, has become a dominant figure in many lists of best meme coins. With its origin traced back to an anonymous founder, Ryoshi, this coin has succeeded in making a name for itself, primarily due to its loyal and growing community, dubbed the "ShibArmy." 
Notably, the project's utility-based ecosystem differentiates it from Dogecoin and other meme coins. Being built on Ethereum allows it to run smart contracts, leading to various decentralized apps (dapps) being developed. For instance, there's a decentralized exchange, ShibaSwap, a play-to-earn mobile game, Shiba Eternity, and an NFT collection called Shiboshis.
Shiba Inu's resilient community support has helped to sustain the hype that drove SHIB over 74,000,000% from its launch to its peak price. Such growth is unlikely to happen again, but SHIB has more upsides.
Despite its appeal, some critics argue that Shiba Inu will always remain the underdog, fighting to take over Dogecoin in a battle it may never win. Should the rivalry heat up, investors could face significant volatility.
Baby Doge Coin: a playful DOGE spinoff
Baby Doge Coin borrows from the fame of Dogecoin and positions itself as a community-centric coin, attracting meme enthusiasts and casual investors. One of its unique quirks is its supply of 420 quadrillion tokens, a figure gradually reduced via periodic burns. This may support BAYDOGE prices.
Like Pepe Coin, there are incentives to hold BABYDOGE. Every time the token is traded, a 10% fee is levied. Half of this fee is distributed back to existing holders, rewarding them for their loyalty. The other half is dedicated to liquidity provision, supporting the coin's stability and availability in the market.
Baby Doge Coin might be one of the best meme coins to buy, but there are risks. Most notable is that BABYDOGE is just one of many Shiba Inu-based tokens with virtually no utility. If the hype can't be sustained, then BABYDOGE could slowly bleed out over time.
Dejitaru Tsuka: where mystery meets memes
Dejitaru Tsuka is an Ethereum-based meme coin that has captured attention with its ties to Japanese lore and its cryptic connection to the creator of Shiba Inu, Ryoshi. The project is shrouded in mystery, with little information about its token or mission available, creating an air of intrigue that has driven demand. Consequently, Dejitaru Tsuka has steadily risen to become one of the best meme coins on the market.
Rumors say the project is tied to the Shiba Inu founder, Ryoshi. As more information emerges, the TSUKA could rocket if the rumors prove true. Moreover, the token's strong social media presence amplifies its visibility, creating a healthy demand ripe for future growth.
While the mysterious nature of the meme coin adds to its allure, it also poses risks. There's little to say that its association with Ryoshi is no more than a marketing ploy, meaning Dejitau Tsuka should be treated cautiously.
Milady Meme Coin: rising from the ashes
The Milady Meme Coin project is a fan-driven initiative born after a scandal surrounding the Milady Maker NFT collection. These NFTs comprised 10,000 unique avatars created by pseudonymous Twitter users Milady Sonora and Charlotte Fang. However, issues devalued the collection and spawned the Milady Meme Coin to restore the project's reputation and reclaim its allure. 
Milady Meme Coin gained popularity among investors shortly after its launch. The token ascended from a low of $0.000000000731393 on May 10, 2023, to a high of $0.000000172607 the next day – almost a 23,500% increase in 24 hours. This was due to Elon Musk tweeting a picture of a Milady NFT and has since thrust LADYS into the spotlight.
Milady Meme Coin can be considered in 2023 if it can sustain its hype. Still, investors should be wary. The website states, "The coin is completely useless and for entertainment purposes only," which could lead to a rapid devaluation should sentiment change.
Dogelon Mars: a meme coin for the cosmos
Dogelon Mars entered the crypto space in 2021, aiming to offer an interstellar twist to the dog-themed meme coin trend. Drawing on the sci-fi dreams of Elon Musk, the project aspires to become an "intergalactic currency" that could potentially be used by future space colonists. This association with Elon Musk's name has supported ELON's popularity amongst crypto investors; as of 2023, Dogelon Mars holds over 650k Twitter followers and more than 90k Telegram subscribers.
Apart from its space-age vision, the token has a dedicated community that helps crypto traders who've been victims of scams. Recently, it introduced the Dogelon DAO, which provides an avenue for direct community involvement in the future of this meme project.
The reputation of Dogelon Mars in the meme coin community could impact its future value. However, it faces strong competition, including those stemming from the Shiba Inu-based movement, which may challenge its dominance in the near future.
Snek: Cardano's first meme coin
Snek is a meme coin that's distinguished itself as the first of its kind within the Cardano ecosystem. Built on a vision of inclusivity and sustainability, it aims to create a rewarding experience for Cardano users, fostering an environment where investors can thrive and have fun together. 
A key highlight of Snek is its fair launch, acting as a testimony to its inclusive mission. The token saw no portion of its supply reserved for the team, ensuring an equitable distribution among investors. Furthermore, SNEK's price performance signals good things to come: from its launch in May 2023, the token climbed over 1,200%.
With Snek developers promising "never seen before" features coming soon, SNEK prices could rally. However, being one of the newest meme coins in 2023 means it's less specific how the future will play out for SNEK, so some investors may prefer to stick to more established meme coins.
Selection criteria used:
We base our evaluation on four primary factors when selecting meme coins to examine in 2023 on the following:
Availability: we considered how accessible the meme coins are across exchanges or in presale. The more readily available a coin is, the easier it is for more investors to get involved.
Market capitalization: a higher market capitalization usually suggests a larger user base and increased liquidity, often critical to a meme coin's success.
Hype: we evaluated the buzz surrounding these meme coins, tracking social media chatter, press coverage, and general sentiment, which can often drive their short-term value.
Utility: while not a primary factor for meme coins, we did account for their utility. An underlying use can support long-term viability and price appreciation.
What to consider when investing in a meme coin
It's worth considering a few things when evaluating new or upcoming meme coins.
Community engagement: consider the activity and size of the coin's community. A meme project with a strong social media following and an engaged community is critical.
Current hype: monitor the present buzz around the coin. Many tools, like LunarCrush, can help you gauge sentiment and find meme coins that will explode.
Trends: keep an eye on broader market trends. For instance, AI is a hot crypto topic; AI-based meme coins could benefit from increased demand.
Risk Tolerance: constantly assess your personal risk tolerance. Meme coins can be volatile, and investing only what you can afford to lose is essential.
The bottom line
The ten meme coin projects above show potential for future prominence. While it is uncertain which coin will perform the best, each presents itself as a strong candidate for inclusion in a meme coin portfolio. Conducting thorough research on each coin and identifying a project that aligns with one's interests is advisable. Meme coins often offer a sense of community alongside potential profitability. These ten meme coins provide ample options to find a suitable match.
Regarding investment opportunities, Shiba Memu stands out due to its self-marketing capabilities. In the meme coin market, generating hype is crucial for achieving gains. Shiba Memu also integrates self-marketing AI. Those interested should consider exploring the Shiba Memu presale.
Investors can consider analyzing the below meme coins project and add their respective tokens to their crypto portfolios:
Shiba Memu
Pepe Coin
Floki Inu
Disclosure: This content is provided by a third party. crypto.news does not endorse any product mentioned on this page. Users must do their own research before taking any actions related to the company.