5 Blockchain Games Options to Consider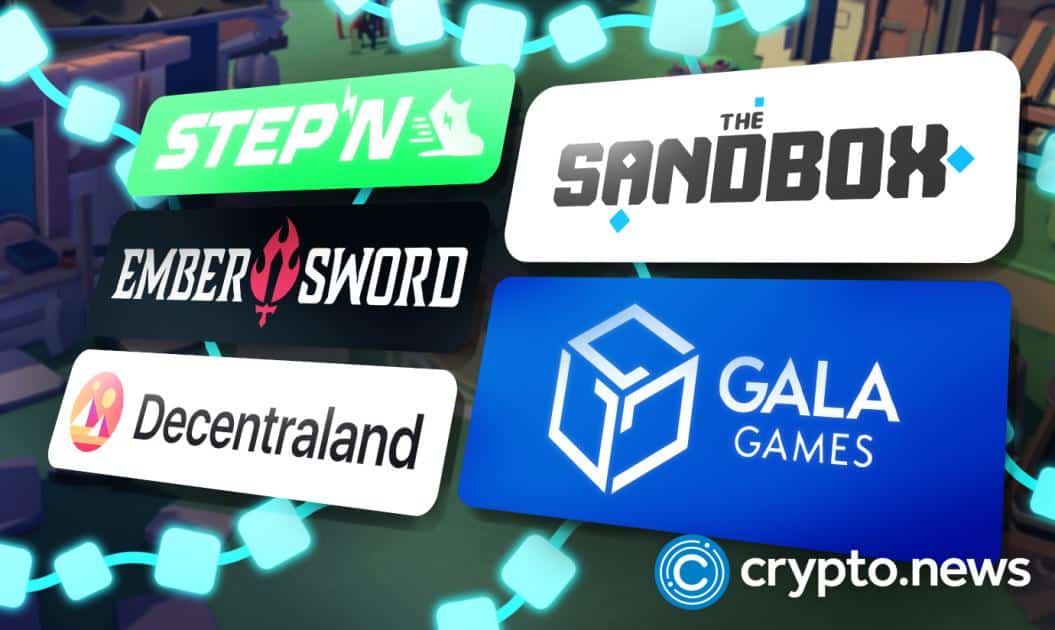 Blockchain had been the buzzword for the past decade since its innovation. Moreover, blockchain or play-to-earn gaming joined the bandwagon, and everything about the cryptocurrency community began to change. More investors yet to learn about decentralized assets began to develop intuition towards the dubbed blockchain gaming. The so-called NFTs also began to back up gaming. Here is some info on blockchain gaming and some options to consider.
How to Make Money With Blockchain Gaming?
There are several methods to make money with play-to-earn games. Nonetheless, there is no guarantee of how much you may earn in decentralized gaming. It depends on the NFT, in-game currency, how you use it, and the handwork or grind you put into gaming.
These are some ways you can utilize to earn in play-to-earn gaming:
1. Play for fun and ambition.
2. Enter into gaming competitions and tournaments.
3. You can borrow characters or develop your own
4. Lend NFTs.
5. Sell your NFTs.
6. Livestream most of the games.
7. Join crypto gaming communities.
8. Provide white paper or guides in mentoring others on how to play these games.
9. Get involved in vast developments in the projects.
10. Investing with DeFi yields farming systems.
5 Best Crypto Games 2022
There are numerous cryptocurrency games; here are the top five best in 2022.
1. Gala Games
As new play-to-earn games start to emerge, many individuals wonder which ones will succeed and which will fail. Gala games depict a solid and humid success in play-to-earn games out of all the blockchain games. Erick Schiermeyer and Mike McCarthy co-founded this blockchain game.
Gala games' mission is to be the biggest virtual game in the cryptocurrency industry and combat its centralized competition. In contrast with other crypto games, Gala games have received zero VC funding and ICO for the Token. Gala games got its initial funding from its founders and currently makes money from selling NFTs for its current and upcoming blockchain games. All the tokens and NFTs associated are on the Ethereum smart contract network and will eventually be on the upcoming Gala chain sidechain.
The only Gala game currently live in Alpha is Town star, a farming game similar to Farmville. Town star has its town token earned by playing the game and can be used to purchase NFTs from the Gala games NFT store or marketplace. Spider Tank is the only other live game, but it's only live on Bitter. The game is getting serious traction in South Korea.
The only thing left to implement is Spider Tanks' play-to-earn mechanics, which should be hammered this year or next. Besides spider Tanks and Town star Gala games is currently working on legacy, a game similar to Sims, Last Expedition, a first-person shooter similar to dead space, Echoes of empires, similar to Starcraft, Fortified tower defense game, Walking dead empires, and recently announced survival games, and Mirandus a fancy role-playing game.
According to the Gala games website, its live games have over 1.3 million monthly users, and 20,000 NFTs have been sold. The most expensive of which supposedly sold for 3 million dollars. It doesn't seem to be an active tracker, and the trading volume market can't be found on any Damp or NFT tracking website. This might have something with the fact that all Gala games are being handled with Gala Nodes. Gala nodes are powered to the Gala chain sidechain. The Gala chain will feature 50k Gala nodes, bringing 100 million active users.
There are currently 23,000 gala nodes, dubbed founder nodes, and there will be only 50,000 nodes. To become a founder node, you need to pay 15,0000 Gala which is almost 80grand Gala's price. In exchange, founder nodes earn gala along with NFTs and Tokens from Gala's current and future games. Founder nodes are named DAO, where they can vote for rule changes. They also need to stay 6 hrs. online to earn rewards. Additionally, the more the hours of founder nodes, the more the earnings.
The decentralized Gala games aim to blow doors open. Moreover, it also plans to give players the control they deserve. Via decentralization, users not only own their games assets but also have an opinion on how the roadmap grows. The node owners and players would be enlisted through a distributed voting mechanism that aids in determining games to be added to the platform and what to be a decentralized Gala ecosystem.
2. Decentraland
Dcentraland is one of the best gaming to earn games in blockchain technology. It is an Ethereum-based 3D virtual world platform. Blockchain gaming is similar to Sims and Second Life. Additionally, it's a Metaverse platform where users can buy and sell lands or plots of real estate in the virtual ecosystem. The organization raised over $25 million in the 2017 ICO and went live in January 2020.
The blockchain game consists of 90,000 pieces of virtual land, each being a Non-fungible land based on the Ethereum network. Three layers make up decentraland protocol: the consensus layer, the content distribution layer, and the real-time layer. A consensus layer exists because its location on a decentralized map characterizes each. Each parcel can also be customized using the virtual land builder, similar to building tools in games like Sims.
There are digital types of lands in decentral and including individual parcels, estates consisting of multiple parcels, districts of parcels of similar themes, and plazas which are untradeable parcels that act as hubs in Decentraland are owned by communities. Logically the closer the parcel is close to a genesis plaza and a road Parcel of lands sold within the district, the more the purchase price.
Decentraland offers a marketplace to purchase wearables and names for in-game avatars. Parcel of lands can be modified using a decentraland builder that requires zero tech ability. Additionally, you can create avatar names. Parcels and names are created using Mana. Mana is ERC-20 Token and its decentraland's de facto in-game currency. Mana is used for purchasing NFTs from various virtual art galleries, gambling, and purchasing tickets for virtual events Within decentraland.
Mana holders can also vote for decentraland change the virtual ecosystem. Such as modification of land parameters, adjustments to marketplace fees, and approval of wearable NFT collection. Landlords have voting powers to the tune of 2000 power of Token they vote. Community system-owned servers manage the blockchain gaming organization. Moreover, these holders can also vote on the approval of catalyst nodes that run servers that host on the systems.
Through the real-time layer, users can communicate with one another via peer-to-peer connections. Since decentraland doesn't use a centralized server, it needs this system to maintain a social connection to its users. Users can also have an avatar to message, voice chat, and the ability to interact with the platform's virtual environment.
Decentraland implements a wide range of features for its platform, such as an STK, where builders develop any interactive scene they want. A builder is available so users can drag and drop content and interactive scenes on land parcels; no coding is needed. Additionally, there's a land market that allows users to trade on the marketplace and a world explorer that makes the decentraland platform exist via the web browser.
In decentraland, users can create challenges, artworks, and scenes utilizing the builder tool. This mechanism enables them to participate in events and win prizes. The game provides the more experienced artists with SDK provides a tool for filling the world with social applications and games. The creators can innovate scenes and artworks and be able to win more prizes. The SDK gives out the tools that can occasionally help experienced artisans navigate its systems.
3. The Sandbox
The Sandbox is a project that offers unique and vast opportunities to crypto investors. It is a 3D virtual gaming where players can build their virtual world. Additionally, users can monetize and own their gaming experience on Ethereum utilizing SAND, the platform's native Token. In the game, players can build digital assets in the form of Non Fungible Tokens(NFTs), upload them to the marketplace, and initiate them into games via the game maker.
In a nutshell, the game is about creating an immersive metaverse where players can create virtual worlds and games collectively without a central authority. Moreover, the Sandbox team gives users control using the Decentralized Autonomous Organization(DAO).
The first problem of the traditional market is that it limits creator rights and ownership in the use of the games. The second is central control over the trading of virtual goods created by players. Control makes gaming organizations have a significant sales cut; some tokens can't be traded at all, and fiat currencies don't support micro-transactions and are vulnerable to credit card fraud. Therefore, Sandbox aims to solve all these gaming disadvantages by adopting blockchain via the Voxel gaming platform, where creators can play, create, share, collect and trade without centralized control.
Moreover, transactions are done through the native Token dubbed SAND. The sandbox ecosystem is made up of VOX Edit, which is a simple yet powerful 3D voxel modeling package. It enables users to create and animate 3D objects such as people and items and export them to the sandbox marketplace to become in-game assets.
This is good news for potential 40.000 Sandbox creators who earn up to $122,000 a year. The second is a marketplace that allows users to upload, publish and sell their creations made using Vox Edit as both ERC721 and ERC 115 tokens. Thirdly, game maker mode permits anyone who owns Sandbox assets to place them on a piece of land. It allows players to create experiences in their lands and enjoy them in regular game mode.
Lands are pieces of a digital sandbox marketplace where players can buy. Each land is an NFT that lives in the Ethereum public blockchain, therefore tradable and has custody to users. Sandbox lands have a capped supply of around 166,000 and make up the map of the Sandbox metaverse.
There are three types of land within Sandbox. The first is standard land, the basic unit comprising 96 by 96 meters. Then there are estates, a combination of multiple lands, and finally, land districts where several players own estates. Owners of the district benefit from special governance rules and allow several players to collaborate to build a shared vision. The following must adhere to convert an estate to a district,
Lands must be close to each other
There must be a minimum of 2 owners
Each owner to stake a certain amount of Sand
A vote must approve the district
Lands also allow users to monetize by charging other players to visit the lands and sell the land for profit after customization. Additionally, owning a plot or two enhances a user's future in the platform. Finally, you can get rewarded and earn through hosting events in your land.
Sandbox is a good investment as the ultimate price prediction of Sandbox is pegged at a maximum value of $1.60. On the official website, the organization suggests that its price could target a maximum of $2, averaging $2.05 towards 2023. The price prediction in 5 years is targeted to be $9.06, with an average $ 29.95 price target for 2030.
4. Ember Sword
Ember Sword is an upcoming blockchain free-to-play game. The digital asset game is a massive multiplayer online role-playing game(MMORPG) and is yet to be released, although the latest reports demonstrate it might be in 2023. In this game, users can own land, level up their character, seek valuable NFTs, join a guild, and defeat monsters and other players to earn.
Most cryptocurrency blockchain games contain massive multiplayer online(MMO) but lack role-playing games (RPG). Thus Ember Sword nails the solution to handle all (MMORPG). The reason may be that Bright Star Studio, the organization behind Ember Sword, contains experienced game makers and programmers. The virtual gaming asset is designed on the Ethereum blockchain hence able to collect NFTs and land ownership.
The game's native currency is Ember, an ERC 20 token. The Token enables players to buy and sell in-game virtual assets. Ember Sword is still on its testing face, with more than 70,000 tractions in its discord and 87,000 followers on Twitter. The game is created on the dystopian moon Thanabus. It has four planned nations: Duskerton, Solarwood, Ediseau, and Sevrend. The first test stage will commence with Solarwood, followed by the other nation's tests in 2023.
The organization declared once the metaverse game is done, players are permitted to choose one of the four nations to name it home. Currently, the project is in the pre-alpha test, primarily before the first stage. The plans for the alpha stage are based on the first quota of 2022. Moreover, land sales are closed while the lucky landlords can partake in the first test stage. In addition, Ember sword is a free-to-play crypto blockchain game.
To acquire free-to-play and earn, you must select the FTP tab by battling players and monsters in the three war sectors. By combating the monsters and exploring the three zones, players may secure Non Fungible Tokens, sold in the in-game market or via the secondary market venue. Playing to earn model facilitates the user to own lands to earn passive rewards based on other player interactions in the owner's land.
Artists can submit their various designs, such as emotes, wearables, and skins, where they are voted on as the top bests. Furthermore, these artists will earn via smart contract anytime the NFT is sold. The lands at Ember Sword are unique tokens that can be bought and sold. Their game plans to create 160,000 plots of land when the sales are opened. Users get to purchase the blockchain game official website(Embersword.com).
Developers of the organization have demonstrated that there aren't any sales yet, but if they are available, they will inform the public using their social media pages. The user must have a digital wallet to buy these NFTs (Plots of land). The essential advantage is that players can earn through creating gigs in their lands, cutting small pieces, and selling them to other players.
The game will have the majority of wilderness lands be PvE zones. There will be plenty of resources, monsters, and NPCs in them. You will have the option to attack any opposition players you come across in these regions. The Wilderness (and Kingship) regions will also spawn open-world bosses. Slaying them first will earn you uncommon rewards, and you might even find a priceless collectible.
5. STEPN
STEPN is the first blockchain game to move toward earning mobile Non-fungible Tokens(NFTs) that are backed by Solana, a virtual currency in the blockchain. Players in STEPN can earn rewards via walking, running, or jogging with an NFT sneaker. The virtual game endorses millions of people around the globe adopting sophisticated lifestyles by taking them through the WEB 3.0 era, aiding in developing carbon neutrality.
STEPN is considered the first Web 3 app that gathered $ 5 million for the first time, attracting investors from DeFi alliance, Morning Star Ventures, Solana capital, and Sequoia Capital. Users must download the app, sign in with their email and connect their wallets after verification to explore the STEPN ecosystem to join the game. The game's unique tokens are the sneakers the players utilize while jogging, running, and walking.
In addition, users can win these NFTs in the Game-Fi system. To buy these STEPN tokens, users must deposit Solana native token SOL in the wallet and wait for their energies to refill after 24hrs. Energy is the number of minutes a user can utilize the sneaker NFT. Users may select efficiency, resilience, and comfort as the attributes in the game as they will contribute to the energy cap. The energy cap is essential in bottlenecking relocation as the reward supply is restricted.
STEPN contains two native tokens: Green Metaverse Token(GMT), the governance token, and Green Satoshi Token(GST), the utility token with unlimited supply in the game. In early March, GMT's price rose from $0.01 to $3.45 in just 41 days, averaging 34,000%. The rise was catalyzed by the trend of decentralized Finance projects(DeFi) that allocates users rewards because of being active. Like other games, STEPN has an in-game marketplace where users can sell, buy and lease their badges, gems, and sneakers. The earned game cryptocurrency can be collected as profit or used in the game's activities and assets.
Furthermore, its marketplace contains more accessible filters and sort tools that enhance fast navigation. STEPN is yet to functionalize credit and rental systems. The game has a burnout mechanism that burns these unique tokens hence a healthy lifestyle to reduce the circulation of the NFT sneakers. Users at STEPN can earn through jogging, running, and walking in three ways: Solo mode, users move for five minutes to earn and is supported by 1 unit of energy that can be replenished through buying an NFT sneaker.
In the Marathon Mode, the players partake in weekly or monthly running by registering via the marathon tab. Nonetheless, these players need to run 24hrs before participating in the marathon. Users can partake from 2,5 km to 7.5 km, but it should be in one race only. The Background mode where users can earn GST tokens while offline is when they have at least one pair of sneakers. Background mode collects data on the step count of the player even when the app is turned off. Therefore, it does not affect the sneaker's endurance.
Conclusion
Crypto gaming is growing in the blockchain ecosystem. Individuals wondering how to start earning and are game lovers have been given a chance to earn while gaming. These games named above can encourage individuals to generate passive income. Most of them are free-to-play games, while others are semi-to-play.
They all set places for a decentralized world, having not to control buys, sells, and leasing of the unique tokens. There is complete ownership of these games as no central authority acquires the most significant cut of the sales. A move towards blockchain gaming will be one of the greatest currently in the Web3.0 era. However, it is always advisable to DYOR before investing or engaging with any crypto project so as to minimize losses which in turn maximizes the returns.