5 cryptos that may rally in Q4 2023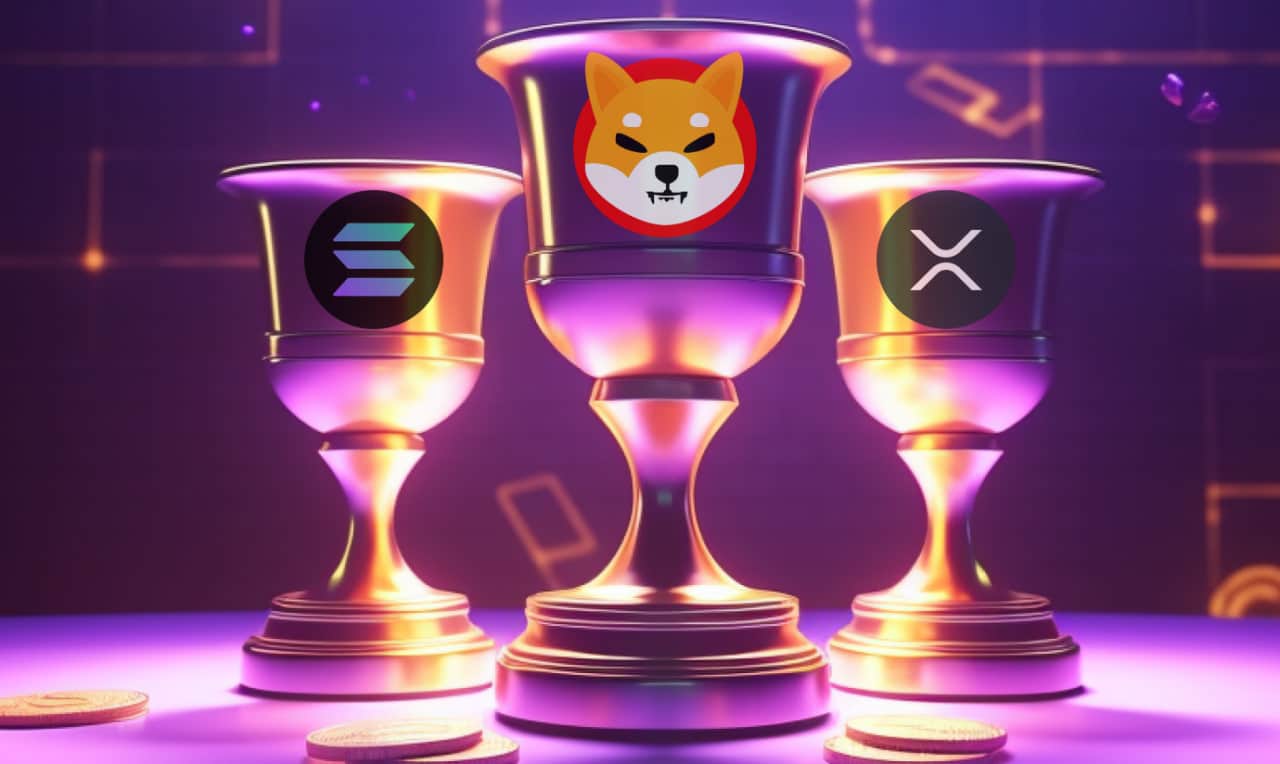 The crypto pulse is racing, with a 21.03% uptick in total market volume over the last day alone, signaling intensified activities around coins like Bitcoin (BTC), Ripple (XRP), Solana (SOL), and Shiba Inu (SHIB).
Market sentiment indicators, like the Fear and Greed Index, subtly shift from a reading of 43 to 46 within a week, both within the "fear" zone, underlining a cautious environment.
In this marketplace, Grimace is establishing its presence, prompting keen observers to re-calibrate their strategies and perspectives.
Bitcoin: the pioneer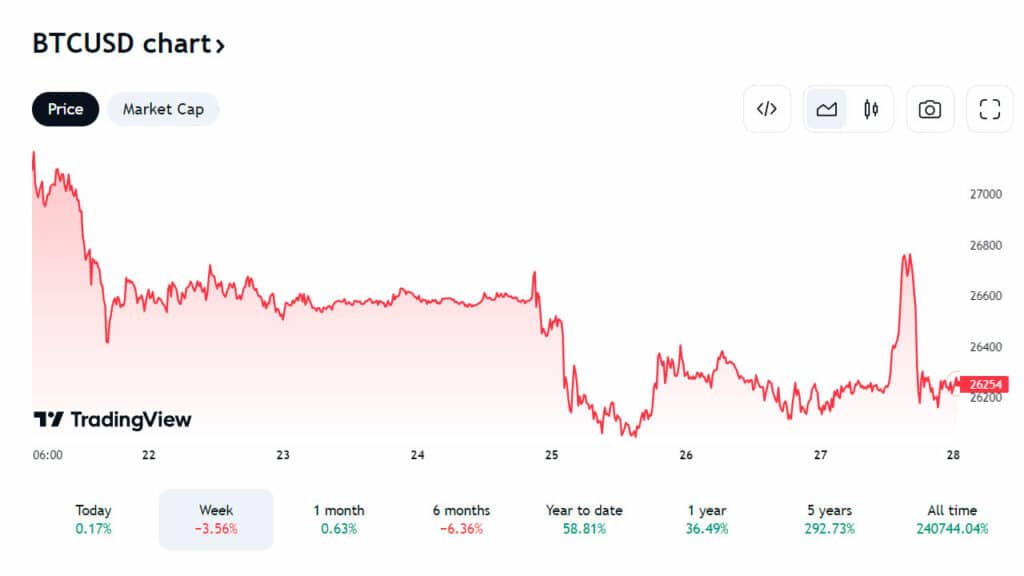 Bitcoin, the original cryptocurrency, is no stranger to volatility. Recent indicators suggest Bitcoin is struggling to remain above the$31,099 mark, where the price notably crossed the 9-40 Day Moving Average.
Given Bitcoin status, it has encountered several pivotal moments in its price trajectory. Recently, it rose to a 1-Month high of 28,045. However, challenges persist, with the price often toggling between key turning points such as the $27,302 mark where the 3-10-16 Day Moving average convergence/divergence Moving Average stalls, and the $26,387 pivot point.
Bitcoin's performance is closely monitored. Experts acknowledge its historical strength and resilience but also caution that it can still face market uncertainties due to its unpredictable nature. Some are optimistic about its potential for growth given its track record and widespread adoption, while others advise being prepared for possible price fluctuations.
Grimace: the meme with a vision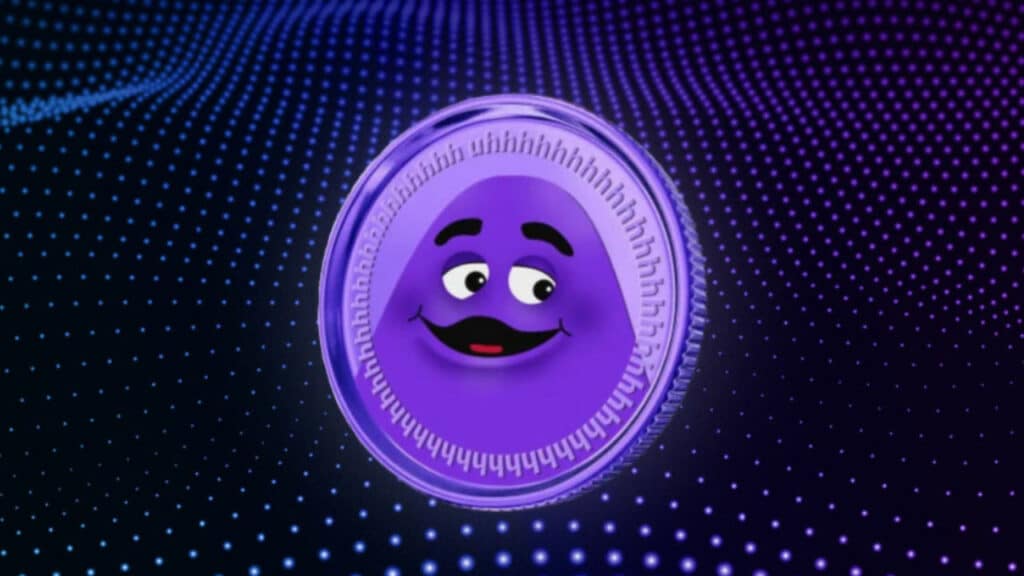 Grimace, a meme coin, is swiftly capturing the crypto world's attention after launching in 2023 from a playful exchange between Elon Musk (Dogefather) and McDonald's.
Recent performance
In two months after inception, Grimace rallied, outperforming other established coins.
Recent Grimace stats are solid: daily trading volume peaked at $60 million, and its community has a 12% weekly growth rate. The Grimace Coin is among the fastest-growing crypto on a major exchange.
In May 2023, 90% of Dogechain transactions were associated with Grimace. From its lowest point of $4.8, Grimace had surged to $92, signifying a remarkable x19 increase.
Future prospects
Analysts are optimistic about the Grimace's and expect the token to reach $1,000 by year-end.
Ripple: the banking giant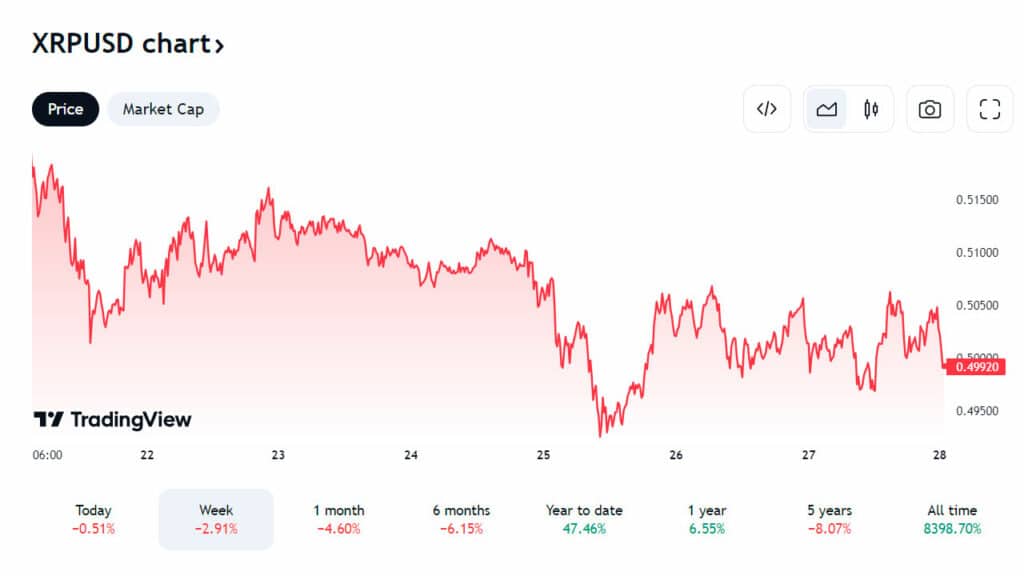 Ripple has consistently positioned itself as the bridge between traditional banking systems and the new era of blockchain. Recent trends have seen XRP) grappling with the 0.832 level, where the price made a significant leap crossing the 9-40 Day Moving Average.
The coin, despite its banking affiliations, isn't exempt from market tremors. It recently rose to a 1-month high of 0.547. Yet, Ripple enthusiasts are closely watching the $0.502 pivot point, which could be instrumental in its near-term price direction.
With growing institutional interest and its underlying technology facilitating cross-border transactions, Ripple holds promise. While bullish sentiments point towards XRP utility and growing partnerships as a driving force, the cautious investor might be wary of regulatory headwinds that could temporarily halt its growth spurt.
Solana: impact in defi
Solana's blockchain infrastructure and scalability solutions have earned it a spot among the top crypto contenders. Recent market data shows that SOL has resistance at $22.98 but has stalled at around the average.
Despite challenges,SOL to a 1-month high of$21.93. Observers and investors are keenly focusing on the $19.24 level, where the price is at around the 18-dDay moving average, seeking direction.
Solana's role in defi, combined with its technical prowess, paints a bright picture for its future. Its fast transaction speeds and lower fees might support prices. However, as with all cryptos, competition and potential scalability issues could offer moments of reflection for potential investors.
Shiba Inu is the underdog?
Shiba Inu, following in the footsteps of Dogecoin, has established itself in the meme cryptocurrency realm. Currently, SHIB is trading around the $0.00000830 level, closely aligned with the 9-18-day moving average.
While it recently reached a one-month high at $0.0000084, SHIB price appears to fluctuate, particularly near the crucial $0.0000072 mark, suggesting a potential shift in momentum.
Due to its origin and volatility, Shiba Inu presents significant potential and risk. While its community-driven approach and viral nature could fuel growth, the coin's inherent volatility underscores the importance of thorough research for potential investors.
Final thought: the crypto rollercoaster continues
In crypto, there are big names like Bitcoin and Ripple known for being stable and steadily growing. Shiba Inu is a newer coin that's gaining attention while Grimace represents a modern trend.
Based on recent price forecasts, bulls are optimistic of Grimace's prospects and expect the coin to trend higher by year-end.
Disclosure: This content is provided by a third party. crypto.news does not endorse any product mentioned on this page. Users must do their own research before taking any actions related to the company.