5 Web3 domain name providers to watch in 2022 and beyond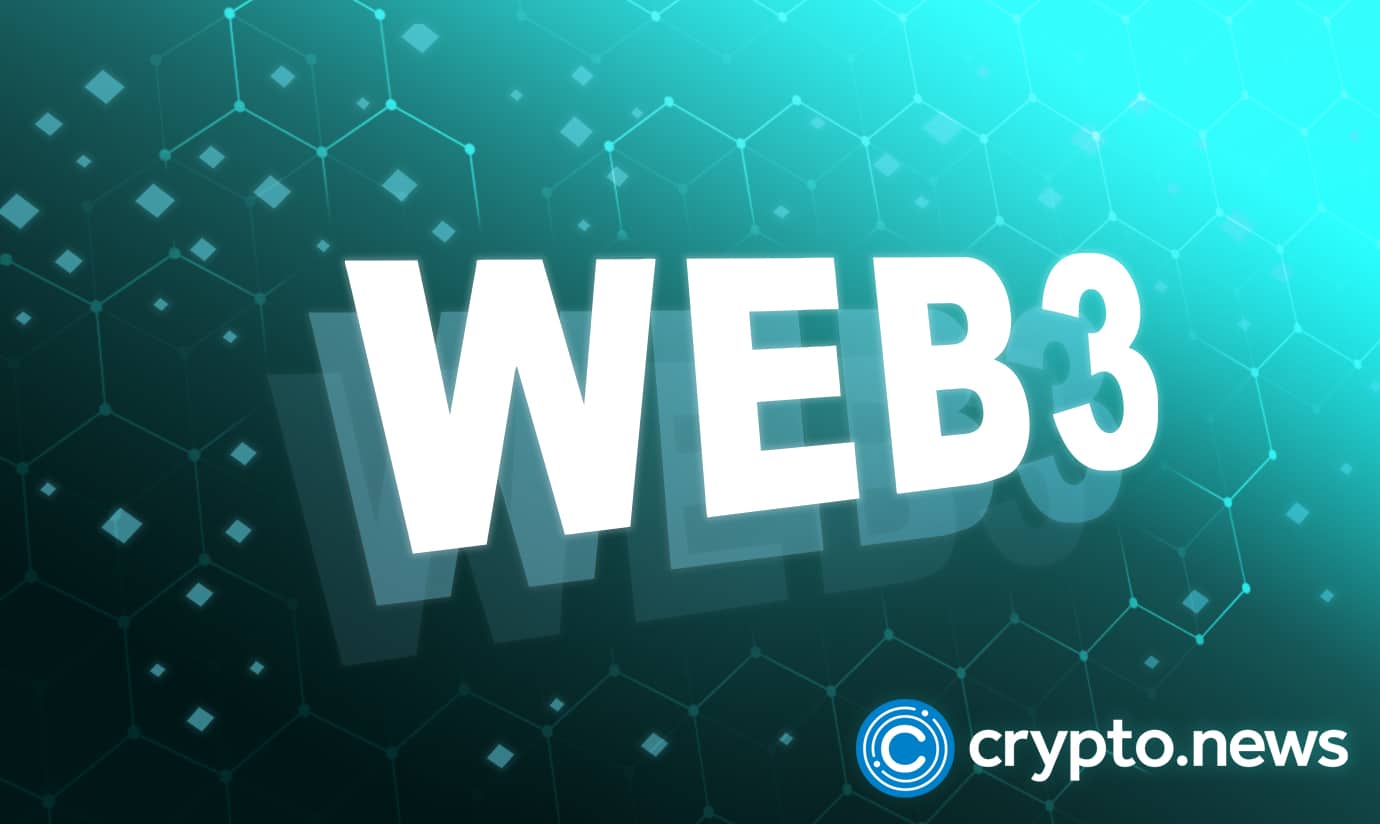 A domain name is a string of text that often maps to a numeric address to provide easy access to a web page. In the blockchain landscape, a domain name is just a simple and easy-to-remember address that investors can use to receive and send crypto.
The role of domain name providers in Web 3.0
Domain names can gain many applications within the blockchain landscape. Investors often need to copy and paste long alphanumeric codes when sending or receiving crypto. This is risky since, with a single error, the funds could go to the wrong person. Such complexity could hinder the adoption of blockchain.
Domain name projects provide a solution by helping issue domain names that are easy to use for anyone. Domain names can help map simple human-readable names to machine-readable blockchain addresses. As such, people in the web 3.0 landscape will send and receive crypto using human-readable crypto addresses. Simply put, these projects foster simplicity by doing away with long addresses and providing user-friendly names.
Here we discuss five web 3.0 domain services available for crypto investors. Let's start with Freename.io.
Freename.io
First on our list is Freename.io, a platform that has recently seen its birth. This platform sets out to redefine the web 3.0 naming system by giving every user permanent domains. So, what is so special about Freename.io? This platform allows everyone to register web 3.0 TLDs customized to their liking.
Freename allows investors to develop their own web 3.0 domain ecosystems and generate passive income. This platform breaks its service offering into the following four branches; creating web 3.0 TLDs, minting domains, gaining rewards as a registrar, and web 3.0 trademarks.
Creating web 3.0 TLDs is a rare service in the blockchain landscape. TLD, Top-level domains, refer to the suffix in a web domain. It's represented as '.com, .org' or a similar suffix. In Freename, people can own such TLDs. You can own web 3.0 TLDs like dot Ethereum, dot metaverse, and many more.
Aside from creating TLDs, this platform allows users to create and mint web 3.0 domains. For instance, you can use 'Alex.metaverse.' The domains are NFTs supported in different blockchain networks.
As a TLD owner, you can also be a registrar. Let's say you own a TLD like 'dot metaverse;' there's constant growth in the metaverse, and sooner or later, others will use the TLD to register domain names. Being the TLD owner, you will act as the registrar and earn 50% of the domain transaction value as royalties.
Freename's services also include trademarks for web 3.0-based domains. You can protect the TLD and your logo anywhere across the globe by filing for trademarks. This ensures that once one individual lists a TLD, no one else can register the same TLD.
Applying for trademarks is relatively seamless. You simply contact Freename's trademark department, where you will submit a KYC and the TLDs in question. It takes about seven days for trademarks submitted to IGE to get protection in Switzerland and six months globally. Hence, in the first six months following the deposit of your trademark request, Freename will help secure the name across the globe.
Freename allows people to scan and see the TLDs already in use to bolster simplicity and efficiency in TLD listing. This ensures no duplication of TLD, hence protecting the creators' work.
Freename takes a multichain approach, meaning its services are available across different blockchain networks, including Aurora, BSC, Polygon, and Cronos. Plans are underway to introduce support in blockchains like Near, Avalanche, Ethereum, and Solana. Domain ownership is transferable using the transfer function.
Bonfida: Solana Name Service
Bonfida's Solana name service comes second on our list. It is a naming service that focuses on one platform only, the Solana blockchain. According to their page, Bonfida claims to offer top-tier infrastructural solutions whale following a community-centric approach.
This platform is a product of the Bonfida Foundations. The Bonfida Foundation is a group of core developers with expertise in analytics, engineering, frontend, and backend, especially around crypto projects. It's one of the earliest projects developed on Serum and the Solana chain.
SNS provides a distributed and affordable system where people can map domain names to on-chain data. The on-chain data could include images, text, IOFS CID, and many more. Bonfida's services are much similar to DNS in web 2.0.
Bonfidaintendsd to offer human-readable identity replacing blockchain addresses with the necessary domain names. Therefore, Bonfida allows you the capacity to send and receive funds using human-readable addresses. Using these Bonfida names, you can transact, get twitter verification, sell NFT, and host projects.
Like the names mentioned above, the Solana names allow holders to complete transactions from one party to another. Instead of pasting an entire blockchain address, you simply type the domain name and send the transaction. Hence, SNS allows anyone to send and receive funds with utmost ease by using human-readable and memorable Solana addresses.
Secondly, using Bonfida services, you can verify your Twitter account on web 3.0. You can link the Twitter account to your blockchain address. Once you achieve the link, you can simply use the Twitter address to transact. That fosters ease of transferring funds.
Thirdly, the Bonfida SNS allows people to transact, tokenize, buy and sell domain names as NFTs. The process of tokenizing domain names involves adding the domain name to an escrow account. The Bonfida smart contract then creates an NFT and sends it to the users.
Using SNS, you can easily host projects on your domain names. Once you run your domain name, you can host other projects.
SNS integrates with many platforms and exchange networks to reach as many people as possible. The integrations include SolanaFloor, MagicEden, SolanaArt, Artemis, Cyber Connect, Phantom, Trust Wallet, and dozens of others.
Aside from the naming services, Bonfida brings benefits such as staking, crypto DEX, token vesting, decentralized, and a decentralized messaging app. The network has a native token, Bonfida, that helps with governance, among other services.
Peername
Third on our list is Peername, a platform offering decentralized blockchain-based domain support to help people in the web 3.0 landscape. Peername is the earliest of the web 3.0 domain service providers. It launched in 2011, just over two years after Bitcoin's launch.
Peername investors can transfer domains to any of their private wallet addresses. As already mentioned, Peername is the first web 3-focused name service provider in the crypto landscape.
While offering the services to investors, Peername fosters ease of access. For instance, the platform possesses a seamless web-based interface. As such, Peername simply makes it easy to register your domains without any coding or cryptographic knowledge.
Secondly, Peername offers a very secure domain storage system. All network domains are stored in cold storage systems, preventing hacks and other attacks. The network's goal is to eliminate risks to all investors entirely.
Finally, this platform offers a free year on all incoming transfers. All incoming transfers in the Peername platform are free of charge. The very first year of working with Peername is free.
Peername has support for a vast number of domain TLDs. The TLDs supported via Peername come in 3 different classes, including Namecoin, Emercoin, and Onion domain.
Namecoin is a crypto launched in 2011 as the earliest bitcoin fork. Peername leverages Namecoin, which provides a domain class with the TLD .bit. Hence, the domains here always follow the .bit TLD.
Emercoin is a crypto network developed in the early years of crypto and has created an easy-to-use Decentralized Software Development Kit. Under Emercoin, Peername supports several domains, such as Dot .coin, .bazar, .lib, and .emc.
Another class of suffix .onion is mainly used as an anonymously hidden service accessible through the Tor network. This TLD is not available in the intеrnеt DNЅ rооt (ІСАNN). But people can use it after installing proper proxy softwares and sending a request via Tor server networks.
Peercoin domain registration and maintenance have some costs. The registration charges range from $14.99 to $19.99, depending on the suffix. Moreover, the monthly renewal ranges between $14.99 and $16.99. The cost of updating and transferring the names is just about $2.99.
Blockstack
Blockstack, known initially as OneName, is a network created to offer a decentralized web system on the Bitcoin blockchain. This platform is designed to provide Public key infrastructure and DNS and help investors create decentralized websites managed by the owner.
Muneeb Ali and Ryan Shea introduced it to solve underlying problems associated with today's web 3.0 landscape. Blockstack removes intermediaries in managing databases, web servers, and UD systems.
This network builds an alternate DNS providing alternate public key infrastructure. It focuses on implementing a decentralized DNS system on the Bitcoin blockchain. As such, at its very core, BlockStack leverages a bitcoin-like blockchain platform to create a decentralized naming layer.
The naming is quite efficient. Foremost, Blockstack binds users' easy-to-read usernames to a blockchain public key.
Secondly, Blockstack's naming layer was designed to ensure no collision in domain naming. Even without trademarking the names, this naming layer ensures the names issued are unique all over the globe.
The third feature associated with the names is human meaning. Blockstack sets out to ensure every name is human-meaningful. To achieve its goal, Blockstack allows creators to select their favorite names.
The process of acquiring a name via Blockstack is quite seamless for everyone. It only involves two steps, i.e., preordering and registration. Once you complete the duo, you can own a name.
However, Blockstack also intends to ensure your name remains protected during registration. To protect your name, you don't need to reveal the name at the preorder stage. As such, attackers interested in grabbing your name will not have a chance.
This platform also offers a single sign-on and authentication without the involvement of third parties and remote servers. A Dapp communicates with Blockstack's app by simply passing a token, authRequest, back and forth.
The Blockstack Virtualchain maintains state transitions for the naming systems. The name transitions include absent, preordered, registered, and finally revoked. Once a name passes the registered stage, the owner can update it and even transfer ownership.
Quik.com
Finally, on our list, we have Quik.com. Quik.com, as a platform, promises to unlock the potential and future of blockchain through its NFT domain marketplace. It boasts of being among the networks bringing the decentralized internet into reality. Quik.com intends to deliver simple domain access to everyone using secure and transparent blockchain-based transactions.
Quik.com was founded on January 8th, 2022, by Sahil Kohli, completing preseed funding of about $350k.
Remember, Quik.com is a web 3.0 NFT domain marketplace. As such, it functions much like an NFT marketplace. All domain names available on Quik.com are NFTs. The Quik.com platform allows network participants to create, buy and sell these NFT domains. For those who prefer ready domains, you can buy one of the available domain names and leverage it in your business branding.
However, others prefer customized/personalized domains that suit their businesses entirely. You can create minting your domains, use them or even sell the NFTs via Quik's services or other marketplaces like Opensea.
These NFTs can be purchased using different supported crypto assets, including ETH. Quik.com splits its service delivery into three other domain name offerings, including premium domains, short domains, and crypto name domains.
Premium domains in Quik.com are high-demand domains that are quite costly. For instance, the domain 8.web3, which leverages the web3 suffix, is in high demand and, as such, costs over 888 ETH. Many other domains in the premium class are also quite expensive.
Short domains refer to a class of domain names that are generally short, three letters or less. There is a massive number of such domains available for sale on Quik.com. There are domains with another attribute, crypto-related names. These leverage names connected to the crypto space, like web3 and Shib.
Interestingly, Quik.com not only offers access to web 3.0 domains, but it also allows people to protect their brands and domains. Users can simply fill up applications to have protected brands reviewed at a fee of about $300.
This platform currently supports about 10 NFT domains, including dot metaverse, dot web3, dot vr, dot chain, dot address, dot I, dot bored, dot doge, dot shib, and finally, dot btc. You can use one of those TLDs to own a domain name.
Accessing Quik.com's services is simple. You simply need to connect your wallet. Currently, Quik.com supports two wallets, including, Metamask and WalletConnect. Moreover, Quik supports several blockchain networks, including Ethereum, GateChain, and Binance smart chain.
Furthermore, to reach as many people as possible, Quik introduced mobile phone options. Its services can currently be accessed via smartphones using Android or iPhone devices.
Concluding remarks
This guide looked into five of the best web 3.0 domain name projects, which include Freename.io, Bonfida Solana Name Service, Peername, Blockstack, and Quik.com. There are several other platforms, including Unstoppable Domains, ENS, etc., all of which work to offer the best naming solutions.