Air France Set to Test Blockchain-based COVID-19 Test Verification Solution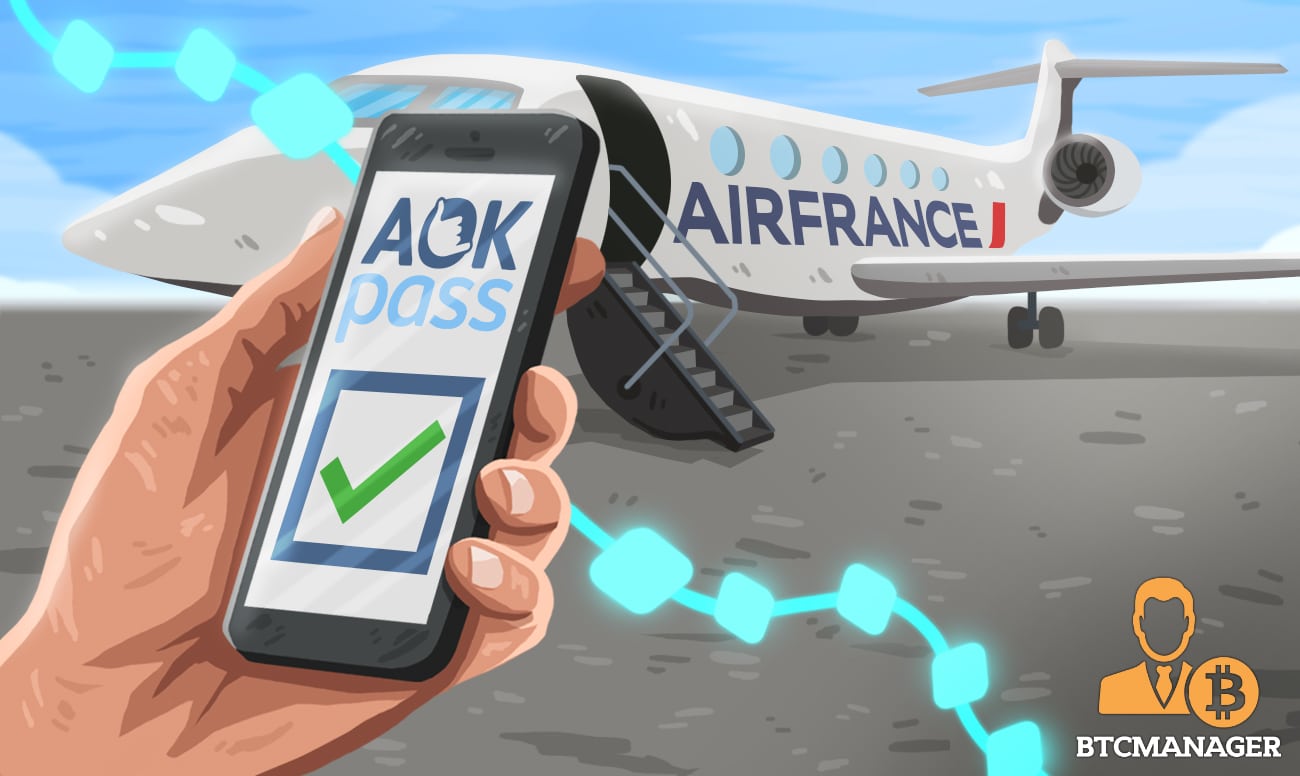 Air France, one of the largest airlines in the world is expanding its blockchain adoption in the wake of the ongoing coronavirus pandemic. COVID-19 has disrupted the global travel industry with stakeholders forced to come up with innovative ways of dealing with the effect of the virus on air travel.
Air France to Trial ICC AOKpass
According to a press release issued on Tuesday (Feb. 24, 2021), Air France the fifth-largest airline in the world is set to test a blockchain-based COVID-19 test verification solution for travelers. This pilot test sees the airline giant partnering with MedAire and International SOS — the developers of the project. Other participants in the project are SGS and the International Chamber of Commerce.
Beginning from Mar. 11, 2021 and continuing for four weeks, Air France will utilize ICC AOKpass, a blockchain-based mobile app developed by MedAire and International SOS. Travelers on the Paris CDG-Pointe-à-Pitre and Paris CDG-Fort-de-France route can present the app as a way of verifying their COVID-19 negative status at the airport instead of the usual paper test certificate.
The ICC AOKpass app can be used to authenticate a traveler's COVID-19 negative status based on collaborations with approved testing labs. However, the use of the app for passengers will be voluntary during the testing phase with Air France stating that it will share information from the pilot study with other participants in the project.
Commenting on the project, Catherine Villar, the customer experience director at Air France declared:
"Improving and simplifying the customer experience is an ongoing priority for Air France. The test of the AOKpass solution is fully in line with this framework and the process initiated by the establishment of the Air France Protect label. We are convinced that the changes we are going through collectively will change the journey in the long term and are committed to supporting all innovation projects that can help us meet these new challenges."
Impact of COVID-19 on Travel and Tourism
As previously reported by BTCManager, Air France is a noted blockchain adopter with several instances of the airline giant utilizing decentralized ledger technology (DLT) in its operations. Back in October 2018, Air France-KLM announced a collaboration with Winding Tree on a blockchain-based aviation supply chain project.
However, the onset of the coronavirus pandemic and its disruptions to global travel has seen airlines and other stakeholders paying more attention to blockchain and its adoption in the area of digitizing travel protocols as well as designing contactless authentication systems.
Earlier in February, Emirates announced plans to trial a blockchain-based mobile app for adhering to COVID-19 travel requirements.