Altcoin Explorer: Aave (AAVE), the Leading DeFi Protocol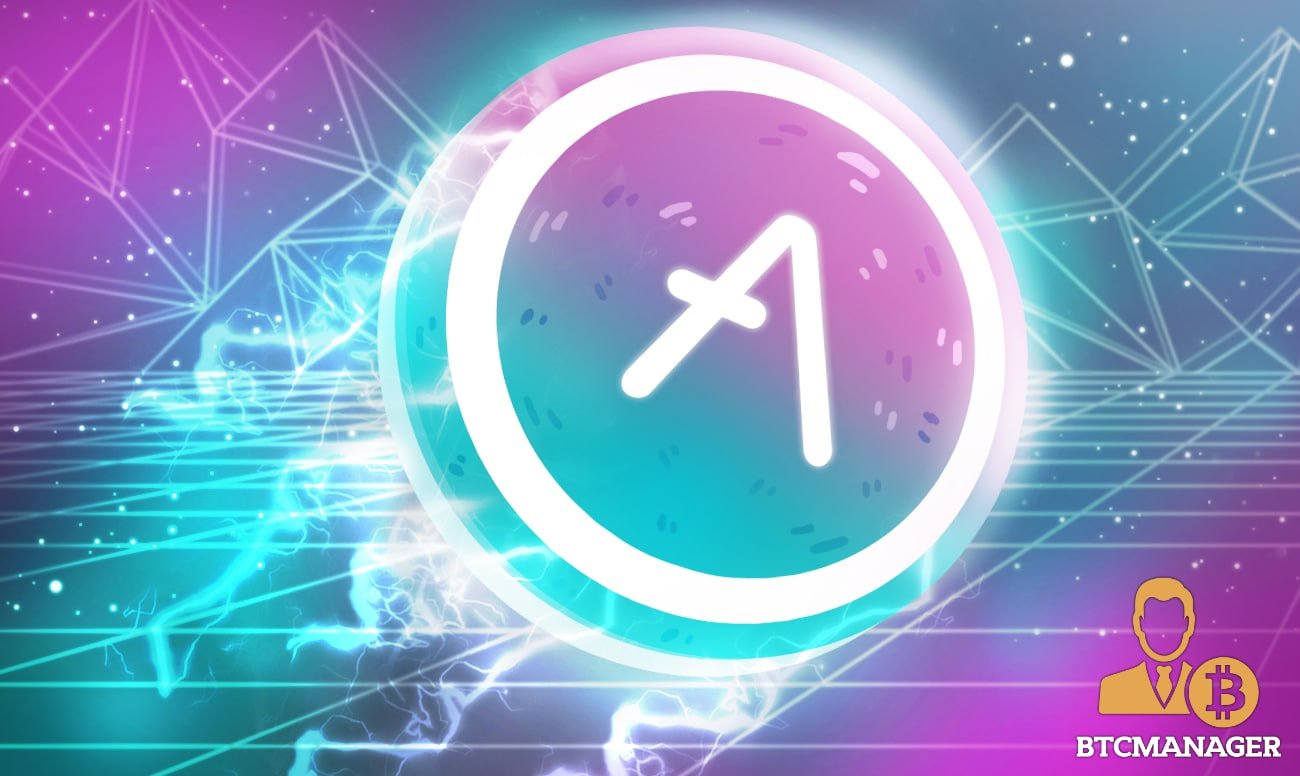 With the unprecedented rise in the budding decentralized finance (DeFi) space, finance, and money in general, is finally making its way under the control of the right owners – the people. That being said, whatever is the rage usually attracts a large number of players and entities towards it and that is exactly what is happening with DeFi.
Of late, there has been a multifold increase in the number of projects that are supposedly trying to decentralize finance. However, not all of them are genuine. Therefore, it becomes all the more important to separate substance from noise.
In this Altcoin Explorer, BTCManger explores Aave (AAVE) a leading open-source and non-custodial protocol that can be used to earn interest on deposits, borrow assets, and much more.
History of Aave
Speaking of Aave, let us first explore its rather unusual name. What exactly does AAVE mean? For the uninitiated, Aave is Finnish for ghost. The name is not aimed toward scaring anyone, however. Instead, the protocol is named so as to showcase its ambitions to create a transparent and open infrastructure for DeFi.
Aave was conceptualized and officially came into existence in September 2018 after having a resoundingly successful initial coin offering (ICO) in 2017 for its famous ETHLend token, raising more than $16.2 million. Later, the ETHLend team officially transitioned to Aave after its establishment with ETHLend became a subsidiary of Aave.
In January 2020, Aave officially launched its mainnet and has since quickly established itself as a major player in the rapidly evolving DeFi marketplace. The team behind Aave comprises major professional veterans from across different industries. They include creative directors, risk managers, software engineers, digital marketers, and thought-leaders from the tech industry, among others.
What is Aave?
As mentioned earlier, Aave is a blockchain-based decentralized, open-source, non-custodial money market that involves borrowers and lenders/depositors. Aave enables seamlessly lending and borrowing of funds by receiving liquidity from depositors and allowing borrowers to obtain loans using an undercollateralized or overcollateralized method.
The incentive for depositors to provide liquidity to the protocol in the form of digital currencies is they get to earn attractive interests. Conversely, the borrowers can borrow funds from Aave because of the DeFi protocol's attractively low rate of interest on borrowings.
Notably, loans disbursed by Aave need not be individually matched (one lender to one borrower). Rather, the protocol uses pools for the same. Depositors deposit their funds into the pool of the tokens they hold. Subsequently, the amounts borrowed are used to make instant loans based on the pool's state.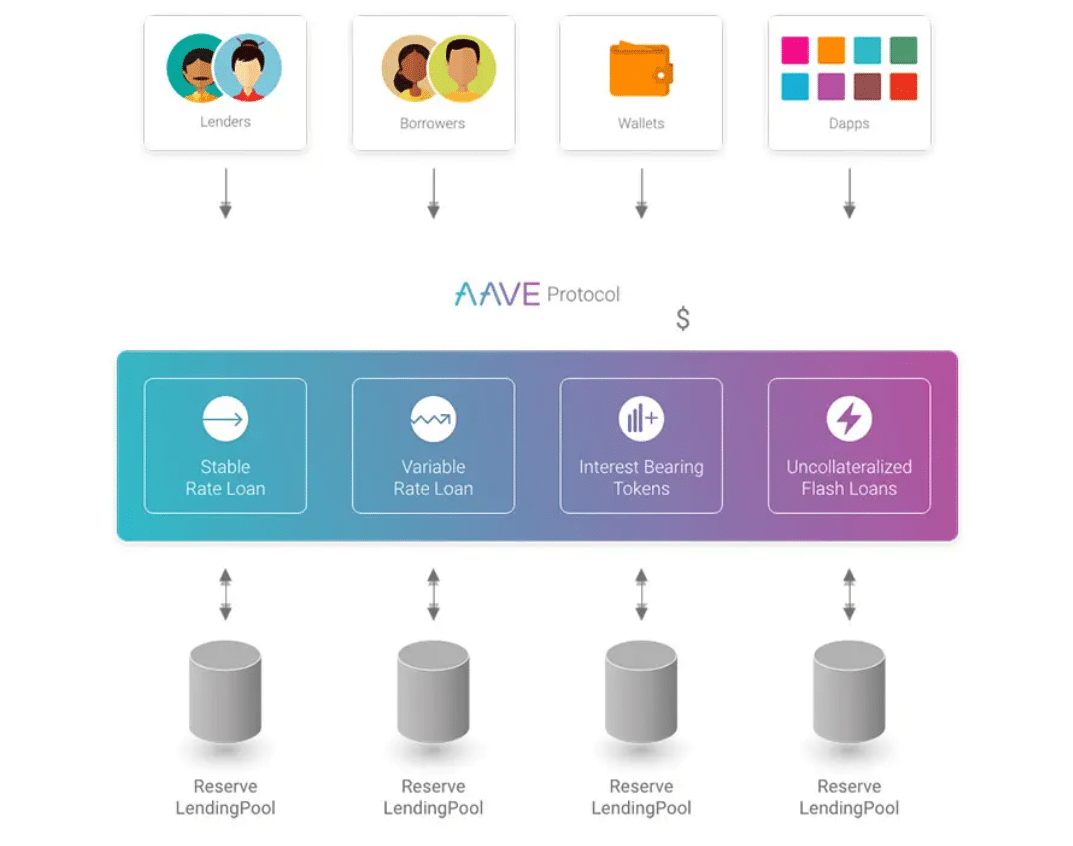 (Source: Aave Docs)
Some of the major cryptocurrencies supported by Aave protocol currently are Ethereum (ETH), Tether (USDT), USD Coin (USDC), DAI, wrapped Bitcoin (WBTC), Yearn.Finance (YFI), and several others. At the time of writing this Altcoin Explorer, the total value locked (TVL) in the protocol stands at over $1.44 billion, according to data from DeFiPulse.
It is also worthy of note that Aave makes use of Chainlink (LINK) oracles to collect price data about assets on its platform. To make things exciting for uses, the protocol accrues interest by the second which can be viewed by the users.
AAVE Token
AAVE is the native token of the Aave protocol. It is an ERC-20 token and was announced on July 29 when the protocol said it would be swapping its erstwhile LEND token for the new AAVE governance token. This move was aimed toward decentralizing the ownership of the Ethereum-powered money market.
In terms of price appreciation, AAVE has been one of the clear winners of the mid-year DeFi boom. The token has had a considerable price appreciation since its launch and at the time of writing, it is trading at $89.49.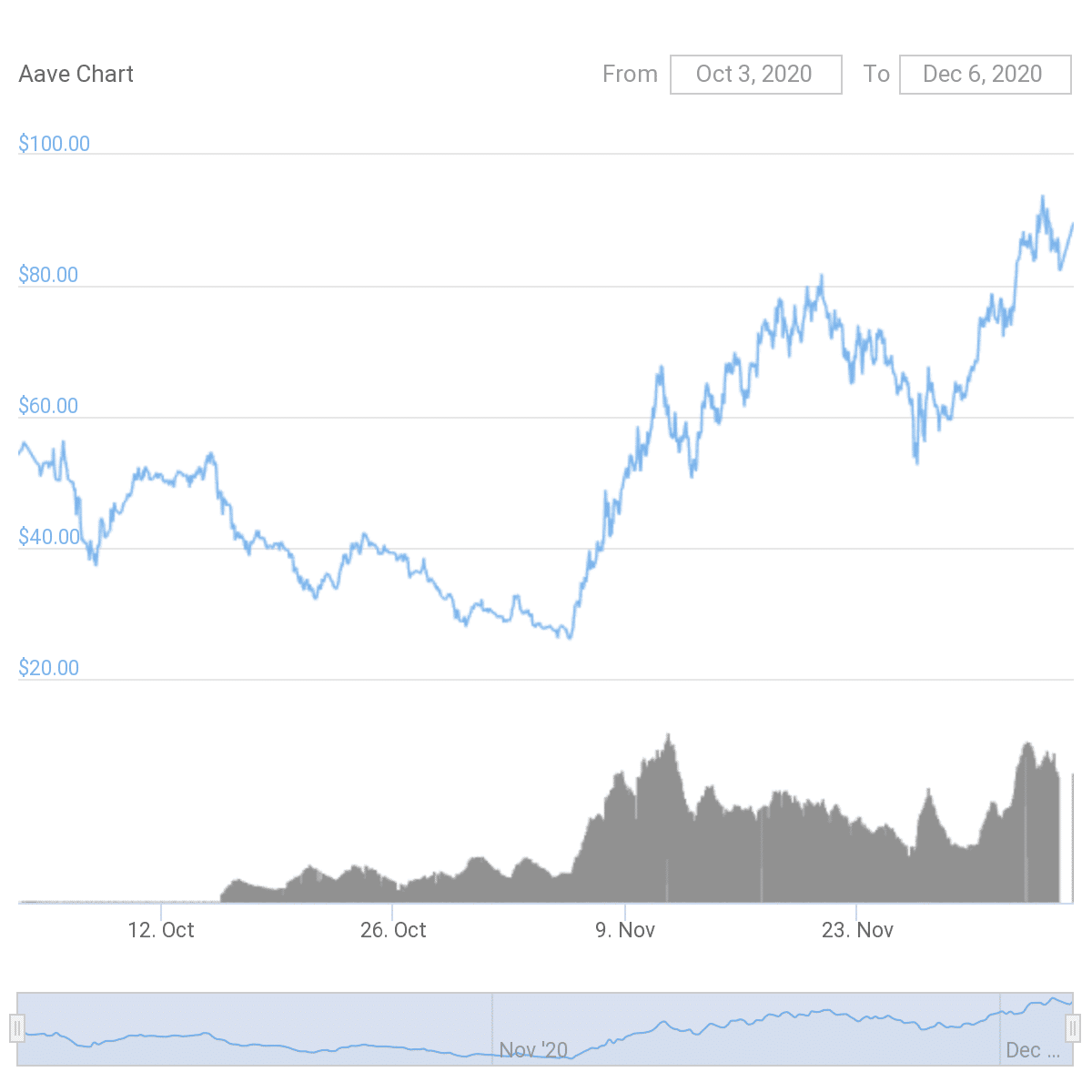 (Source: Coingecko)
As can be inferred from the chart above, the AAVE token has skyrocketed in price by more than 3x from its recent bottom established on November 5 at $26.84. Similarly, the token's market cap has also experienced an upwards trend and continues to do so. At the time of writing, AAVE's market cap sits at more than $1 billion.
Akin to the vast majority of other cryptocurrencies, AAVE tokens can also be staked to earn attractive staking rewards. To know more about how to stake AAVE, click here.
Pretty much all major crypto exchanges support AAVE, including the likes of Binance, OKEx, Huobi Global, HitBTC, Crypto.com, Gemini, and others.
What are Aave Flash Loans?
Talking about Aave without discussing their most significant contribution to the DeFi landscape would do no justice to the protocol. Widely considered to be the next big thing in the world of finance, flash loans are undoubtedly one of the most important and popular features of DeFi. Essentially, flash loans enable users to borrow large amounts of cryptocurrencies with absolutely no collateral.
Although the technical nitty-gritty of flash loans are quite complicated, they are fairly easy to understand conceptually. The digital currency borrowed by a user must be paid back by the time the next Ethereum block is mined. If the borrower fails to pay back the amount, then every transaction that occurred in that span of time is canceled.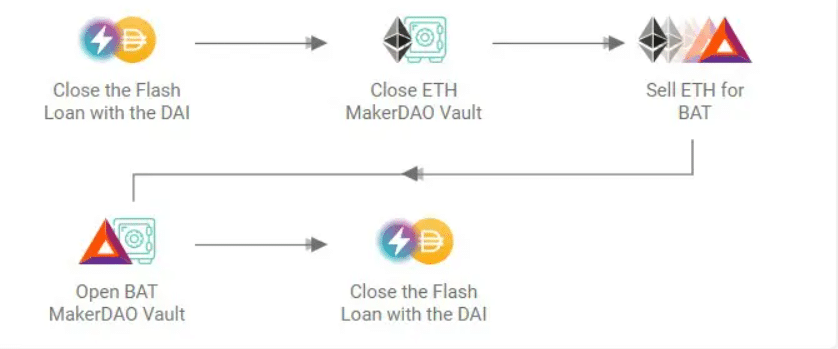 (Source: Aave)
This begs the question, why would anyone even want to borrow funds for such a short period of time? The reasons can be multiple.
At present, flash loans serve three big purposes. First, they can be used to trade the digital elsewhere to make a profit via arbitrage. Second, flash loans can be tapped to refinance loans in other lending protocols. Finally, and perhaps the most famous use of flash loans is their utilization to enable "yield farming."
Notably, Aave has made the code to flash loans publicly available which further opens the doors to use flash loans more creatively and unearth new possibilities to make finance more accessible and beneficial for people.
Recent Developments in the AAVE Ecosystem
2020 has been nothing short of spectacular for DeFi in terms of development, and Aave is no exception.
In August this year, BTCManager reported that Aave had unveiled "Credit delegation" transactions which enable depositors to earn additional interest by creating credit lines between lenders and borrowers through a special vault.
Similarly, in July, gaming-focused blockchain project Enjin (ENJ) announced that it had been added to Aave's protocol. Soon enough, major cryptocurrency wallet MyEtherWallet also announced its integration with Aave.
Perhaps the biggest milestone achieved by Aave was from a regulatory standpoint when in August, it became the first DeFi protocol to receive the prestigious Electronic Money Institution license by the U.K. Financial Conduct Authority.
Final Thoughts
In a relatively short period of time, Aave has established itself as a force to reckon with in the multi-billion dollar DeFi landscape. What's more interesting is that things are just getting started for this promising project.
On August 14, Aave upgraded to v2 which brought along with it a swathe of innovative and exciting features, including fixed-rate deposit, enhanced stable borrow rate, private markets, and gas optimizations.
Concluding, it can be stated that if you believe in the potential of DeFi to transform the current inefficient state of CeFi-dominated global finance, then you can't really go wrong with betting on Aave.