Amazon Bitcoin Exchange? Retail Giant Buys Up Ethereum, Cryptocurrency Domains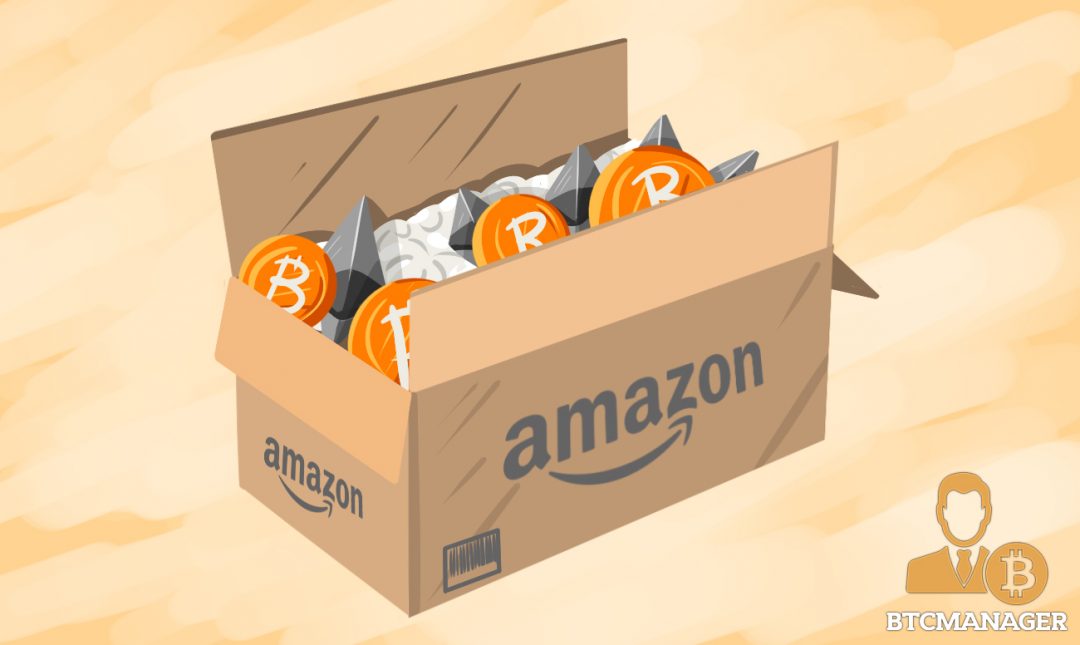 Global retail titan Amazon just made a splash in the crypto community after internet sleuths discovered the company just bought three crypto-related domains. Is Amazon getting into crypto?
Amazon Crypto Rumors Reach Fever Pitch After Domains Bought
Every crypto users' dream? Waking up to find out Amazon's announced some major Bitcoin or cryptocurrency adoption news.
Why is self-evident—the retail giant has rapidly entrenched itself as among the most powerful corporations in the world. Thus if Amazon officially endorsed cryptocurrencies in any way, the milestone would legitimize crypto and pave the way for its mainstream adoption like never before. 
And this week, crypto enthusiasts exploded with excitement and wondered if this major announcement might be nigh as online detectives just ran crypto-related domain searches and realized to the community's amazement that Amazon had just bought no less than three of them.
The addresses in question are Amazonethereum.com, Amazoncryptocurrencies, and Amazoncryptocurrency.com. An Amazon hostmaster registered these domains on October 31.
Speculation's been whirling ever since. So, what do these domains mean?
One of two things; either Amazon's legal team is doing its due diligence to make sure scammers can't take advantage of Amazon's customers, or Amazon really is pre-emptively preparing to make a move into the crypto space.
The community more or less rallied around the former theory rather quickly, pointing to the fact that Amazon had bought up the Amazonbitcoin.com address four years ago and had done nothing with it since.
The counterargument is that Amazon's keeping their options open with these low-stakes domain buys. They can use them however they want at a later date if and when the time is right.
The more bullish of the speculators wonder if these domains signal Amazon's beginning a crypto exchange of their own, or if they're preparing to start accepting crypto payments online.
For now, though, there's been no official word.
Overstock Making Amazon Jealous?
On August 8, Amazon's retail competitor Overstock declared that they'd be integrating Bitcoin and cryptocurrency payment options into their platform courtesy of a collaboration with decentralized exchange ShapeShift.
And Overstock CEO Patrick Byrne told shareholders that the company would be revising its cryptocurrency payments model, going from retaining 10 percent of all Bitcoin spent on their platform to half:
"We have changed our strategy on accumulating Bitcoin. We've gone from keeping 10 percent of what's spent with Bitcoin to keeping 50 percent […] we just got board approval for — to keep 50 percent of what is spent in Bitcoin or in other cryptosecurities."
That means Overstock's just quintupled the amount of crypto they'll be collecting going forward. Could Overstock's early-bird capitalization of the exploding price of cryptocoins like Bitcoin and Bitcoin Cash be making Amazon jump at the bit to get involved in the sphere?
Only time will tell.
But it's hard not to pay attention when your competitor's making potentially groundbreaking money moves into revolutionary technology—Amazon's surely taking note.
And we know that they're taking enough note of the space, in general, to be buying up crypto-related domains in the first place. At the very least, they're aware of cryptocurrencies' booming popularity, at most, they're about to dive into Bitcoin themselves.