Best Place to Earn Interest on Crypto –Choosing the Right Platform is Half Success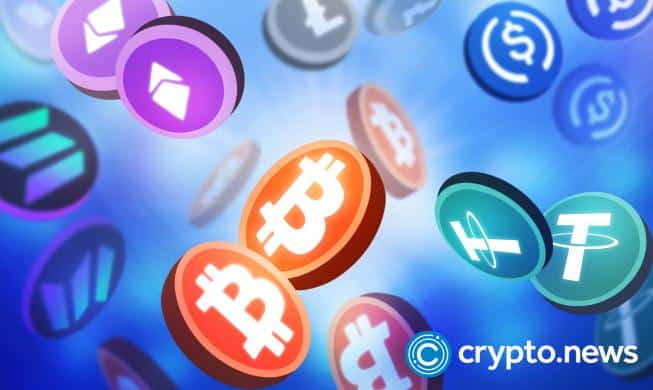 The ups and downs of the cryptocurrency market have shown that one of the best ways to earn interest on your crypto is to play long term. If you take a look at the graph showing the value of Bitcoin over the last 10 years, you will see that, no matter how harsh the roller-coaster ride, the early investors still got great money in the end. With a bit of investment and a lot of patience, you'll be able to earn interest on your crypto and generate continuous passive income. However, there's an important factor to your success: you need to choose the right platform. In this article, we'll give the overview of the great platforms to help you choose the best place to earn interest on crypto and will be telling how to earn interest on crypto along the way.
Earning APY on crypto – the importance of understanding the APY
To earn great interest on crypto you should be aware of the process, the best practices and be able to answer the question "What is APY in crypto?" APY is an abbreviation that means Annual Percentage Yield and can be described as the interest you can gain from a potential investment. It might sound as if the APY should be as high as possible, but in the crypto world, it's not as easy as it seems.
With the everyday changes in the crypto market, you should strike a balance between the information about the coin testifying its promising growth and the possible interest you can earn which means the newly released coin nobody knows about with 100% APY might not be the best option. But it also might be. That's why it's a rocky road for those who try to earn APY on crypto.
Best ways to earn interest on crypto: 4 main steps on your way to profit
What is the best way to earn interest on crypto? First of all, you should be aware of the best rates in the market and clearly understand what steps need to be taken to get the highest rewards.
Choose a crypto platform and create your profile
This is one of the most important steps because even though there are a lot of great crypto platforms out there, some of them might not be the best fit for your main purpose. For example, their strongest feature might be staking, or they can specialize in giving out crypto loans. So earning interest with them might either be not so profitable or can cost more in terms of fees. Study the market (and that's what you're probably doing right now) to make sure your income doesn't get eaten by high fees.
Compare the rates available in the market
Even if you've already chosen the coin you want to invest in, the interest rate can differ across the market depending on the platform you go for. Also, the rates are usually floating which means they change depending on the value of the coin. As you might have already noticed, the crypto market is extremely volatile, with the prices going up and down every hour.
Typically, you should expect to get between 6% and 9% annual interest. Some platforms, however, offer higher rates. For example, Hodlnaut will allow you to earn up to 12% while with Nexo, you can earn around 25% annually. Often you can earn up to 100% interest and the opinion about such rates differ. Some people are highly skeptical about anything above 25%, but others are inclined to take risks and earn more. After all, weren't those who invested in Bitcoin over 10 years ago risk-takers?
So if you are ready and willing to play big and win big, take a look at MyCointainer assets. Some of the 150 coins on the platform have 101% yearly return. But we suggest that you explore everything you can find on the web about the coin to make sure you invest in the promising cryptocurrency.
Add coins to your portfolio
It's awesome to be able to buy crypto without the unnecessary hustle, so it's worth choosing the right platform that offers at least the most common ways to deposit cash to your wallet and an easy process of exchanging it to crypto. Conversely, if you create an account on the platform that only accepts deposits in crypto, there will arise a need to make another account with a separate cryptocurrency exchange like Coinbase, MyCointainer or eToro. Once you buy some coins, you can add them to your digital wallet and start earning interest.
Earn your crypto interest
Undoubtedly, it's the most pleasant step – you can finally relax and watch your wallet grow. This is where the beauty of the long term will show itself. At first, it might seem slow, and you can get impatient. However, over time your earnings will be growing exponentially. For example, not only the value of the coins can skyrocket (by half, three, four or even more times) but also the interest you earn on the coin you invested in will grow as well.
The most popular cryptocurrencies to earn interest on are BTC, ETH, LTC and others. As it was stated before, in most cases, the APY depends on the supply and demand in the market and fluctuates considerably.
Best places to earn interest on crypto in 2022
Choosing the best platform to earn interest on crypto is tricky in the times of global recession that influenced the cryptocurrency world as well. The most reliable and profitable platforms have a combination of factors to ensure the best yields for their users. After all, they are interested in your profit – the more you earn, the more they earn. The most important factors to consider:
Yearly interest rates
Fees (withdrawal, deposit, etc.)
Supported assets
Tools and features
Security and regulations
The best crypto wallet to earn interest can be chosen from the following list of the most trustworthy and well-known platforms: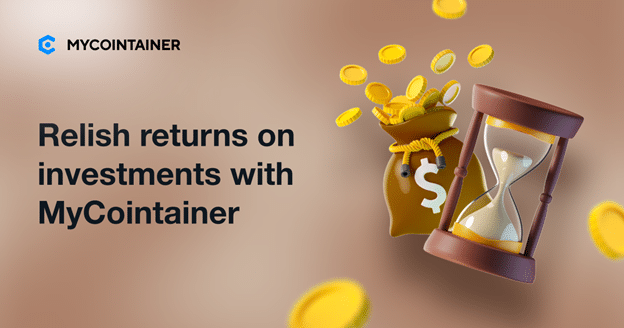 1. MyCointainer
A secure platform for those who value flexibility and freedom of choice. Over 150 coins, no lockups. Just buy some coins, add them to your digital wallet and earn great passive income (up to 101%)
2. BlockFi
A platform providing safe earnings by investing in Bitcoin (the APY can go up to 4.5%)
3. Crypto.com
It is a great platform to invest in stablecoins. With Crypto.com, you can earn up to 14.5% on stablecoin deposits.
4. Binance
With a huge variety of supported coins, Binance offers phenomenal APYs on the market that range from usual low one-figure numbers to over 100% yields.
5. DeFi Swap
Earn up to 75% annual yield on a DeFi platform (the interest rate depends on the lockup period you chose).
We recommend that you study each platform by yourself, bearing in mind the above mentioned factors to make sure you don't waste time and money on the wrong wallet.
How to earn interest on crypto? MyCointainer makes it a no-brainer
If you're new to crypto and are still wondering where to earn interest on crypto without putting too much time into figuring out how the platform works, try MyCointainer. The team aims to make crypto understandable for anyone so that their users can navigate smoothly from opening their wallet to earning interest. You can earn interest on crypto MyCointainer by 3 straightforward steps:
Deposit cash to your wallet.
Exchange your FIAT money to a cryptocurrency of your choice.
Enjoy watching your APY add up daily.
Cryptocurrency is too tricky to earn it by randomly trying various features on complicated platforms for crypto pros. So rather opt for a beginner-friendly website with minimum efforts required for basic transactions like deposit, exchange, stake etc.
Earn interest on cryptocurrency – buy the most promising coins
This should be enough for you to get the idea on how to earn interest on cryptocurrency. But you might ask: is it safe to earn interest on crypto? While investing in crypto, earning interest can over time show great results compared to other popular ways like staking.
For example, if you lock your assets, you can lose not only your rewards but also the money you invested if the coin's value drops drastically. Investing in crypto has the advantage of no lockups, so regular check-ins with the market updates should be enough to withdraw your assets and rewards on time and avoid big losses.