Bitcoin, Ether, and XRP Weekly Market Update: January 3, 2019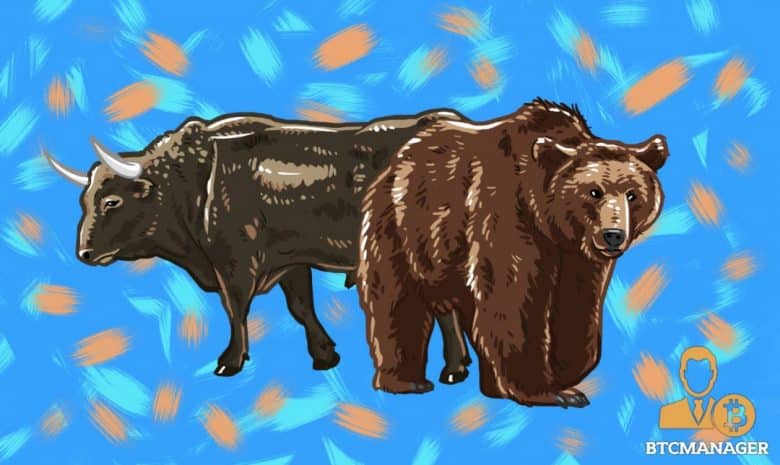 The total crypto market cap added $3 billion during last week, but it is still down with approximately $485 billion since the same time a year ago. Ethereum is leading the recovery after jumping 17 percent and returning to the second spot as the most valuable cryptocurrencies.
BTC-USD
Bitcoin moved below the $3,800 mark once again on December 27 in a 5.6 percent drop. The most popular cryptocurrency failed to meet a new high in December since it peaked at $4,200 on December 20, following a mid-month crash to $3,200.
Buyers, however, were hoping for another year-end rally and were able to push BTC-USD pair above $3,800 and $4,000 on December 28. The eight percent price increase resulted in a green wave among the top 100 currencies.
More than $1 million worth of BTC was stolen in an apparent hacking attempt against the popular cryptocurrency wallet Electrum. At least 240 bitcoin were transferred to several blockchain wallets from multiple Electrum users on December 27.
According to reports, hackers were broadcasting a message to end users urging them to update their wallet version using a scam URL.
Singapore-based cryptocurrency exchange Huobi reported its daily traded volume of cryptocurrency contracts had broken past $1 billion on its recently launched Huobi Derivatives Market (DM). The world's third-largest largest crypto spot market trading platform launched Huobi DM last month adding bitcoin (BTC), ether (ETH) and, as of December 28, EOS contracts that aim to allow for arbitrage, speculation, and hedging.
Additionally, the company announced that the Huobi Pool, Huobi Group's cryptocurrency mining arm, will launch the company's first exchange in Q1 of 2019 which will be dedicated to EOS. The exchange will allow users to trade EOS against various cryptocurrencies.
Another crypto exchange, Kraken, announced in a blog post it has enabled margin trading for bitcoin cash (BCH) and ripple (XRP). The addition expands the platform margin offering to eight assets.
During the weekend of December 29 to 30, bitcoin slipped back to $3,900 on Saturday then climbed back to $3,980 on Sunday as neither buyers nor sellers were able to take over control. The currency was 2.4 percent down for the seven-day-period with trading volumes stable above $3 billion in the last days of the year.
BTC-USD closed the year with a red candle on the daily chart, down to $3,935, which represented an approximate loss of 73 percent for 2018.
On the last day of the year, the cryptocurrency exchange and liquidity provider Bakkt informed that it had finished its first funding round after raising $182.5 million from a group of high profile investors and venture capital firms.
The company will also be seeking to provide an updated launch timeline for its long anticipated Bakkt Bitcoin (USD) Daily Futures Contract in early 2019 as per the official announcement. The launch had previously been set for January 24, 2019, but will be amended pursuant to the Commodity Futures Trading Commission's (CFTC) process and timeline. Bakkt is a portfolio company of Intercontinental Exchange (ICE), which also owns the New York Stock Exchange.
The electronic and manufacturing giant Samsung is reportedly seeking a trademark in the UK for a cryptocurrency wallet. According to the UK Intellectual Property Office, the company has applied for a trademark on December 27. Earlier this month the company denied the rumors that it would be including a cryptocurrency cold wallet on its Galaxy S10 smartphone.
The first trading day of 2019 found Bitcoin up with $130 to $3,960. It extended gains above $4,000 on January 2 to stop at $4,050.
ETH-USD
Ethereum lost 12 percent of its value on December 27 and dropped right below the $120 level to $119. Recent ETH price movements and the volatile market, combined with high trading volumes, are good indicators for the returning interest on investors side.
The ETH-USD pair gained 20 percent on December 28 and moved above $140 for the first time since November 20 stopping at $142.
Observers saw almost no changes in price during the weekend of December 29 to 30 and the lack of direction resulted in the third biggest cryptocurrency, in terms of market cap, trading in the $140 to $144 zone. It closed the week with a seven percent gain.
Ethereum co-founder Vitalik Buterin released a point-by-point answer to the recent critics from crypto analyst Tuur Demeester who openly attacked the project a week ago on his Twitter page. Vitalik's reply came on December 30 on the r/ethereum subreddit where he shared his view on the current state of Ethereum, Bitcoin's technology, Proof of Work and Proof of Stake mechanisms, Lightning Node, Shrading concepts, and many more.
The new week opened with a drop from $144 to $136 on December 31, far from the expected Bull Run. Ether closed the year 82 percent lower than where it stood 365 days earlier.
On January 1, losses from the previous day were erased and the price climbed back to $145, closing the first day of the year with a green candle on the daily chart. The December rallies and the fact ETH is 30 percent up for the period helped it reclaim its spot as the second biggest cryptocurrency surpassing XRP by roughly $500,000 on January 2.
Ether stormed past $150 on January 2 and was eyeing the $175 to $183 levels.
XRP-USD
The Ripple company token dropped to $0.349, or just below the $0.35 support on December 27. The ten percent decline resulted in a third consecutive day in the red.
On December 28, however, XRP-USD managed to erase all the losses from the previous day rallying to $0.39. The pair stayed in the $0.39 to $0.375 corridor during the weekend and closed the seven-day-period at $0.382 with no significant price change during that period.
On the last day of the year, XRP made another move south, this time to $0.36 confirming its 85 percent lthe oss in span of just one year.
Major news during last week include XRP and Stellar (XLM) co-founder Jed McCaleb calling Tron (TRX) platform (and 90 percent of the coins out there) just "garbage" in a recent interview for Yahoo Finance, XRP losing its spot as the second biggest cryptocurrency in terms of market cap, and Kraken adding XRP margin trading to its platform.
Additionally, The National Bank of Kuwait (NBK) introduced "NBK Direct Remit," a cross-border payments solution that uses RippleNet. The decentralized network of banks and other financial institutions will be used by the bank to provide its customers with "a frictionless remittance experience" and "fast cross-border money transfer solutions."
The payments giant Visa acquired Ripple partner Earthport Plc, a payment network for blockchain-based cross-border transactions. The ~$250 million deal aims to strengthen Visa's position as a leader in the rapidly increasing cross-border payments or transactions that involve parties in two or more countries.
On January 1, XRP rose with 4.7 percent and started the year with a green candle to $0.377. We saw a second green candle on the daily chart on January 2 when the token moved above $0.38 to reach $0.386.
In the early hours of January 3 the XRP-USD pair is making a correction with expectations for the $0.38 support to hold short-term bull run confirmation.