Bitcoin, Ether, and XRP Weekly Market Update: December 13, 2018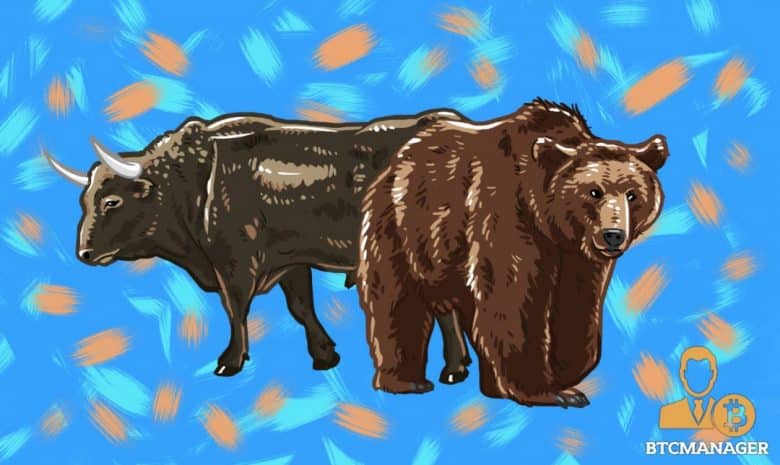 The crypto industry lost another $15 billion of its market cap during the last seven days as the top three currencies continue their steep decline.
BTC-USD
Bitcoin erased approximately 6.4 percent of its value on December 6 and closed the day at $3,528. This was the second consecutive drop of more than five percent for the BTC-USD pair during last week.
The most popular cryptocurrency extended its losses on December 7 and found itself at $3,457 prior to the weekend.
The U.S. Securities and Exchange Commission (SEC) once again delayed its decision on whether to approve or reject VanEck and SolidX Bitcoin ETFs.The decision was initially expected not earlier than December 29 or 180 days from the time the ETF application was submitted and has been pushed to February 27, 2019.
As per SEC officials:
"The Commission finds it appropriate to designate a longer period within which to issue an order approving or disapproving the proposed rule change so that it has sufficient time to consider this proposed rule change."
Binance made another move towards developing their world-beating platform and released a new sub-accounts feature for institutional and high-tier individual traders. The new upgrade will allow business entities to set up multiple sub-accounts under one organization and provide control of access to one master account and only that account will be able to control the other accounts under it.
The exchange will also provide a set limit to API limits for every sub-account. Only individuals with VIP Tier 3 and corporate accounts can gain access to the latest feature.
The American exchange Coinbase announced on December 7, it will launch support for four more ERC-20 tokens on its Coinbase Pro platform. These include Civic (CVC), district0x (DNT), Loom Network (LOOM), and Decentraland (MANA). What's more, the exchange informed that they "are continuing to explore the addition of new assets, and will be working with local banks and regulators to add them in as many jurisdictions as possible." Among those mentioned were Ripple (XRP), Stellar (XLM), and Cardano (ADA).
After three consecutive days of heavy price drops, BTC-USD began moving north once again during the weekend of December 8 and 9. The market closed the week above the $3,600 level (at $3,643), five percent up for the weekend, but still 12.5 percent down for the seven-day period. Bitcoin erased its gains on Monday, December 10 and dropped back to $3,520.
The Lightning Network, Bitcoin's second-layer settlement solution, is expanding despite the bear market. The Lightning Network search and analysis engine 1ml.com reported Network capacity is up more than 300 percent for the last 30 days with the number of channels and the number of nodes up 40 and ten percent respectively.
For the uninitiated, users store bitcoin in Lightning Network payment channels to have it ready to conduct off-chain peer-to-peer transactions. Once the channel is closed, the transactions are then settled on-chain, on the Bitcoin blockchain.
The BTC-USD pair moved even lower to $3,433 on December 11 and was eyeing the $3,200 level. The following day, however, it managed to recover back to $3,540, which suggested a short-term range trading in the $3,540 to $3,440 zone.
ETH-USD
Ethereum broke below the psychological level of $100 on December 6 and closed the trading day at $92, marking a ten percent drop. The third biggest cryptocurrency in terms of market cap continues to be under immense pressure by sellers and it's still to find price bottom.
The ETH-USD pair remained in the $92 to $96 price range during December 7 and December 8 and closed the week at $96 on December 9 with an 18 percent loss for the seven-day period.
Ethereum core developers agreed on December 7 to launch its Constantinople upgrade at block 7,080,000, which will be approximately January 14, 2019, according to current block time. As previously reported, the Constantinople hard fork is an update for an increase of the network's efficiency, which also includes plans to reduce block rewards for miners, as well as introduce changes to the network's consensus mechanism that would make it more resistant to ASIC miners.
The U.S. Commodity Futures Trading Commission (CFTC) announced it is planning to seek public feedback on ETH in order to understand how the token is similar and different from bitcoin. The futures watchdog listed a number of questions it has about ether on its official website and is now directly challenging the plans for futures trading products based on ether's price.
Price remained relatively stable during the first three days of the new week with another red candle on December 10, this time to $92. ETH extended losses to $89 on December 11 and moved back to $91 on December 12.
XRP-USD
The Ripple company token dropped below $0.34 on December 6 for the first time since September. The huge 8.5 percent decline brought XRP further down to $0.31.
The XRP-USD pair stayed within the $0.31 to $0.30500 range during trading sessions on December 7 to 8 and made a slight movement upwards on December 9 reaching $0.317. On December 10, however, it erased all gains from the previous day and closed at $0.307.
No major announcement in terms of token development or Ripple company products except for U.S. exchange Coinbase hinting a possible XRP listing on their Coinbase Pro platform, which might result in a short-term rally.
Binance CEO Changpeng Zhao, also showed some support for XRP. In a statement that was a direct answer to freelancer journalist Joseph Young, CZ shared his opinion that the Ripple token is not a security. The Twitter discussion was around Coinbase and the decision not to list Ripple coin on its platform for the moment.
On the trading platforms, XRP-USD closed December 11 at $0.303, after a second consecutive red candle on the daily chart. Observers saw a slight move upwards on December 12 when the second largest cryptocurrency moved to $0.312.