BUSD market cap drops by $14b amid delisting concerns
BUSD's market cap has dropped below $10 billion from its all-time high set at $23.49 billion on Nov. 15, 2022.  
The market cap drop is a new all-time low in the past two years as the coin faces a regulatory crackdown from the US authorities and possible delisting from Coinbase.
The market cap trajectory has been downwards since it hit its all-time high on Nov. 15, 2022, a few days after the fall of FTX. The value was at $9.66 billion on March 3, 2023, a low that has not been recorded since June 29, 2021.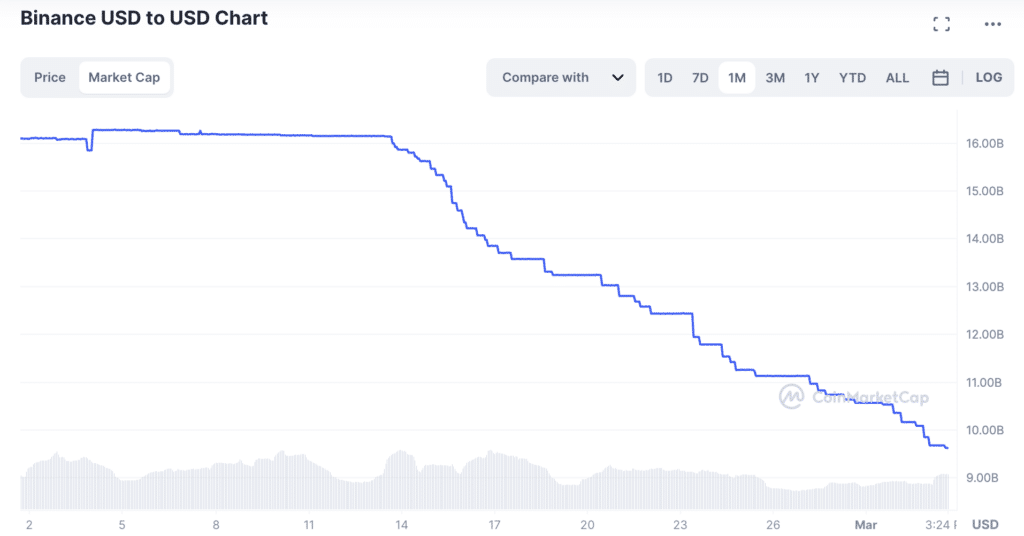 The coin has met this all-time low amidst a potential lawsuit against Paxos, a looming delisting by a leading cryptocurrency exchange platform, and regulation allegations by three US senators.
BUSD getting delisted on Coinbase
Coinbase, a major US crypto exchange platform, tweeted on Feb 27, 2023, that it plans to delist Binance USD on March 13, 2023, 12 pm ET. The platform cited that BUSD did not meet their listing standards based on their recent reviews. The suspension will affect simple and advanced trading on Coinbase Pro, Coinbase.com, Coinbase Prime, and Coinbase Exchange. However, investors can still access their BUSD funds and withdraw anytime.
The Binance exchange token price, Binance coin(BNB), has dropped since the news was released.
On March 1, 2023, Brian Armstrong, the Coinbase CEO, appeared on Bloomberg TV and said that the platform is suspending BUSD because of liquidity concerns. The concerns arose after Paxos, the BUSD central issuer, was ordered to halt the coin minting.
The New York Department of Financial Services (NYDFS) ordered Paxos to cease minting BUSD due to dissonant issues in the Paxos-Binance relationship.
The Securities and Exchange Commission(SEC) was set to sue Paxos for trading BUSD as an unregistered security. The SEC issued Paxos a Wells notice, a letter informing the company of possible legal enforcement actions.
US senators press Binance for accountability 
The market cap decline happened as three US senators wrote to the Binance CEO, Changpeng Zhao, asking for accountability on money laundering accusations and being a "hotbed of illegal financial activity."
In the letter dated March 1, 2023, Chris Van Hollen (D-Md.), Sens. Elizabeth Warren (D-Mass.), and Roger Marshall (R-Kansas) asked Changpeng Zhao and his top U.S. deputy, Brian Shroder, to provide Binance's internal procedures, balance sheets, and proof of communications on Zhao's efforts to limit compliance since 2017. They also demanded the estimated number of Binance US users during the same period by March 16, 2023.
The three senators accused Binance of intentionally dodging regulators, transferring assets to sanction evaders and criminals, and hiding basic finance information from the platform users and the public.
In a statement, Binance responded to the allegations by saying that a lot of false information has been spread about the company and promised to honor the senators' requests and prove why Binance is the most trusted cryptocurrency platform globally. Binance also said that their corporate entity, Binance.com, does not have customers or operate in the US. The company, however, runs Binance.US, a subsidiary that hosts US-related business.
However, Binance is set to pay heavy fines for past bribery, money laundering, and corruption allegations.