BYD Partners with DNV GL and VeChain to Build Blockchain Carbon Monitoring app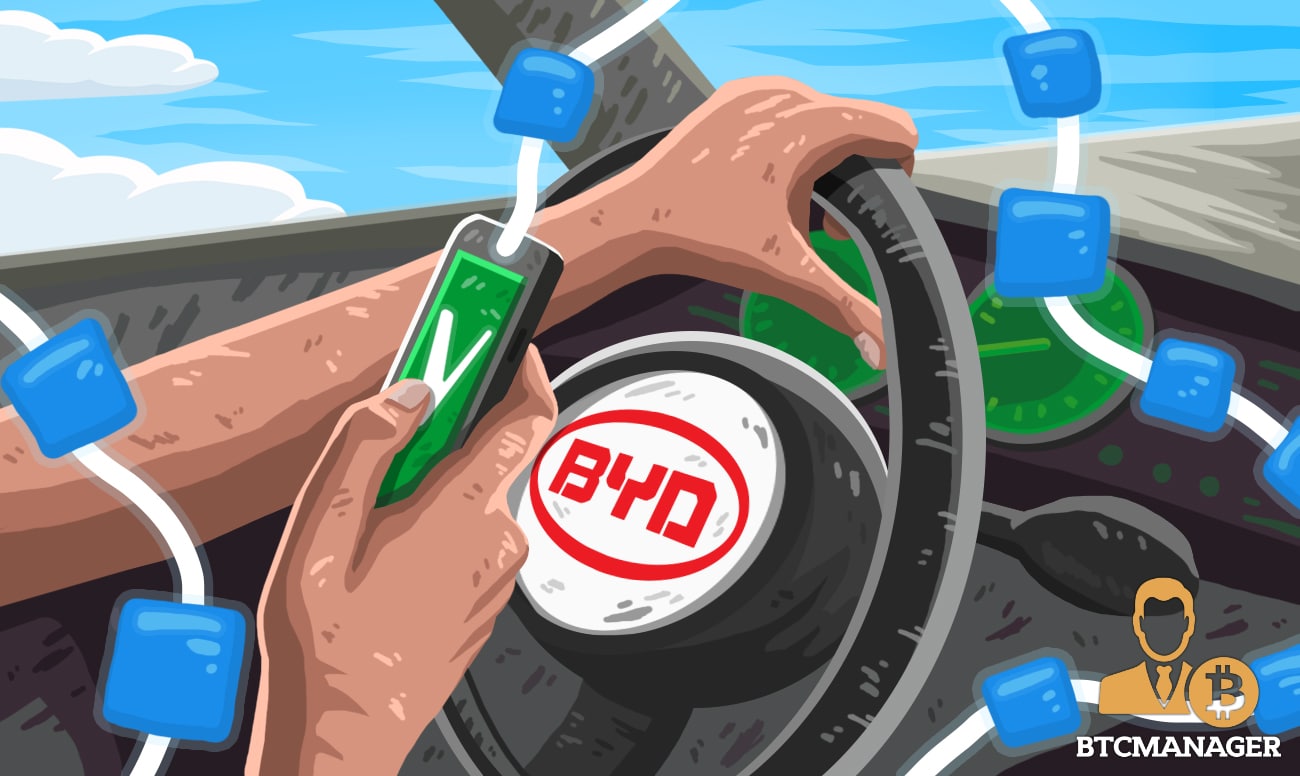 Shanghai-based electric vehicle and battery supplier BYD is ready to install a carbon banking solution running on the VeChainThor public blockchain in all of its cars, the VeChain Foundation revealed in a Medium post on September 5, 2018.
A bid to Reduce Carbon Emission Imbalance
BYD, one of the largest Chinese car brands and world's top selling plug-in electric car manufacturer, is looking to tackle the country's carbon emission imbalances by partnering with DNV GL and VeChain. The company has reportedly completed a blockchain-based proof-of-concept and is ready for mass production.
According to the company's September 5 post on Medium, the application has passed a series of proof of concepts carried out by Warren Buffett-backed BYD, VeChain, and Norway-based quality assurance and risk management firm DNV GL.
This solution utilizes VeChain's automobile lifecycle management solution and will be the first enterprise-level application moving millions of cars, buses, trains, and other vehicles onto a public blockchain platform.
The carbon credit bank solution will reward vehicle operators with carbon credits based on their vehicles' driving performance and carbon reduction. This solution provides the tools necessary to construct a blockchain-based ecosystem that aims at reducing the global carbon footprint. Each footprint captured will be recorded on the VeChainThor Blockchain and made available to clients interested in participating in the initiative.
BYD also said that this solution will enable corporations to access a platform that facilitates easy data management, sharing, and analytics, adding that the collected data will no longer be considered "fragmented and untrustworthy." Shu Youxing, President of BYD Automotive Intelligent Ecological Research Institute, commented the following:
"This technology not only improves our current offering but allows us to create completely new markets. The unique aspects that VeChain provides will empower carbon monitoring development and sustainable ecosystems. This solution is a glimpse into what we think we can achieve through this partnership."
Who Benefits?
Sunny Lu, the CEO, and Co-Founder of VeChain said, "as the global leader in green car manufacturing, BYD offered us the opportunity to pioneer real change. It takes innovators like BYD to make the world a cleaner place. Carbon banking will be a new reality for billions."
According to the BYD's Medium report, the company would benefit from data access control and the market-defining Internet of Vehicle information. BYD plans on turning 4S shops and repair garages into data providers, consolidating basic vehicle information (mileage, damage, maintenance) and cataloging all assets of repairs. This data will then be utilized by insurance and financial service providers to provide accurate, cost-effective product packages to their customers.
The debut of this app comes just three days after VeChain's announced its partnership with the People's Insurance Company of China (PICC).
Although VeChain stated that the data VeChainThor collects for BYD's new energy solutions will cast light on improving efficiency and reliability of insurance, there was no official confirmation of a three-party partnership between VeChain, BYD, and PICC.