Cake DeFi Partners with Razer Silver to Offer Gamers Bitcoin (BTC) and Altcoin Rewards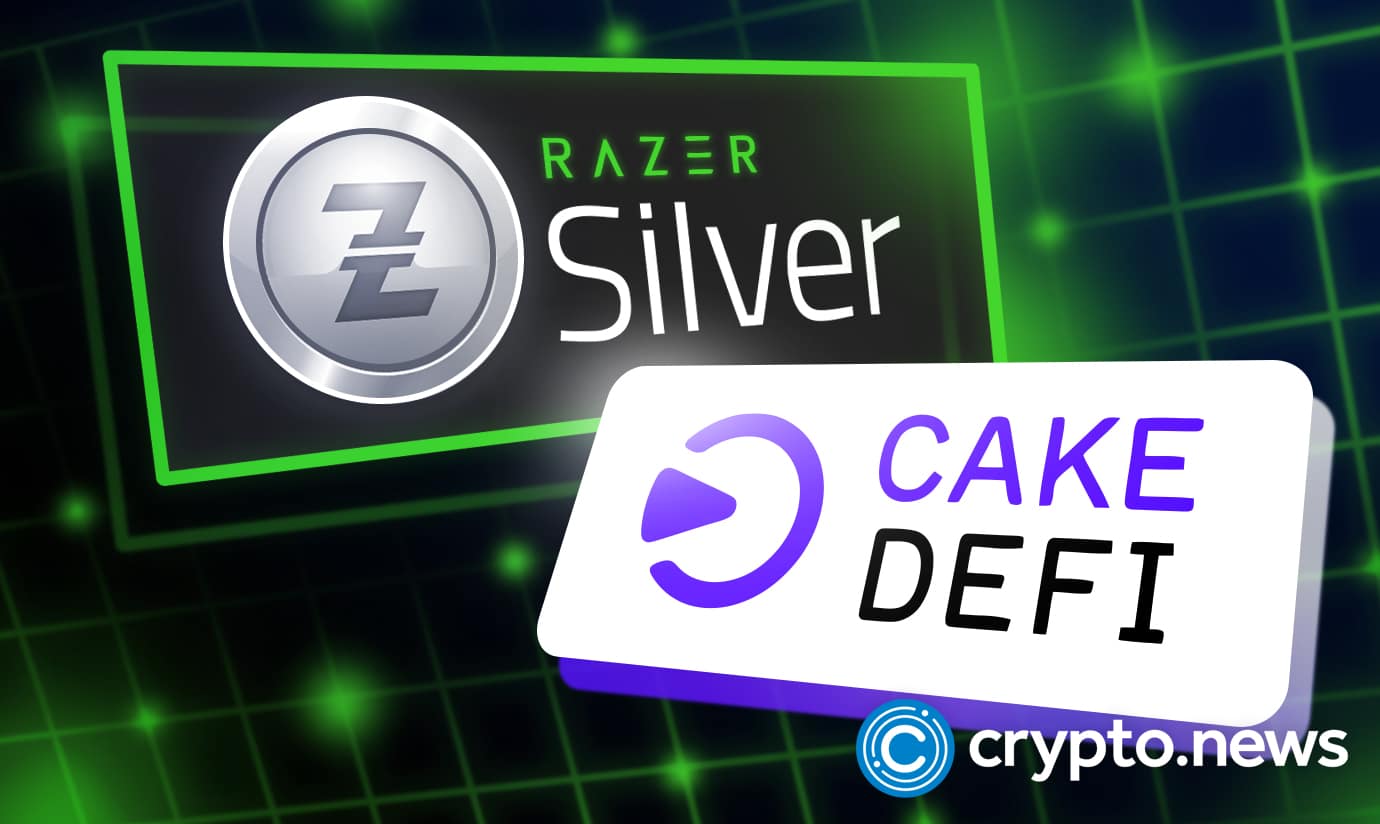 Cake DeFi has announced its global partnership with gaming giant, Razer Silver. The alliance will make it possible for Razer Silver gamers to convert their in-game points to Cake DeFi vouchers redeemable for cryptocurrencies like bitcoin (BTC), ether (ETH), and DeFiChain (DFI). 
Cake DeFi Brings Crypto to Silver Razer Gamers
Cake DeFi, a regulated Singapore-based decentralized finance (DeFi) platform that enables users across the globe to generate yield on their crypto holdings, has inked a partnership deal with Razer, an American-Singaporean multinational technology and gaming giant, to expose Razer Silver gamers to bitcoin (BTC) and other cryptocurrencies.
Per a press release shared with crypto.news, the market-leading alliance between CakeDFi and Razer Silver, the world's leading lifestyle brand for gamers, will deliver great value to members of both ecosystems by enabling them to seamlessly convert their Razer Silver Rewards for real cryptocurrencies via Cake DeFi vouchers.
Commenting on the partnership, Julian Hosp, CEO, and Co-Founder of Cake DeFi said:
'We are thrilled to partner with an influential gaming company like Razer, to further bridge the gap between gaming and crypto to deliver incredible value to users all over the world. Through this collaboration, we have lowered the barrier to entry to the crypto ecosystem by providing Razer Silver gamers access to crypto in a seamless manner via Cake DeFi and offer them class-leading rewards."
How it Works
The team has made it clear that the Cake DeFi brand will now be listed and promoted on the Razer Silver website and gamers will be able to exchange their Razer Silver loyalty points for Cake DeFi vouchers, which can then be converted into any of the supported cryptocurrencies (BTC, ETH, and DFI), by simply clicking on the relevant link. 
In addition to enabling Razer Silver gamers to convert their loyalty points to crypto, Cake DeFi will also be onboarding users onto its decentralized finance platform, where they can start earning juicy yields on their crypto holdings.
The team says existing Razer Silver gamers who do not have a Cake DeFi account, can enter a special promotion code: "RAZER" when signing up, and they will receive an exclusive welcome bonus in DFI tokens, plus additional Razer Silver points when they make their first investment on Cake DeFi. The Razer Silver points will be credited to users' registered Razer Silver accounts.
"There is a strong correlation between gamers and crypto enthusiasts, so in addition to providing high returns on Cake DeFi for Razer Silver games, we will also focus on providing crypto education and literacy, especially for newcomers to the industry," added Hosp.
That's not all, the team has also stated that all Razer Silver gamers who convert their points into Cake DeFi vouchers from now until August 20, 2022, will get an additional 10 percent discount. This means that they only need to exchange 9,000 points for a $5 Cake DeFi voucher, instead of the regular 10,000 points and the vouchers will be available to all Razer Silver games on a first come first serve basis while stock last.
"All vouchers redeemed on Cake DeFi will be instantly auto-converted at the market value rate, into cryptocurrency – DFI. The DFI will be allocated to Cake DeFi's staking product, earning users yields every 12 hours. Users may also choose to withdraw the DFI as there is no lock-up period," the team added.