Centra's Blockchain-based Card and Marketplace to Cut Costs of E-commerce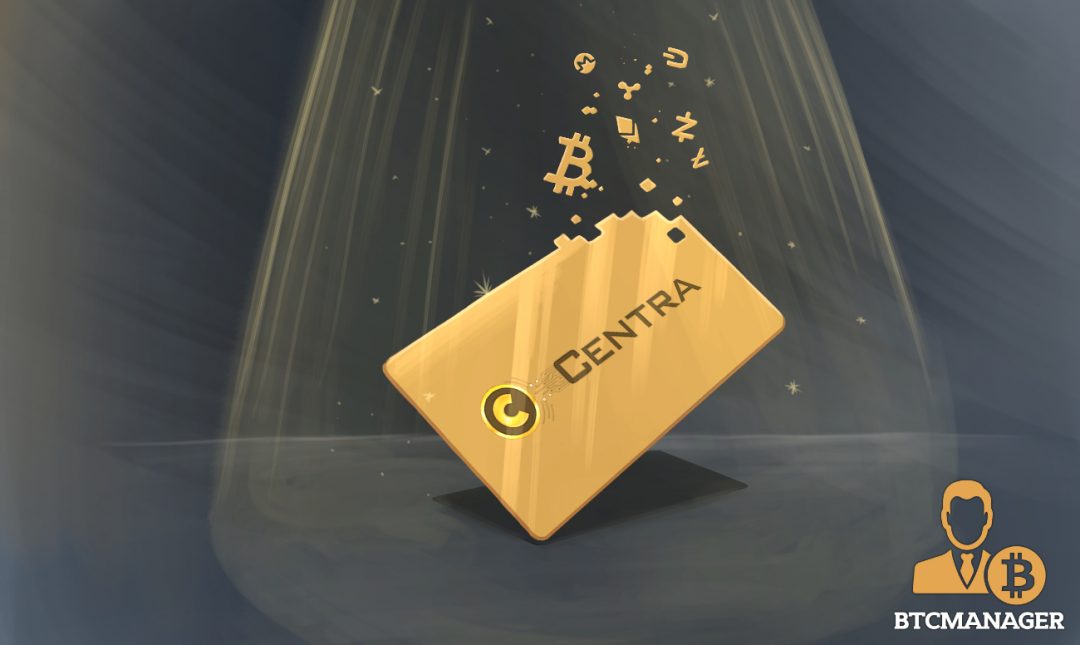 Centra Tech is holding an initial coin offering on September 19 to bolster their blockchain-based Centra card and other products to reduce the costs of commerce across borders. Based on Ethereum, CTR Tokens are utility tokens that will interact with the five core Centra products. Holders of these tokens will benefit from 'cashback' in the form of ether for transactions and the best conversion rates for blockchain assets.
Centra Tech's blockchain-based cryptocurrency marketplace has five core products. Firstly, there is cBay, a large cryptocurrency marketplace. cBay, short for Coin Bay, enables clients to buy merchandise through their Blockchain assets, eliminates intermediaries, and provides more favorable exchange rates. Users will be able to utilize their Centra Wallets, Centra Cards, or external wallets to check out.
Secondly, you can use the Centra card to shop at more than 36 million locations globally. Backed by VISA and MasterCard, Centra offers not only its own marketplace, but a bridge between the retail world and cryptocurrencies.
The Centra wallet will allow users to safely and securely store, spend, and receive cryptocurrencies. The Centra (CTR) token is an ERC20 token that possess benefits and rewards when utilized with the Centra card and cBay.
Finally, real-time exchange rate synchronization is provided by the Currency Conversion Engine. Centra's processing engine is API-friendly. It is a module which is coordinated into all stages and cards. It utilizes their liquidity pool and stage to change over any upheld Blockchain asset to the fiat used at market value, with zero percent charges. Centra cuts out cross-border inefficiencies by leveraging the Ethereum blockchain to remove the intermediaries required in the legacy banking system.  
Sam Sharma, President and Co-founder of the project stated: "Our mission from the very beginning has been to connect the real world to your digital assets. A simplistic integration of e-commerce and cryptocurrency being the core foundation of Centra."
Centra Tech makes Blockchain assets spendable in real time. The Centra Card will connect to the Centra Smart Wallet, which permits storage of Ethereum, Bitcoin, ERC20 Tokens, Dash, Litecoin, Ripple, Zcash, and Monero, with more assets being included in the near future. The Centra Wallet App permits the secure hosting of multi-Blockchain assets, while making the assets spendable through customers' smartphone or Centra Card.
The passwords that are associated to the Centra Wallet will be stored safely by means of industry-approved hot and cold storage solutions. Assets will be insured from theft/hackers, giving users peace of mind. By Q1 2018, users will have the choice to waive insurance and store their own private keys if they wish to opt out of Centra Tech's insurance policy.
Three major benefits of Centra's products include making travelling, international purchases, and remittances easier and cost effective. Centra's Blockchain-based debit card and wallet solution eliminates the sluggishness of cross-border payments. Buying products becomes available with cBay's online marketplace which allows the use of Centra Card in transactions.
Centra is compared below with its competitor's on several key metrics. One key benefit is that CTR token holders will receive 0.8 percent of their transaction in ether to reward usage of the Centra wallet.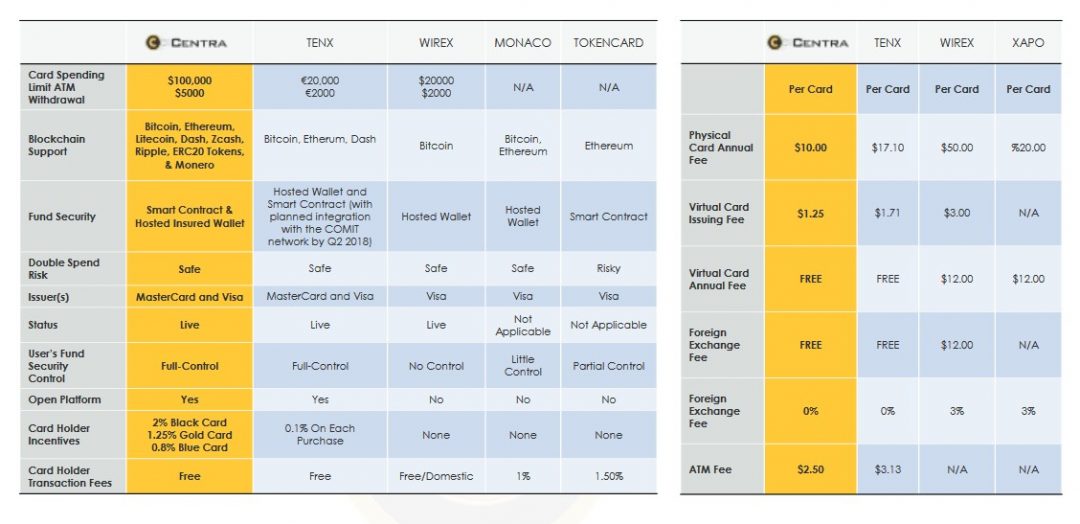 One of 200 limited edition Titanium cards are available, with $10,000 daily withdraw limit, 0.1 percent additional CTR token rewards and an all metal design. Other membership levels are virtual, blue, gold and black, offering progressive benefits.
The Centra Token (CTR) sale begins on September 19, 2017, at 12:00AM EST and lasts until October 5, 2017.
Centra Card and Wallet are already live, however, the token sale is being offered to properly fund the vision of Centra Tech's future. The proceeds raised from the crowdsale will be used to hire key developers, a legal team, and for marketing. The Centra Token (CTR Token) will be accessible to buy through different stages after the token sale.
Offering much more than just a debit card, Centra is creating an entire ecosystem so that cryptocurrency users can seamlessly navigate in and out of different types of crypto- and fiat currencies and earn rewards for loyalty. By combining the dual advantages of the portability of blockchain assets and the technology's use case for reward schemes, cBay and Centra's supporting products will be part of a shift in fintech that caters to the growing number of cryptocurrency users.