China's Intellectual Property Focus Makes it a Global Blockchain Leader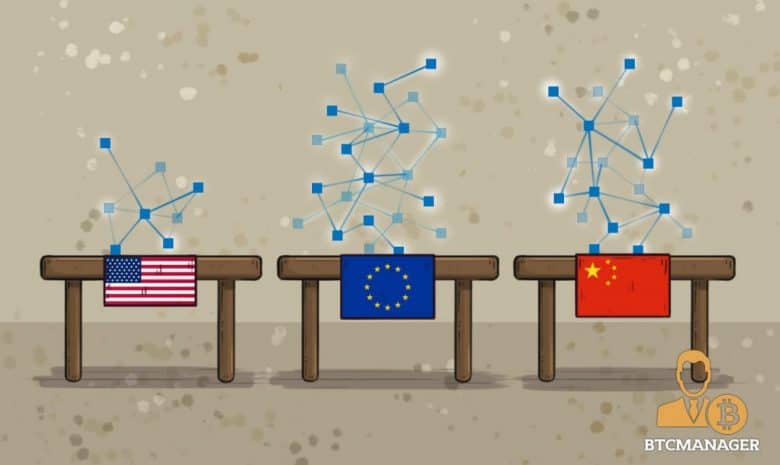 With national and local authorities in China offering hefty initiatives to tech companies to protect blockchain intellectual property rights, the country has now become a global leader in implementing the technology.
Realizing the Potential of Blockchain Technology
The Chinese government and tech companies have long surpassed their foreign counterparts in realizing the potential blockchain technology have both for the public and the private sector.
According to the latest report from Bloomberg Law, national and local authorities have been offering incentives to tech companies looking to protect their blockchain intellectual property rights. Anticipating the growing importance of the relatively new technology, the government is subsidizing patent fees, offering rewards for filings and giving out tax credits to patent output.
Seeing how privately owned Chinese companies want to get ahead of their overseas competition, the government plans on setting up an investment fund and spending an unprecedented amount of money to help them reach their goal.
According to John Eastwood, head of Eiger Law's intellectual property and technology practice in Taiwan, the research was done at U.S. universities and corporation has significantly less support, which could lead to China pulling ahead in the blockchain race.
China's Private Companies Leading the Way
Ian Liu, a senior associate at Deacons law firm's intellectual property practice in Hong Kong, told Bloomberg Law that China's leading tech companies have already "recognized the importance of blockchain as a future technology."
Companies such as Baidu, Alibaba, and JD.com have already begun using blockchain to improve their business operations. Alibaba and Ant Financial are looking into using blockchain as a public ledger for tracing counterfeit liquor and JD.com has piloted blockchain to trace imported food products.
Baidu already has a blockchain platform called Totem, which uses the technology to timestamp digital images, enabling easier management of ownership rights. Earlier in July 2018, the Agricultural Bank of China revealed that it had successfully completed a $300,000 loan using a private blockchain.
Government Says Yes to Blockchain, Still Hard on Crypto
Despite the fact that China was one of the first major economies to ban ICOs and cryptocurrency trading, it has become the global leader in blockchain technology.
Back in May 2018, Chinese President Xi Jinping described the blockchain as a "breakthrough technology," and announced plans to transform China into a hub for blockchain startups.
Looking to implement blockchain technology into urban development the government has signed a Memorandum of Understanding (MOU) with Ethereum developer, ConsenSys, in Beijing on July 23, 2018. This marks the first time China has allowed a foreign company to participate in their government-run blockchain programs.
However, not everyone believes blockchain development has that bright of a future in China. Ian Liu argued that China's incredibly harsh stance on cryptocurrency could slow its blockchain development.
"In this regard, China is not leading the world in terms of how it recognizes and regulates blockchain assets," Liu said.