Coinbase Acquires Ethereum-powered Exchange Paradex and Retires GDAX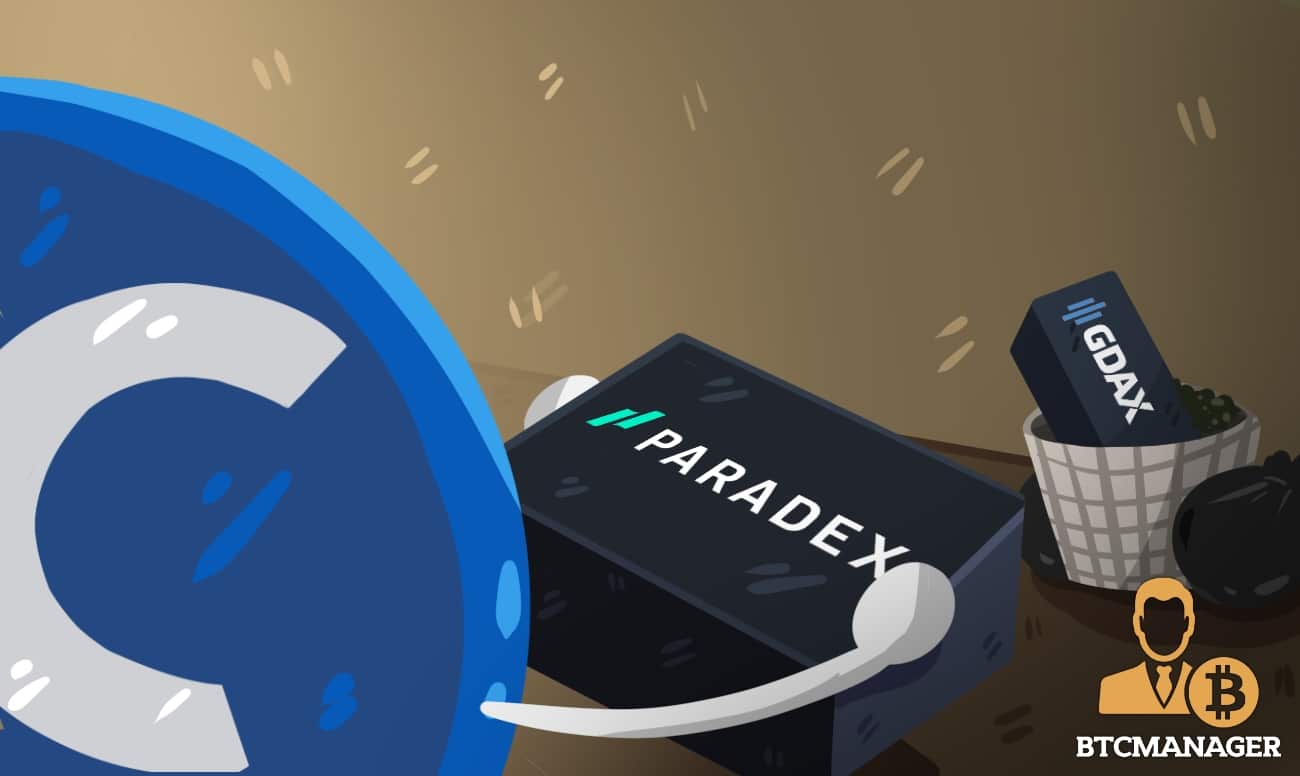 Global cryptocurrency exchange Coinbase recently announced on Wednesday, May 23, 2018, the acquisition of Paradex, a relay platform that allows users to trade cryptocurrencies directly with one another.
According to Reuters, Coinbase is looking to improve the technology and expand Paradex's service globally. Paradex is seen as a decentralized exchange since it does not hold any cryptocurrency tokens on behalf of users but allows users to trade with tokens through their digital wallets.
The 0x protocol is used by the Paradex exchange, which is in turn built on top of the Ethereum blockchain, and offers tokens such as ZRX, BAT, and REQ.
Coinbase's acquisition of Paradex will expand the number of cryptocurrency tokens available on Coinbase since the cryptocurrency platform currently offers only four of the most popular cryptocurrencies which include bitcoin, bitcoin cash, ether, and litecoin.
While the San Francisco-based company did not disclose a price for the acquisition, according to Fortune, it described Paradex as "a sophisticated and secure relay platform that will allow our customers to trade hundreds of tokens directly from their wallets."
Furthermore, Coinbase is shutting down GDAX, a cryptocurrency trading platform for professional investors. GDAX's customers will roll over to Coinbase Pro at the end of June 2018.
Coinbase Undergoes a Large Rebranding
According to a recent Coinbase blog post, Coinbase explained that their switch from GDAX to Coinbase Pro "is a recognition that the individual active trader requires a product completely dedicated to their specific needs." As a result, the Coinbase Pro version will offer "professional trading tools and services delivered through a completely re-engineered UI that will make the trading experience easier and more intuitive."
Furthermore, Coinbase Pro will also integrate Paradex support allowing professional investors to trade the hundreds of tokens from their wallet. Coinbase is looking to enhance the product and initially offer the service to customers outside the U.S., and eventually to those residing in the States.
With the number of cryptocurrency tokens quickly growing to over 1,600 due to the initial coin offering boom in 2017, there's been an influx of coins in the market. Many U.S. exchanges have however been careful and cautious when it comes to listing ICO tokens.
Regulatory concerns are the primary reason as to why Coinbase is initially offering the new Paradex service to customers outside the U.S. first. It will offer U.S. customers the same experience once it undergoes "changes for compliance purposes."
Coinbase Grows Quickly to Dominate the Crypto Market
According to CNBC, Coinbase currently has $150 billion in assets traded from over 20 million customers. Their revenue in 2017 was reported to be $1 billion and was ranked 10th on CNBC's 2018 Disruptor list.
"We don't see ourselves as a crypto exchange," said Coinbase president and COO Asiff Hirji. "We are very focused on the establishment of the crypto economy. We see ourselves as an enabler of that future economy."
Coinbase has been growing extremely quickly in the past few months, recently poaching executives from major technology companies like LinkedIn, Twitter, Facebook, and the New York Stock Exchange. In 2018, they've doubled their engineering team and overhauled a lot of the platform's code which they expect to double again in the next few months.
In April, Coinbase also acquired Earn.com for $100 million and brought along Earn's CEO as their new CTO. "What we provide is an on-ramp from the old economy to the new, from fiat to crypto," said Hirji. "We need a bridge to get there, and we are providing that bridge."