Crypto Derivatives Exchange dYdX Trading Volume Overtakes that of Coinbase Spot Markets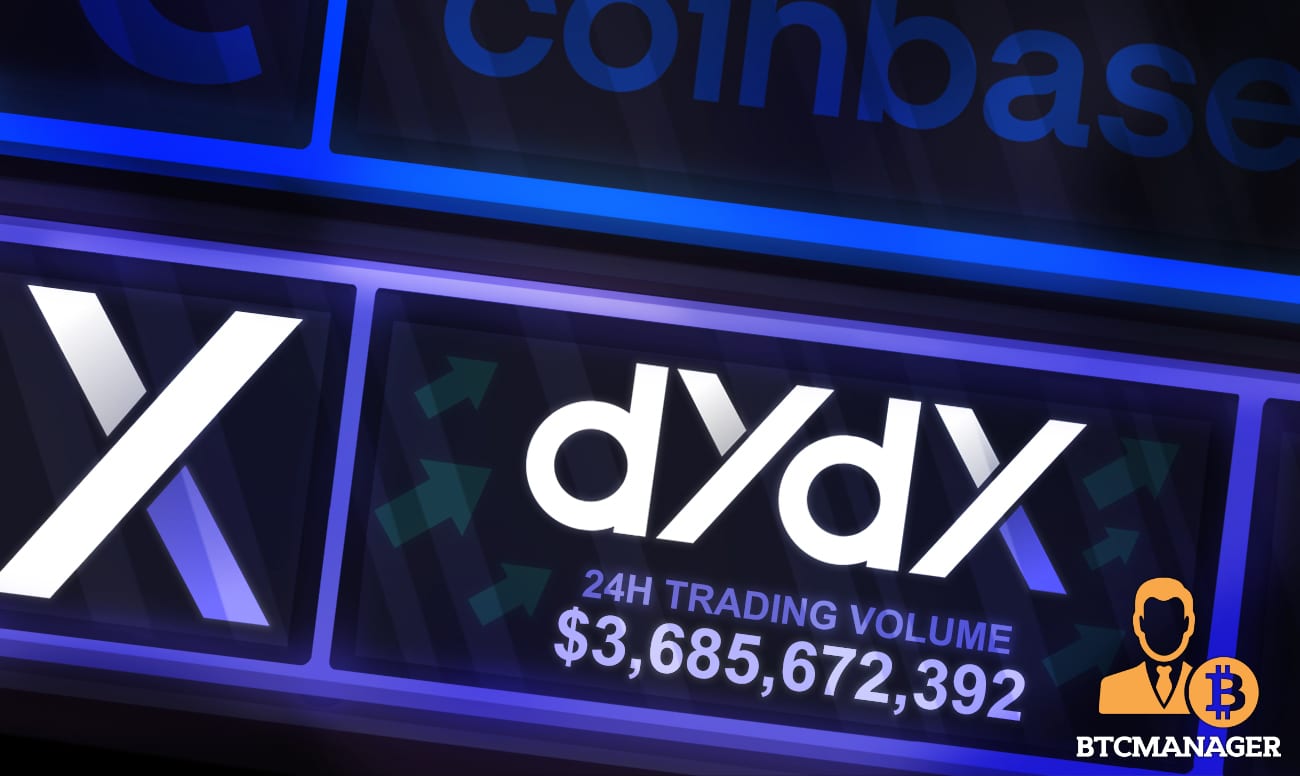 Cryptocurrency derivatives exchange dYdX is witnessing increased adoption after China regulatory concerns arise.
dYdX Flips Coinbase in Trading Volume
Layer-2 cryptocurrency derivatives trading platform dYdX has recently witnessed rising adoption among users, thanks to the regulatory crackdown on cryptocurrencies in China.
Most recently, dYdX's trading volume eclipsed that of Coinbase's spot markets for the first time ever. Poetically enough, dYdX founder Antonio Juliano was a former Coinbase employee.
https://twitter.com/AntonioMJuliano/status/1442234625120608256
Per data from CoinGecko, dYdX processed trades worth more than $4.3 billion in the past 24 years which towers over Coinbase's $3.7 billion in volume by almost 15%.
As mentioned earlier, the rising adoption of decentralized exchanges comes on the heels of Beijing's crackdown on crypto-assets after China's central bank issued a notice stating it would clamp down hard on all crypto transactions in the country.
Specifically, on September 24, the People's Bank of China stated that cryptocurrencies are "not legal and should not and cannot be used as currency in the market." This resulted in a massive market-wide sell-off leading to a bloodbath among digital asset prices.
Yesterday, China-based cryptocurrency and blockchain reporter Colin Wu tweeted that the recent harsh words by the Chinese central bank has forced the Chinese to flock to decentralized exchanges to ensure they are able to trade and swap cryptocurrencies without any regulatory concerns.
A large number of Chinese users will flood into the DeFi world, and the number of users of MetaMask and dYdX will greatly increase. All Chinese communities are discussing how to learn defi.

— Wu Blockchain (@WuBlockchain) September 26, 2021
Further, data from CoinGecko indicates that trading volume on dYdX has increased a staggering 19,700% in the past six months. The exchange processed a meagre trading volume of $22 million at the end of April.
In comparison, the increase in trading volume on Coinbase has remained relatively flat in the same time duration at just around 6%.
dYdX Becoming a Force to Reckon
In addition to spot markets, dYdX also offers a wide variety of other crypto investment vehicles such as perpetual contracts that allow traders to hold leveraged positions on their tokens without using contracts with a fixed expiration date.
As previously reported by BTCManager, dYdX issued its governance token DYDX to allow the exchange's community to govern the platform.
At press time, DYDX trades at $21.30 with a market cap of $1.068 billion, according to data from CoinGecko.