Crypto-Friendly Bank SEBA Adds DeFi Blue Chips UNI, SNX, and YFI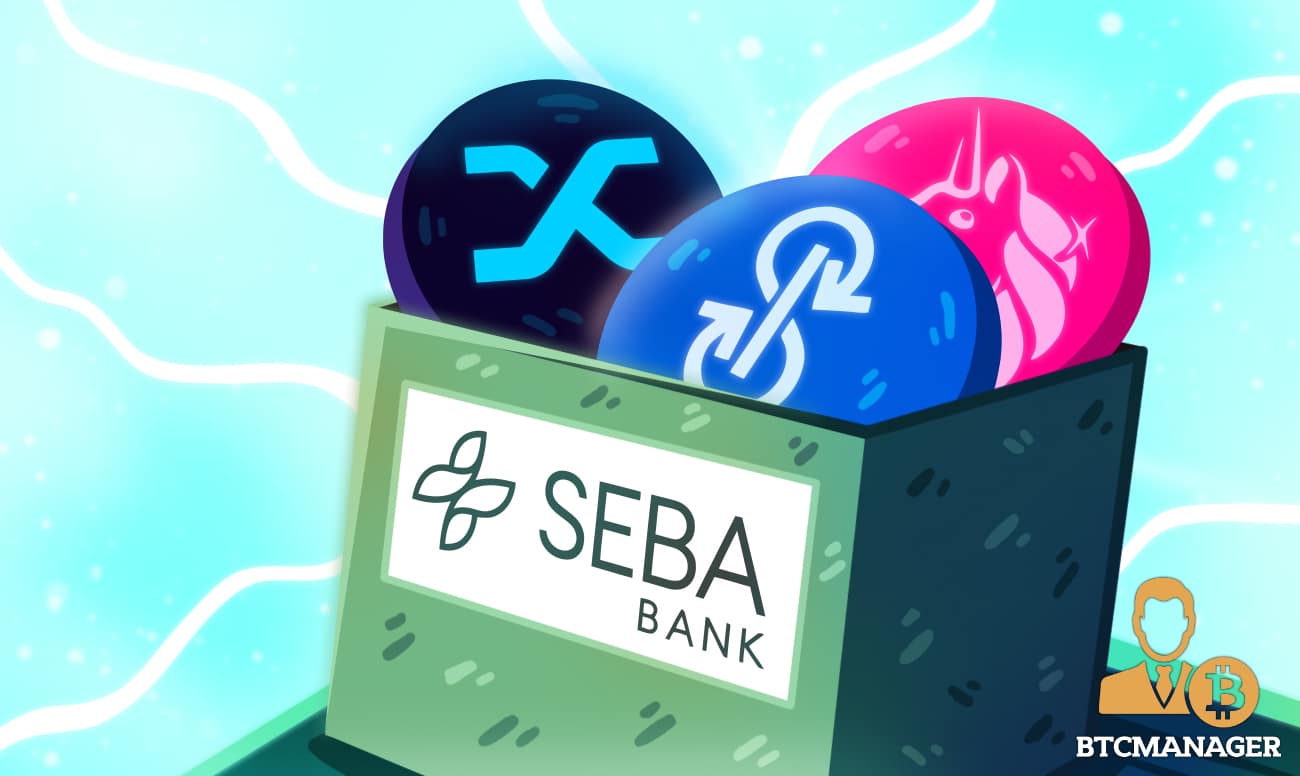 Swiss crypto-friendly bank SEBA has expanded its crypto footprint by adding support for prominent decentralized finance (DeFi) tokens. DeFi continues to experience tremendous growth with the emerging market segment now existing across multiple blockchain networks including Ethereum (ETH) and the Binance Smart Chain network (BSC).
SEBA goes DeFi
In a release issued on Monday (May 3, 2021), SEBA announced its decision to expand its comprehensive cryptocurrency offering to include three major DeFi blue chips — Synthetix (SNX), Uniswap (UNI), and Yearn.finance (YFI). These DeFi tokens now take SEBI's crypto coverage to 12 virtual currency "coins."
Data from the DeFi aggregator platform DeFipulse show that these three projects are among the top-12 DeFi tokens in terms of total value locked (TVL). The total DeFi TVL on the Ethereum chain is over $72.4 billion as of the time of writing with crypto lending protocol MakerDAO maintaining its TVL dominance.
Uniswap is an automated market maker (AMM) decentralized exchange (DEX) platform on the Ethereum network. Synthetix is a DeFi protocol for issuing and trading synthetic assets based on real-world commodities while Yearn.finance is a full-spectrum DeFi marketplace for lending, insurance, aggregation, and yield generation among others.
According to the statement, the Swiss Financial Market Supervisory Authority (FINMA)-licensed bank will offer investment solutions, trading, and custody services for the newly added DeFi offerings same as the other cryptos already present in SEBA's catalog.
As previously reported by BTCManager, SEBA raised $103 million to build a crypto bank back in September 2018. SEBA also previously teamed up with Loomis International to develop high-security cold storage for virtual currencies.
The crypto bank also revealed that the decision to add these DeFi bluechip tokens came after detailed research by the SEBA Research Unit. Thus, UNI, YFI, and SNX will also be available across SEBA's investment solutions, added the press release.
Commenting on the move, SEBA COO Alistair Heggie remarked:
"Investor interest in digital assets is growing rapidly, and many want to go beyond bitcoin. SEBA Bank offers investors bespoke access to the return drivers and diversification benefits of this new asset class. We are pleased to provide our expertise in digital assets to build exposure in this new asset class."
SEBA's DeFi offerings are only the latest in the bank's crypto expansion. Back in December 2019, the FINMA-licensed bank announced its move to operate in nine additional countries.